TCS will hire 40,000 people via Campus hiring soon: Milind Lakkad, CHRO
V Ramakrishnan, Chief Financial Officer (CFO) and Milind Lakkad, Chief Human Resources Officer (CHRO) at Tata Consultancy Services (TCS) talk about COVID's impact on their business.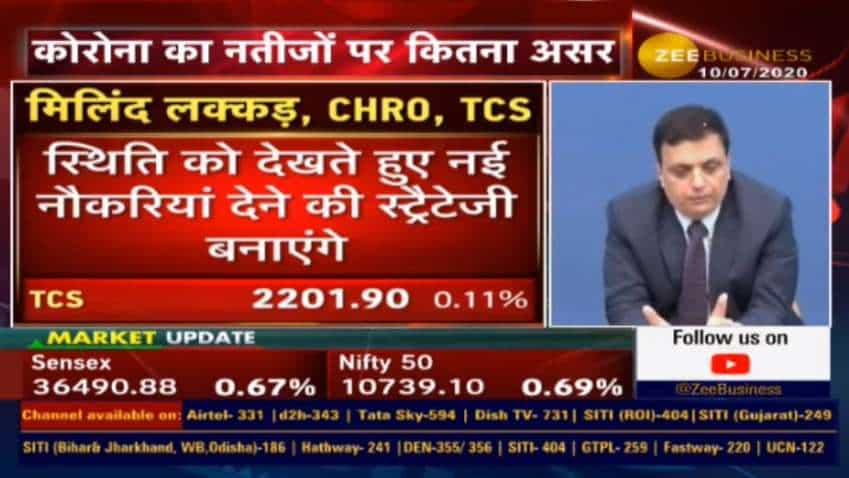 Ramakrishnan, Chief Financial Officer (CFO) and Milind Lakkad, Chief Human Resources Officer (CHRO) at Tata Consultancy Services (TCS) talk about recovery, hiring, etc.
Written By:
Jitesh Kumar Jha
Updated: Sat, Jul 11, 2020
06:24 pm
New Delhi, ZeeBiz WebDesk
V Ramakrishnan, Chief Financial Officer (CFO) and Milind Lakkad, Chief Human Resources Officer (CHRO) at Tata Consultancy Services (TCS) talk about COVID's impact on their business, Q1FY21 numbers, recovery, hiring, the impact of H-1B visa ban and work from home facility provided to employees at TCS during an exclusive interview with Swati Khandelwal, Zee Business. Edited Excerpts:
COVID-19 had a maximum impact in this quarter (Q1FY20). How you will summarize this quarter for you and more importantly what is the outlook going forward from here? Do you think that the worst is behind and little bit recovery will come now or some more pain is left? 
V Ramakrishnan: We believe that it has bottomed out, thus recovery will gain pace but it will be in different segments, different geographies and at different paces. So, certain sectors will take more time to recover, for instance, certain areas like travel, airlines, hospitality, non-essential retail etc, will probably take more time, while areas like life sciences, healthcare, BFSI sector particularly on the insurance front, as well as the utilities and essential retail, will recover faster. Of course, we will have to have a focus on how the pandemic turnout because it depends on how the unlocking happens in a steady manner and across the geographies. If that remains the way we are seeing it now then I think that probably we will see a bottoming out at this stage. 
See Zee Business Live TV streaming below:
If I talk about the specific numbers than your profit has declined around 13%, the margin has declined 23.6%, which is lowest after June 2017. On these two aspects do you think that it was the worst and thinks will get better from here or you will be able to just maintain these levels? 
V Ramakrishnan: As revenue picks up, we see the recovery. Definitely, the margins will improve from where we are. I think, we had a very sharp contraction in demand and we have not had this for several years now, almost nearly 67% drop in revenue and that will obviously directly impact the margins. But quite a bit, we have been able to recover that too without doing anything in terms of reduction of any employees or something like that. Through operational efficiency and a strong focus on discretionary spend, we have been able to reduce the impact. And with the growth recovery, we expect it to come back. 
You started work from home some time back in your organization and a large number of people are working from home. How the situation is panning out, will people continue to work from home and what is the plan? In terms of hiring also, we have seen that there was a freeze in lateral hiring in the last quarter due to the pandemic. Will things open up now, if yes, then tell us about the quantum and the areas where it will happen?
The first question is related to working from home, then just 1% of people are coming to the office at present, rest are working from home. A lot of things has been done for associate well being, which was important. The health of our people is the most important factor in whatever decision we have taken so far, in the last three months and the decisions were taken by keeping its underline principals under consideration. A lot of things has been done ensuring that their health is right, quarantine facilities, and brought back our people from the US and the UK. Basically, the situation now actually like you said it is a new normal and under that, we continued to engage as engagement is very important because everyone is working from their homes. It is a new model where it is essential to know the ways to manage time, how to partition work and home and there are several other important things for which we talk continuously. Our HR team is taking continuously, it is not so that it has been over three months and there is no need to do so. in constant touch and we will have to do so. This should be continued as this is a new normal. 
Coming to your second question of what will happen on the part of work from home, and the situation is different in every city and country. Even in India, you can see that different cities are in a different situation. So things will be decided accordingly and we have plans to gradually increase it. We are thinking about 5% if we can reach by the end of this quarter but we don't have any such target. It is such that if there is a gradual movement then the places, where risk is fewer people can be brought into the offices. And, factors like containment zones, red zones and being able to move will be kept in mind. Technology will be leveraged well as it will let us know that people can come or not. I would like to emphasize once again that people's health is the most important factor for us and people will be planned around it. 
Regarding hiring, we haven't added people in the last quarter, due to which our net number came negative. Going forward, we will conduct a campus hiring in which 40,000 people will be recruited and another hiring will increase based on the demand, globally. 
What's the situation on the deal pipeline for the rest of FY21 are you seeing price negotiations with existing contracts or new deals? Let us know about the kind of conversations that are happening with clients and the segments where maximum green shoots are visible? 
V Ramakrishnan: If you look at the last quarter then I think that the contract value, which we added was around 6.9 billion, which is almost at the same level in the last 15 quarters. In the previous quarter, we had 8.9 billion, of course, it had one very large deal but otherwise, we have been upwards of 6 billion for quite three-four quarters. From the pipeline perspective, it is very healthy and even during the last three months, the level of engagements with the customers have been very significant. So, the prospecting, as well as discussions around the new projects, contract negotiations all of them, have been happening virtually. Even in the current quarter when we closed, I think in the US we had around 3.3 billion from the new orders, which are booked. In the BFSI space, I think that we had around 2.2 billion and the retail space around 800 million also. So, it has been across sectors. Thus, definitely from medium term and long term perspective the way technology is making a difference, we are quite confident that the economy is opening up and with recovery, we will be in a good position to capture the demand. 
What about markets if I would like to know about from where the recovery will come first, i.e. the US or the UK or Europe, in the next two quarters? As per your assessment, which market will bounce back first? Similarly in the context of verticals, where do you see BFSI and retail bouncing back and when the positive trends will be seen in these domains? 
V Ramakrishnan: BFSI we have seen the position to be much more positive in this quarter than the other sectors. In the case of retail, we have to see in multiple segments as there is essential retail like grocery etc, which was doing very well even in the last three-four months. And, it will continue to probably see that going ahead. There is non-essential retail, which has been directly affected and that will come up only when people are confident of going out and starting to spend. But the Consumer packaged goods (CPG) sector has got multiple parts to it. There is again CPG, which is involved in staple and essential products and they have been buoyed. We also look at this sector along with the retail; we also look at the travel and transportation and hospitality sector. So, there of course as I said earlier that recovery will take more time and it may take several quarters to come back to a position. Irrespective of the recovery cycle, we will stay connected with the customers and very strongly engage with them and we continue to do that. We will also craft solutions for both, the recovery as well as revival. 
See full coverage in video below:
#CorporateRadar | देखिए कोरोना के TCS के कारोबार, जून तिमाही नतीजों पर असर और अागे की ग्रोथ को लेकर कंपनी के CFO वी रामकृष्णन और CHRO मिलिंद लक्कड़ के साथ एक्सक्लूसिव बातचीत

देखिए पूरा इंटरव्यू: https://t.co/AxfaWOroJa#ResultsOnZee #TCS @SwatiKJain @TCS @TataCompanies pic.twitter.com/QmCyVJm2rJ

— Zee Business (@ZeeBusiness) July 10, 2020
How the H-1B visa ban in the US will impact your company and what is your view on the implication of the ban on TCS?
Milind Lakkad: In the short term, it has some impact but we have a strong ecosystem in the US for both supply and delivery. So in the short term, I think, that we will be able to manage. In the long term, things will depend on how the situation will evolve and many changes as we may see, I am not sure, and accordingly, we will have to change our strategy, the time will tell. We have been hiring people in the US for many years and it is nothing new for us. A lot of international students are present in the colleges of the US, so we will have to see how is their treatment and the what are the changes and accordingly we will have to look on our overall sourcing policy. But in the short term, we can manage and will have to look at things in the medium term following the kind of changes that will come in. 
Get Latest Business News, Stock Market Updates and Videos; Check your tax outgo through Income Tax Calculator and save money through our Personal Finance coverage. Check Business Breaking News Live on Zee Business Twitter and Facebook. Subscribe on YouTube.