TCI has a CapEx plan of Rs 225 crore in FY22: Vineet Agarwal, MD
Vineet Agarwal, Managing Director, TCI, talks about key growth drivers in Q4FY21, growth momentum in freight revenue & seaways, margins, CapEx plan among others during a candid chat with Swati Khandelwal, Zee Business.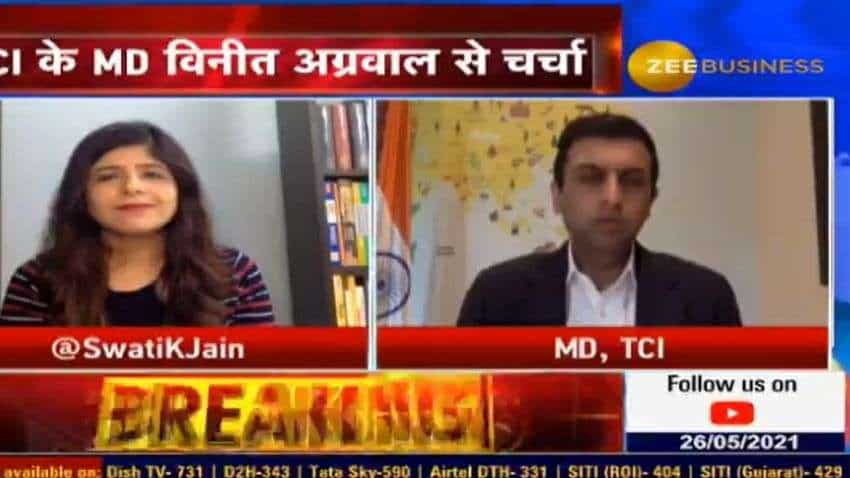 TCI has a CapEx plan of Rs 225 crore in FY22: Vineet Agarwal, MD
Updated: Wed, May 26, 2021
03:48 pm
New Delhi , ZeeBiz WebDesk
Vineet Agarwal, Managing Director, TCI, talks about key growth drivers in Q4FY21, growth momentum in freight revenue & seaways, margins, CapEx plan among others during a candid chat with Swati Khandelwal, Zee Business. Edited Excerpts:
See Zee Business Live TV Streaming Below:
Q: Q4FY21 has been a good quarter. What have been the key drivers for the growth?
A: The Q4FY21 growth was a record quarter for us in our company's history. All of our divisions, i.e. Supply Chain grew by 40%, Seaways grew 23% and Freight business grew 20%. At the same time, our joint venture company engaged in rail transport TCI-CONCOR has grown by around 70%. So, our multimodal strategy that includes integrated logistics and multimodal has helped us a lot. Because you would have seen that when transporters were not on the road in April and May and drivers were not present and truck transporter was not in place then our seaways transport and rail transport has helped us a lot. Right now, we are seeing that the customer orientation is shifting from road to other modes of transport also or combination of road and rail plus sea. So, overall, these were the factors that helped us last year. And, the whole strength of bench of services that is available has also helped us a lot last year.
Q: We have seen a 20% growth in freight revenue. Do you expect that the momentum will continue or it may increase?
A: We know that the lockdown of the second wave is different from the first wave. Everything was shut down at a go during the first wave in April and May, last year. This year, lockdowns have gradually started in many states. So, uncertainty is a bit more. This time, many cases have emerged in factories due to which the factories have been closed. At the same time, there was a shortage of oxygen in many states. So, the impact that is coming was less in April 2021 and is slightly more in May. However, the outlook of June is looking better but the outlook for the full year is still uncertain because as the wave will play out and vaccinations will be increased then we will be able to commit that what can be the growth rate. But during the first wave, we saw that when the lockdowns come to an end then the level to which demand increases will definitely have a positive impact on our company.
Q: Seaways has also been picking up steam and we have seen shipping rates have gone up substantially. So, what growth is expected from this division in the coming year?
A: Coastal shipping accounts for only 6% of the transport in the country. Its scope is massive and the share of coastal shipping as compared to rail and road transport is very high in other countries like China and Europe among others. It is not only economical but is also a green transport because it leads to less carbon emission. We have six own ships and they all are container vessels. Two ships operate from Kandla to Cochin on the West Coast and four ships operate on the East Coast from Chennai and Vizag and go to Port Blair and Myanmar. So, we have seen that container rates have increased a lot but these are domestic rates and international rates do not have any impact on the domestic business. But its scope is very high for instance as we do today if there is any green trader in Punjab who wants to sell some products to Cochin then we bring those products to Kandla Port through rail, where the container is loaded on the ship and when it reaches to Cochin then we deliver it through trucks. So, it is a true multimodal and its scope is increasing a lot. As we are seeing that many customers are asking to send their transport via multiple factors so that their cost comes down and they can move towards the green transport.
Q: Margins have increased by around 10% compared to last year. So, do you think that it is a sustainable number or it can go beyond these levels, if yes, what is the margin guidance for FY22? Also, what pressure the rising fuel costs is putting on your business?
A: In the fourth quarter, our margin has grown by around 70% and has been around 10% in terms of a full year in which the first quarter was very bad for almost every business. Our projection for the year - given some uncertainties as we saw in the first quarter – is that we will grow by around 10-15% in FY22 in terms of top line and bottom line. At the same time, as far as the fuel impact is concerned then we pass on it to the customers as soon as fuel prices go up. Of course, at times it lags it doesn't happen right away but as it is possible we pass it on. So, it does not have a direct impact on us but yes it has a direct impact on the economy as it leads to inflation.
Q: What will be the CapEx plan for the year? What kind of expansion are you looking at?
A: In the last 10 years, we have invested around Rs 1,000 crore in the logistic business. Even last year, we had a CapEx of around Rs 110 crore and this year, our CapEx is a bit more aggressive and we have taken a target of around Rs 225 crore. In this, we have a proposal of buying a new ship as well as containers. Of course, it will depend upon how the market behaves and can buy the ship given the circumstances. This is essential because we are doing a front look because we expect that as lockdowns will end and vaccination increases business and demand will increase. This will have a positive impact on our business this is why we are confident that this CapEx of Rs 225 crore will be very-very useful going forward.
Q: Are you looking forward to inorganic growth opportunities?
A: We have not seen M&A opportunities, specifically. However, few companies were available but valuations were not right or timing is not right because still, we are seeing some uncertainties in the market. Hopefully, as things improve, we will be able to look at other such opportunities.
Get Latest Business News, Stock Market Updates and Videos; Check your tax outgo through Income Tax Calculator and save money through our Personal Finance coverage. Check Business Breaking News Live on Zee Business Twitter and Facebook. Subscribe on YouTube.