Tata Metaliks has an order book of 18 months in DI Pipes: Sandeep Kumar, MD
Sandeep Kumar, Managing Director, Tata Metaliks Ltd, talks about the second wave of Corona, Q4FY21 numbers, iron ore prices, deal wins and merger of Tata Metaliks and Tata Steel Long Products and among others during a candid chat with Swati Khandelwal, Zee Business.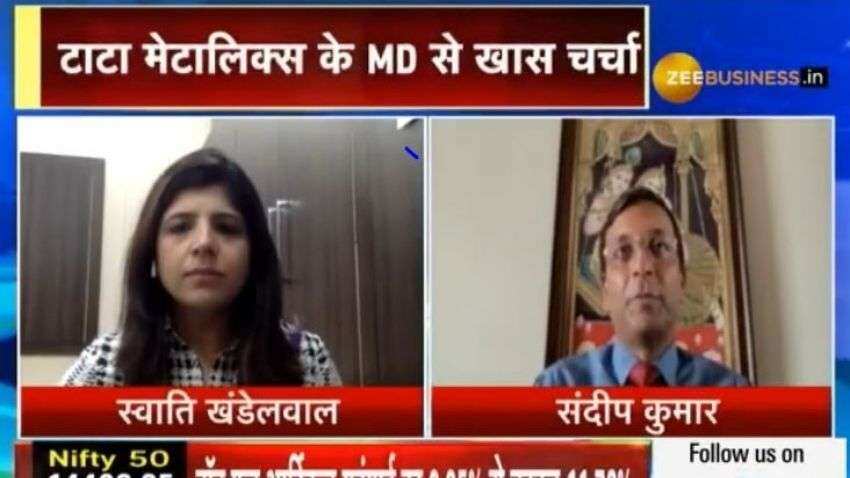 Sandeep Kumar, Managing Director, Tata Metaliks Ltd, talks about the second wave of Corona.
Written By:
Jitesh Kumar Jha
Edited By:
Jitesh Kumar Jha
Updated: Fri, Apr 16, 2021
04:01 pm
New Delhi, ZeeBiz WebDesk
Sandeep Kumar, Managing Director, Tata Metaliks Ltd, talks about the second wave of Corona, Q4FY21 numbers, iron ore prices, deal wins and merger of Tata Metaliks and Tata Steel Long Products and among others during a candid chat with Swati Khandelwal, Zee Business. Edited Excerpts:
WATCH | Click on Zee Business Live TV Streaming Below:
Q: India has been hit by the second wave of CORONA and the situation has gone up to a level that around two lakh cases is being reported in a day. What impact it will have on your business and do you think that a downtrend will be seen once again?
A: Last year in March, when Corona's wave started, a nationwide lockdown was implemented by the government led to the complete closure of the industries. Our customers, supply chain and transport were closed, i.e. the complete supply chain was closed. The impact that was seen in the first quarter as a result of fear more than Corona. The impact of Corona became visible in the second quarter and we all know that it picked in September. The fear has moved out this year, but Corona is back, however, its impact is not visible yet on the business. But I agree with the point that it will have some impact on the business because when actions like night curfews and lockdowns enforced locally by different state governments then it will have an impact on the supply chain and production. Currently, our business is quite strong, markets are also strong. In general, production and supplies are also running well but it is hard to say that what will happen in the coming future. 
Q: When it comes to Q4FY21 numbers, the top line saw a growth of 27% and the Pig Iron business has done well but the margins have gone down from 23% to 21.7%. What is the reason?
A: If you will talk about the margins then the margins of the Pig Iron business has been excellent and if we will talk about the annual EBITDA margin, last year it stood at 6% and this year it is more than 20%. When it comes to the duct iron (DI) pipe business, last year we were at 20% but it has declined to 10% this year. This is a reason that people feel that our margin has contracted but this margin if DI pipe is visible due to our internal transfer pricing mechanism, if it is adjusted like other companies - DI pipe companies - and calculate it with the raw material prices then we have maintained the margin. But it is also true that prices of DI pipes have declined in the market, as in 2020 because of COVID and fund flow slowed in the project because the government has diverted its money towards COVID, due to which it declined a lot. But our sales/ deliveries have increased significantly from the fourth quarter and if you have a look at deliveries of our ductile iron pipes then it stood at 75,000 MT, which is our all-time best and by a large margin, it is not so that there is a marginal gain. So, there is a major revival in the water infrastructure sector, maybe you remember that the government of India in this year's Union Budget has announced Rs 50,000 crore Jal Jeevan Mission (Rural) and Rs 50,000-60,000 crore for the Jal Jeevan Mission (Urban). So, there is a major revival in the water infrastructure sector, and it is visible. This has improved the sentiments and prices have traced back, i.e. there was a fall of around 8-10% last year has come back and also gone up in the fourth quarter and the first quarter of this financial year. So, sentiments are quite positive for us, but you have rightly said that we will have to wait and see the impact that Corona will have. 
Q: Iron prices have surged. How will this impact the margins going ahead? Also, provide your outlook on input cost?
A: You have talked about the dip in the margin in the fourth quarter and the major increase in the prices of iron ore was the main reason behind that marginal dip. We saw its impact as an input cost. Even there was an increase in coke prices, but it didn't have any major impact on us because we have captive coke, in fact, 70-80% of our coke is captive. But it may have its impact on other players. As far as the first quarter is concerned, the iron ore prices continue to be high, coke prices are also high, but we have stabilized at present because the market has moved a lot. Pig iron prices have moved further from the fourth quarter to the first quarter, so we are recovering the cost impact to a large extent from our customers. And volumes have been very good, it continues to be good in April, normally, it doesn't happen. So, currently, things are very positive, but we will have to see that how long it stays and what impact Corona will have. 
Q: Tell us about the new order wins during the quarter and how is the total order book? Also, tell us about how promising FY22 looks to you in terms of order book?
A: Currently, the order books are in a very healthy position. Our order book in the ductile iron pipe normally used to be between 9-11 months and now, there is an order book of 18 months. We booked many orders in the last quarter and now, we are booking orders selectively, in fact, there is a lot of pressure from our customers for supplying and produce more. This is why we have fast-tracked our expansion project so that we can bring it as soon as possible and serve our customers. Earlier, the government of India – four to five ministries together – in February held a long seminar and meeting virtually and I was also invited to attend it. During the meet, they displayed their concern related to our supplies of duct iron pipes and where they will come from in the next three years as the government is investing so much. So, I think, we, the industry will have to bring the supplies because as of now everything is balanced but when investments will have an impact on demand then the DI Pipe industry will have to increase its production capacity. Some of them have also made the announcement and we are already expanding. 
Q: Undoubtedly, you are expanding but can you please tell us the quantum of the order books what is expected in FY22? Also, tell us about the investment that the company is making in expanding its capacity?
A: We have orders of around 3.50 lakh tonnes of the DI Pipes. As far as expansion is concerned, the first phase of expansion is likely to be completed by the end of the Q4FY22, but we have fast-tracked it and trying to complete it by December or January so that our supplies will be in place this year, itself. So, we are trying and the board at its meet has also given clearance to the funds, which was being carried on Quarter on Quarter because there was a need to manage the situation. So, the board has also supported us a lot and I expect that we will be able to fast track it. By the end of this year, the first phase of the project – around 1.30 lakh tonnes – will be in place. 
Q: Update us about the timelines of the proposed merger of the company with Tata Steel Long Products and do you that it is intact?
A: Your apprehensions are absolutely right, a slight delay is going on because the required approvals are needed from different agencies, like government agencies, stocks exchange and SEBI, and it is taking some time. After approval from the stocks exchanges and SEBI, the process will head to NCLT, which is dealing with several cases. So, we have some apprehension too that it will be delayed a bit, but we are trying to complete it as soon as possible. It is hard to provide any timeline because it is not sure that what time it will take in these agencies and the impact corona will have. But I believe that it will take at least six more months. 
Get Latest Business News, Stock Market Updates and Videos; Check your tax outgo through Income Tax Calculator and save money through our Personal Finance coverage. Check Business Breaking News Live on Zee Business Twitter and Facebook. Subscribe on YouTube.