Strong order book, investment in digital is expected to sustain growth: Samir Seksaria, CFO, TCS
Samir Seksaria, Chief Financial Officer (CFO) and Milind Lakkad, EVP & CHRO, Tata Consultancy Services (TCS), talks in an exclusive interview with Swati Khandelwal, Zee Business.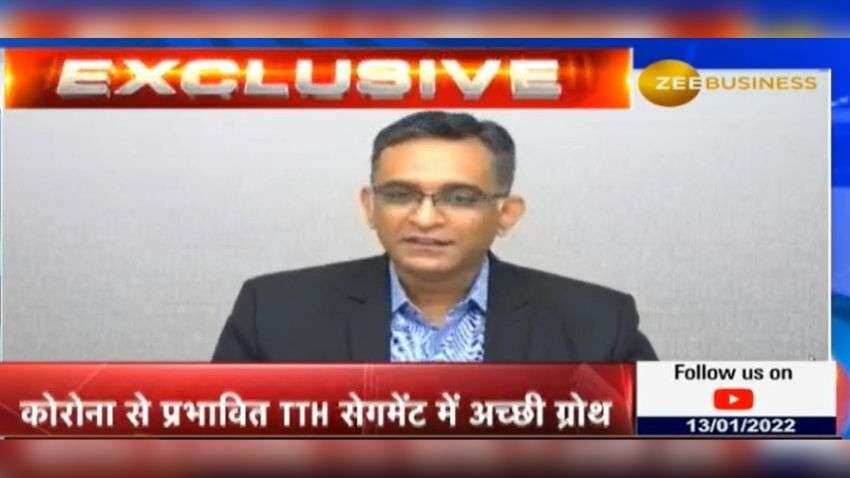 The revenue in this quarter has been at 15.4% higher on a year-on-year basis, said Samir Seksaria.
Samir Seksaria, Chief Financial Officer (CFO) and Milind Lakkad, EVP & CHRO, Tata Consultancy Services (TCS), talks about Revenue growth, operating margins, attrition rate, hiring trends, growth in different verticals, the current order book of $7.6 billion and expected growth, buyback plan, growth in different verticals, and skilling among others during an exclusive interview with Swati Khandelwal, Zee Business. Edited Excerpts:
Q: The $ revenue growth came in at 3% higher than street expectations. What were the key reasons for this and how do you expect the outlook for FY23?
The revenue in this quarter has been at 15.4% higher on a year-on-year basis. The growth momentum we are seeing has continued over last more than five to six quarters. We are happy about it. If we have a look from the segment perspective, all verticals and geographies have done very well and posted strong results. Our retail segment grew at 21% on a year-on-year basis. One thing particularly to call about is our revenue from TTH (travel, hospitality and transportation), which includes our airlines and hotel industry businesses, which was the most impacted came back strongly. As a portfolio, the segment is at the pre-COVID levels. The growth in PFSI, manufacturing, taken services has been very good at 18% on a year-on-year basis. Also, the Life Sciences and CMI are around 15%. So, overall, from the vertical perspective, there has been a very good performance. If we have look at the geographies, North America, our largest segment as over a half our revenue comes from North America, that has continued on a very good momentum at 18%. Europe, which had a little soft H1 is also having a strong bounce-back coming it. Domestic market India also grew very well in double digits on quarter-on-quarter (sequentially). So, the momentum is good. Looking forward also as we backed by the continued momentum, the strong order book deal wins, which we are having. Also looking at our client priorities in the investment into digital, I think, the momentum should continue in the future.
Q: In terms of operating margin, it came in at 25% vs 25.6% QoQ. What led to this and what level of margin would you sustain for the whole of FY23? Will the margin will be under pressure. Do you foresee that?
Samir Seksaria: From a long perspective, we are focused on getting to our guiding vision of 26-28% and we are confident that in the long-term we should be operating in that range. But if we have a look in the current scenario, given what the industry is facing, there will be short-term volatility and we will have some tactical measures, which we will undertake through the period. Till the scenario continues, there might we may see some volatility and but our objective would be with combined growth and investments which we have made on the talent over the past many quarters showing up, the demand and supply side, both, should be comfortable. With that, we should look forward to sustainable margins.
Q: During our last talk, you said that the attrition will be on the higher side and it happened. The company has an attrition rate of 15.3% Vs 11.9% of the last quarter. What were the reasons and do you think this level will further rise from here and when do you think you will get it at a better level going forward?
Milind Lakkad: It's so that the attrition that will churn quarterly, it seems that it may be flat or will go down a bit at a very small pace. But overall, if you will see the LTM number then that LTM number is still in shape because of the way it is calculated. But quarterly number which is operationally important is flattening.
Q: What is the comfort level that you feel will come over sometime? Also, what can be the attrition rate in FY23? 
Milind Lakkad: It is a bit difficult to respond to it because we can see just one data point at present. I can just say that we will try to minimize this as far as we can and are doing it at a continuous pace therefore, we have the industry benchmark but we are not happy with it. We have to reduce it further. We always prefer to bring it down to 11-12% and it will come over sometime. But how and when it will come, we should wait for next one to quarters for it.
For More Details Watch Full Video Here:
Q: On hiring, TCS has set a target to onboard a total of 78,000 freshers in FY22. The firm has already onboarded 43,000 freshers in H1 and now in Q3, you have hired 34000. The number is already there. What next for Q4 and will you revise the numbers for the entire year?
Milind Lakkad: Absolutely, we would be hiring in the fourth quarter as well. How much it will be and the type of hiring will be, depends on the business. We are planning for it, the team is ready and the intensity is the same, So, we will continue, we have already rolled out offers in the last quarter and people will be onboarded from that in this quarter. Many things are already in place.
Q: The company has made a big announcement of a buyback worth Rs 18,000 crore at Rs 4,500 per share. What was your rationale for this premium and how did you arrive at that number?
Samir Seksaria: First of all, I would talk about the buyback itself. We have been consistently giving our shareholders and our capital allocation policy is that we will give 80-100% of our free capital flows back to our shareholders and that is what we are sticking to. On the overall premium that is something we have presented to the board and it's a board decision.
Q: You have talked about the order book of $7.6 billion, which is the same as the last quarter pretty much. Which of the verticals are more promising if you talk about the order book point of view? Also, which are the verticals, you have the highest amount of TCVs and what's the deal pipeline ahead for the next 2 quarters?
Samir Seksaria: From the order book itself, if we spilt it up North America like I said momentum is continuing and we had a very strong order book and it was $4.5 billion out of the $7.6 billion. If we look from the vertical perspective also, both, BFSI as well as retail, did quite well. BFSI was nearly 3 billion near $2.9 billion and retail was also $1 billion. So, pretty broad-based across stuff. If you look at the pipeline, it is quite healthy both from a deal perspective which are in pipeline from the size, we have large deals in the pipeline as well as a good share of growth and transformation deals, which are smaller in size, so, it is quite balanced. The pipeline is also balanced across verticals and geographies, very balanced.
Q: Amid the current Omicron environment, what are your plans in terms of your work from home culture and are people coming back to work or its all back to work from home? You have earlier talked about the hybrid model of work but what is the situation at present?
Milind Lakkad: As you mentioned, the hybrid model is here to stay for us as per the 2024-25 vision and definitely, we will achieve it by 2025. Right now, the situation is such that we made all our offices ready by November 15, 2021, and 10% of the staff were already working from offices. We had plans to bring in more and more people to the office by the start of this year including the seniors and many of those have already arrived and are working. We will take this percentage up to 50% in this quarter. But amid the current Omicron situation, we have kept it at a pause and decided what should be done in the future. Maybe in a month or so or mid-March timeframe, we may take a call that by when do we think about resuming and bringing people back.
Q: You have said earlier that there is a talent mismatch and you have to hire but the right talent is very important. TCS has always focused on skilling the employees and bringing out programmes etc. So, do you think that there is more need as we are growing and figuring that there is a shortage of the same in the market, which is also leading to a rise in attrition?
Milind Lakkad: Rightly said, we have been doing. Skill has grown a lot because of the demand. In this quarter, we have trained one lakh people in deep technology skills. They are professionally trained, contextually understood in the context of customers. It has a huge contribution that the business and HR team has jointly did. This is our primary machinery and it is through which our recruitment is done. The gap that we have in the market, we get expert people and special skills coming in from the market as and when we need, incrementally, based on that. Primarily it is done by our internal sourcing machines.   
Q: Skilling is an ongoing process and you have skilled one lakh people in this quarter? 
Milind Lakkad: Deep skills in certain technologies are what has been achieved in this quarter and that will continue.
Q: There are concerns related to Omicron globally. Did it have any impact on the business?
Samir Seksaria: There are two perspectives. We have seen the situation evolving. Omicron is not as concerning as the previous variants were. And if you look from the demand perspective, demand at least in the major markets is not impacted because countries have gone through multiple waves and they know how to deal with it. But if you look at the emerging markets, they are more sensitive also because of the nature of the business which it comes with. We run Passport Seva Kendra in India, assessment platforms and these are linked to. So, if there are lockdown situations, you would have an impact of the direct outcome itself not happening. So, revenues get impacted. From the supply side perspective, I think, we have evolved in terms of handling the challenges with a remote hybrid as well as the work from home working and that is also impacted. We will be watchful of the situation as it evolves and keep our close eye on it.
Get Latest Business News, Stock Market Updates and Videos; Check your tax outgo through Income Tax Calculator and save money through our Personal Finance coverage. Check Business Breaking News Live on Zee Business Twitter and Facebook. Subscribe on YouTube.
Written By:
Jitesh Kumar Jha
Updated: Fri, Jan 14, 2022
03:48 pm
ZeeBiz WebDesk