Strategy R.E.S.E.T 2020 will protect margins of Indian Hotels: Puneet Chhatwal, CEO & MD
Puneet Chhatwal, CEO & Managing Director, Indian Hotels Company Limited, talks about the impact of the pandemic, Exceptional gains, margin and CapEx plan among others during an interview with Zee Business Executive Editor Swati Khandelwal, Zee Business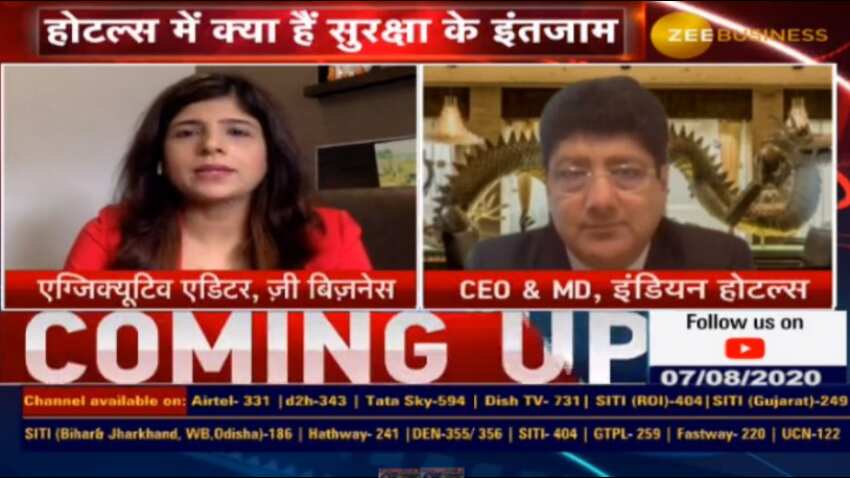 "Lockdown had a huge impact in the first quarter and the impact started from around March 10, 2020, to end of June 2020. So, the complete quarter has passed," Puneet Chhatwal said
Written By:
Jitesh Kumar Jha
Updated: Fri, Aug 07, 2020
08:04 pm
new delhi, ZeeBiz WebDesk
Puneet Chhatwal, CEO & Managing Director, Indian Hotels Company Limited, talks about the impact of the pandemic, Exceptional gains, margin and CapEx plan among others during an interview with Swati Khandelwal, Zee Business. Edited Excerpts: 
Q: The company has incurred a consolidated loss of about Rs 280 crore as compared to a profit of about Rs 6 crore posted last year. Do you think that the impact of the pandemic has bottomed out and the worst is behind you?
A: Lockdown had a huge impact in the first quarter and the impact started from around March 10, 2020, to end of June 2020. So, the complete quarter has passed. We all know that re-opening to some extent was allowed in India from July 8, 2020, but it has been a restricted opening. But, the re-opening of the hotels was not allowed in the national capital, Delhi, and contribution of the hotels of Delhi is very important. Similarly, 33% of hotels were allowed to open in Mumbai, it is also very important for us. If there is no contribution from Delhi and Mumbai, the national capital and commercial capital, respectively, and the hotels are shut then it will have an impact on the revenue. 
Secondly, our hotels were also closed in New York, San Francisco and London. However, the hotels have started opening gradually from July. They will be opened in the US in September to October. And hopefully, it will be opened in Delhi and Mumbai from the middle of August. So they should help in improving the situation a bit. You have rightly said that the pandemic has had a major impact on hospitality, tourism and aviation industry but this industry has been running since last 100 years and its future will remain good for the next 100 years. 
Q: There has been an exceptional gain of about Rs 86 crore this time. Can you brief us about it?
A: The main Rs 82 crore came because we took 100% shareholding of Taj Cape Town. And Rs 4 crore is an exceptional gain because we have some shares in a company whose revaluation was done, the shares went up and this Rs 4 crore came from there. Re 82 crore came due to a provision we did while writing-down and it came as its reversal. Besides, an interesting fact came to my mind about your first question that if we had a revenue of Rs 1,000 last year and a profit of Rs 6 crore and when the revenue has fallen to Rs 175 crore then there is a loss of Rs 280 crore, this means that we have maintained our expenses very well. And, a 52% decrease in all expenses in Q1 has been a good one and we are hopeful that going forward the expenses will in more control. The variable cost will come back as business goes up. Now, we have an opportunity to control our fixed cost in the second and the third quarter. 
Q: What is your strategy to maintain your operating margin in the next couple of quarters?
A: Margin will be under stress in a coming couple of quarters. But in the mid-term and long-term, I think that the pandemic is an opportunity, the industry has got an opportunity to reset the cost base with which our strategy 'R.E.S.E.T 2020' has started in which we are not going to focus only on margins. We have created five pillars in RESET in which R is for Revenue, revenue initiatives. E is for Excellence in our operations and safety of our guests in which the sanitization rules will be implemented. S is for Spend Optimization in which we will look forward to the ways to control our costs. If you can balance cost and revenue well then you can get margin automatically. To help it, margin and cash flows, the next E stands for Effective Asset Management and we have been doing for the last two years. We monetize non-core assets and also assets in the secondary and tertiary markets, where ownership not required. We will monetize the assets and that is effective asset management. Finally, T is for being thrift and financially prudent and it is a time to protect the liquidity, cash flows. And, when the business comes back then we will have to make sure that our cost base is maintained as efficiently as possible and optimized to the same level. This RESET 2020 will help us a lot in protecting our margins.
Q: Do you think that there is a need to re-strategise the CapEx plan that you made earlier, due to this pandemic? Also, tell us about the kind of response that you are getting on new properties that came in the recent past?
A: We have limited our CapEx as a very essential CapEx in which we have to finish the works that were started. And in the case of our trophy assets or flagships, where CapEx is important are in continuation like Taj Mansingh in Delhi or Connaught. Rest is related to normal repair and maintenance and to support the new brands. So, the CapEx has been limited for this year to protect the cash. Most of the CapEx was delayed itself because if you have been under lockdown for four months, workers are not present on the site then your CapEx plan is already delayed, the payments are delayed, which means most of the CapEx will automatically go into the next financial and the following financial years. The CapEx will be postponed not just in the coming financial year but in the coming two financial years. 
See Zee Business Live TV Streaming Below:
The second thing important things about which I have informed you earlier in the interview are that the complete pipeline of hotels that we have is not our hotels, we don't own them. They are on a management contract or operating lease. That's why we don't have any expansion CapEx for it. Thirdly, the hotels, which were opened have been closed because of the lockdown. So, we are confident that we will open 10 more hotels between October 2020 and March 2021 and the old ones which were opened will come into operation in places like in Goa. This will bring more interest to our brands, as you know especially the Taj brand is very-very important. 
Get Latest Business News, Stock Market Updates and Videos; Check your tax outgo through Income Tax Calculator and save money through our Personal Finance coverage. Check Business Breaking News Live on Zee Business Twitter and Facebook. Subscribe on YouTube.