Sterlite Technologies have overall margin of 20% in FY20: Anupam Jindal, CFO
Recently launched Fibre To The x (FTTx) solution is a path-breaking integrated software offering to support the 5G network that will be developed in future, says Anupam Jindal, CFO, Sterlite Technologies.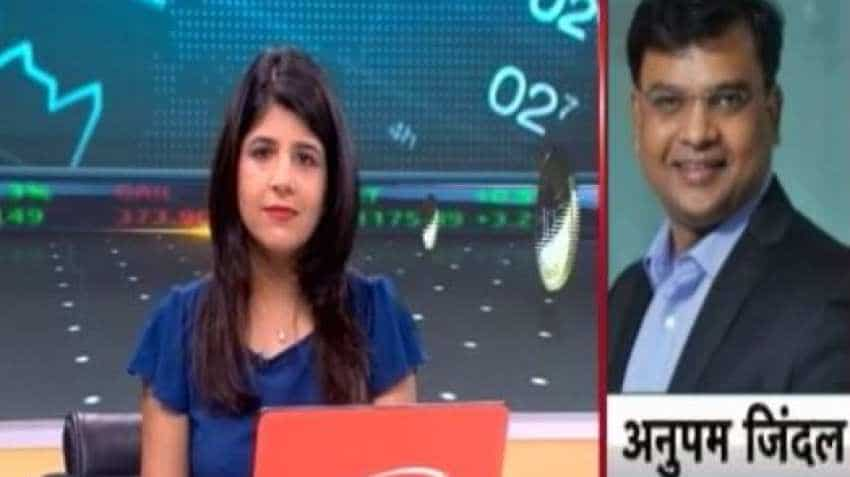 Recently launched Fibre To The x (FTTx) solution is a path-breaking integrated software offering to support the 5G network that will be developed in future, says Anupam Jindal, CFO, Sterlite Technologies.
Written By:
Jitesh Kumar Jha
Updated: Mon, Sep 16, 2019
06:46 pm
New Delhi, ZeeBiz WebDesk
Recently launched Fibre To The x (FTTx) solution is a path-breaking integrated software offering to support the 5G network that will be developed in future, says Anupam Jindal, CFO, Sterlite Technologies. During an interview with Swati Khandelwal, Mr Jindal said, "Data growth will be the biggest growth driver for the company for the next few years". Excerpts from an interview:
 Q: You recently unveiled a programmable FTTx solution for access connectivity. How beneficial would this be for the company's top line? 
A: It is a path-breaking integrated software-defined solution for the excess network. It is our software offering for the networks that will be developed for 5G, which is a new opportunity and revolution in telecom technology and data communication technology. Sterlite technology is preparing itself for it with a complete offering and this is a global level offering under which device and software can work separately. Earlier, propriety software was provided by the big companies but now, the telecom and data-communication companies - for their structural roll-out and control of cost – want to disintegrate the equipment with the software. The programmable FTTx (Fibre To The x) solution has been launched in the same direction. It is a new product that will affect our revenue in time to come. It is too early to say any number on this, but it will strengthen our offerings at the global stage. 
Q: You have also signed JV in recent past. Can you brief us about the deal and how it will benefit to Sterlite Technology? 
A: Being a global company, Sterlite has direct engagement with big telecom companies in the world. We work with them and are engaged in designing their network, planning for their network and also offering our capabilities to execute them. Earlier, such deals were made only with telecom companies. In the case of India, we have worked with citizen network, Navy and Army and are working on MahaNet Citizen network project with Maharashtra government. Similarly, on the global level, we are getting opportunities to work with OTT and content providing companies. However, I can't name them now but will get great opportunities to work with them in the next 2-4 years. 
Q: As you already have a 40% market share for optic fibre. Do you see any challenges to growth? What can be the revenue drivers/triggers for the company over the next couple of years?
A: Data growth has been the biggest growth driver for the company in the past and it will continue to be the biggest trigger for the next few years. Data consumption is growing at an impeccable rate across the world. This growth is backed by certain things like the availability of content on other platforms beyond TV sets like mobile and other devices, which need high-speed bandwidth. Also, affordability has increased, and people have started carrying smartphones and other devices, which are available at low rates now. This is the main driver of data growth. Secondly, fibre is going to emerge as the core medium for data transmission in time to come. It will also play a big role in upcoming new technology, Fibre to the home or 5G. Thus, it is going to be the main growth driver for us. Besides, Sterlite has started providing an integrated package in form of additional products and solutions to move beyond Fibre, where we have a market share of around 40-45% in India and 6-7% at the global level. We have been implementing it, the integrated package, in India for last 4-5years under which we are executing a project for Navy, Army as well as in Maharashtra. 
Watch Zee Business Live TV below
Q: Update us on current debt position of Sterlite Technologies? Since your CapEx cycle is more or less over by now, then do you have any plan to reduce your debt levels?
A: The current debt levels stood at around Rs1,980 crore in June-end, which is a comfortable level for us. Our debt-equity stands at 1:2. We work with the stated objective of keeping the debt-equity around 1. As far as the CapEx cycle is concerned, then our mechanical work has been completed on the large CapEx plan and it will be commissioned in a month. Its payment will be completed either by the end of this year or the next year. Apart from this, we are also expanding our cable by doubling its capacity from 18 million to 35 million. Its CapEx will be completed by June 2020. Thus, these two big CapEx will be completed by the first half of the FY21. I think, if we factor these CapEx then the company will be able to generate a good free-cash-flow by next year and will be able to maintain our debts at 1:1 level.
Q: What is your expected margin-level for FY20 and spell about the strategies that will be used to expand it?
A: Two of our product categories, namely the Optical fibre and fibre cable products, are good margin business. The company if fully-integrated and globally advanced and currently, it has been providing an average margin of 24-25%. Besides, we are expecting a margin of around 13-14% of our new system integration and solution offerings. The mix of both the business has a contribution of around 50:50 or 45:55 and this makes me feel that our overall margin will stand around 20%, which is quite a healthy margin. Apart from this, we have an objective to strengthen our Return on Capital (RoC) and that's why have created a threshold of 25%. We have posted an RoC of around 34-35% in the last two year. This year, we are looking at an RoC in access of 25%. 
Q: Which are the other new geographies where you are going to focus? Also, update us on your M&A opportunities?
A: As far as new geographies are concerned then we are working on it and in the process, we are expanding our presence in South Africa, Middle-East, Latin-America and North America, where we have been working for last 2 years and have great expectation from the region. Similarly, we are getting good traction from South-East Asia. When it comes to M&A (merger and acquisitions) then we keep looking forward to opportunities and will update about it to the market when the process is either reaches the stage of completion or is completed. 
Get Latest Business News, Stock Market Updates and Videos; Check your tax outgo through Income Tax Calculator and save money through our Personal Finance coverage. Check Business Breaking News Live on Zee Business Twitter and Facebook. Subscribe on YouTube.