Starbucks has opened 11 stores amid pandemic and 200 new stores will be launched soon: Navin Gurnaney, CEO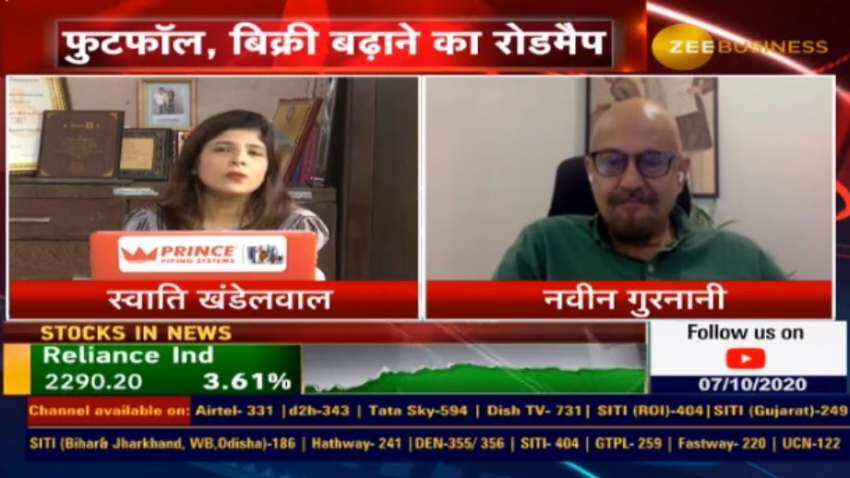 Navin Gurnaney, CEO, Tata Starbucks, talks about demand and initial trends associated it, new product launches, expansion plans, how customers have shifted from unorganized to organized segment among others, during an exclusive interview with Swati Khandelwal, Zee Business. Edited Excerpts:
Q: Hotels and restaurants, food and beverages outlet have been allowed to open under Unlock 5.0 in Maharashtra with 50% capacity. So, tell us about the on-ground demand and what are the initial trends and have people started visiting your outlets?
A: It has been just two days so it is early days but initial indications are very strong. People have such a connection with this brand that as soon as the dine-in opened in Mumbai and we saw that people were ready to come. Anyway, delivery was going on through Swiggy and Zomato and is continuing. The takeaway was also available but many people are visiting us and are sitting here. We have seen a very good first couple of days, very strong indicators, so demand is definitely there. Dine-in was closed only in Maharashtra but was on in other cities and people were reaching to our outlets there. We have seen a very good bounce back. It has been more than three months and week after week we have been seeing a very steady climb in the demand and the traffic at our stores. So, we are very pleased and the future is very bright. 
Q: You are seeing that you are seeing a strong bounce-back but have it reached to the pre-COVID levels, if not, then can you tell the expected timeline by which it will reach to pre-COVID levels in sales terms? Also, tell us about the new product launches on which you will focus here?
A:  I am not going to discuss specific numbers. All I can tell you is that we are extremely-extremely encouraged by the current sales trend. As far as the product is concerned, we are always innovating. Last time, we met, we talked about those one-litre fresh tea brew bottles, which has turned very popular and many people visit our stores and drink coffee, then take those bottles to their homes. In every 8-10 weeks, we have a completely new range of products, right now, the complete range of Dark Mocha is in trend and Tiramisu Frappuccino is becoming very popular. So, we are constantly innovating and have introduced some comfort bones, vegetarian bones with Khus-Khus base and chicken curry bones. We have got some multigrain bread in the stores, which was liked a lot by people. So, we are constantly innovating. As far as making it easy for our customers, we have included mobile order and pay in our mobile app.
So, if people don't want to come and wait or sit at our stores can order their choices from their homes and also customize it and pay. Only you have to do is to come to the store and pick it up and if you don't want to visit our stores than we are delivering our products through Swiggy and Zomato. So, we are constantly innovating, you can order through WhatsApp, Dotpay and many other handles which has been provided to customers to make it convenient for them.
At the same time, we have also opened Drive Thru in Zirakpur, which is very popular and are planning Drive Thru at other places as well. So, we are constantly innovating. 
Q: There were talks related to the opening of new stores but COVID was there but things are being unlocked now and slowly customers and people are coming to the stores. So how are you looking towards store expansion plans? Also, name the cities where you will be expanding and how many new stores will be opened by the end of the year?
A: India is one of the strongest and top five growing markets for Starbucks in the world. We remain extremely bullish on India. There was a lot of softness - due to the COVID - for everyone for six months but that has not changed our sentiment, we are still - say in Cricket - on the front foot as far as growth is concerned. We will continue to open new markets. In the recent past, new stores were opened in Lucknow and it was a very successful opening. Through COVID, we have opened 11 stores and just in August alone, we opened 8 stores.
So, our long-term store growth plan is concerned then we have done it robustly. Due to the lockdown, construction slows in some cities or shuts down for two-four days and that may affect our numbers a little bit but conceptually and principally our growth plan has not changed at all for the short term and the long term. We remain very-very optimistic about the future. Starbucks has been very well received by the customers in India as people love the brand and have shown so much support, so we feel encouraged and keep charging in the direction that we have been working on. In the last three years, we have built 100 stores and very soon, we will be opening 200 stores. Thus, growth absolutely remains. 
Q: Do you think that due to this pandemic there is a shift in customer choices from the unorganized segment to organized food chains? And, what is your learning from this pandemic for the company?
A: Consumer behaviour has changed due to this pandemic. And, people are going to the places that they can trust. Trust is the big-big thing they have to know that the safety protocols are being followed in the right manner or not. Safety has been our number one priority since the beginning and it includes the safety of our partners and customers. That is something we absolutely maniacal about and we continue to keep a very-very safe environment and every partner wear masks, gloves, shields and sanitizing themselves as well as temperature checks.
Through your programme, I would like to request to the customers that wearing masks is very important. As when we look at Japan or Korea or Hong Kong, where markets have turned almost normal and people are going to restaurants and eating. Thus, life has turned normal but they always wear masks. We also want that our partners and customers continue to wear the masks every time, even when they have to sip then they can remove the mask from one side, take the sip and then put it back. I think that will help a lot regarding the COVID. As far as organized and unorganized sector is concerned, instead of saying organized and unorganized, I would rather say people will go to establishments that they can trust. It doesn't need to be a multinational and a big company but if a local business properly assures its customers that their safety procedures are proper then people will go.
See Zee Business Live TV Streaming Below:
The trust that has been created since the start and people are remembering that and I think they choose us because they know that we will not make any compromises on safety. This is my point of view on your question. 
Written By:
Jitesh Kumar Jha
Updated: Wed, Oct 07, 2020
06:40 pm
new delhi, ZeeBiz WebDesk