SpiceJet will begin Ras Al Khaimah flights from November 26: Ajay Singh, CMD
Ajay Singh, Chairman and Managing Director (CMD), SpiceJet and Awani Singh, CEO, SpiceHealth, talks about how the company is dealing with the uncertain times, the strategy of the company, SpiceHealth and plans related to it, RT-PCR tests at just Rs 499 and plans related to operations during an exclusive chat with Swati Khandelwal, Zee Business.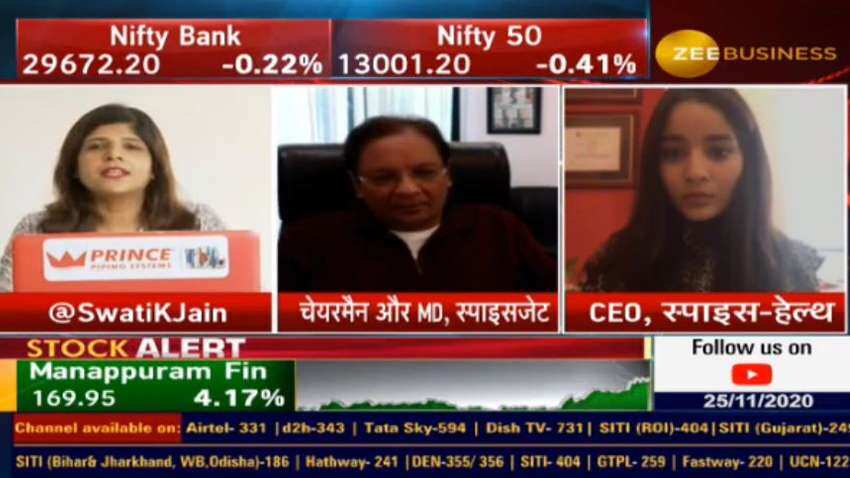 Check Edited Excerpts:
Written By:
Jitesh Kumar Jha
Updated: Wed, Nov 25, 2020
10:10 pm
ZeeBiz WebDesk
Ajay Singh, Chairman and Managing Director (CMD), SpiceJet and Awani Singh, CEO, SpiceHealth, talks about how the company is dealing with the uncertain times, the strategy of the company, SpiceHealth and plans related to it, RT-PCR tests at just Rs 499 and plans related to operations during an exclusive chat with Swati Khandelwal, Zee Business. Edited Excerpts:  
Q: We have seen a difficult period and things are opening now in a graded manner after the lockdown but there are concerns in certain pockets and curfew is coming back in certain areas. How are you dealing with this uncertain period and when do you think that things will settle for good?
Ajay Singh: There is no doubt that the sectors that have impacted the most include aviation and tourism sectors. As you know, no flights flew for two months as the sector was completely shut not only in India but across the world. So, the aviation and tourism sectors were impacted the most. It has to be accepted when we started flying from May 25 after being shut completely, since then there has been a lot of growth in flights as well as passengers. We who were flying around 600-650 flights daily earlier are flying around 350 flights at present. So, things are recovering and we will look at things that how things will look in the future because you have said that there is a possibility of obstructions in a few cities. But there has been a lot of growth since May 25 and passengers are more confident by now. Along with this, the cargo area also grew at a fast pace and SpiceJet did a very good job in it and we are very happy with that. At the same time, SpiceJet has been engaged in the work of transportation of the vaccine in the field of the corona.  
Q: You represent SpiceHealth as its CEO. So, let us know about the plans that you have in this area and what is the long-term vision of this company?
Awani Singh: At SpiceHealth, we try to – which is the need of the hour – enter into it innovatively and create a maximum difference. Right now, coronavirus is the need of the hour and cases is increasing at a high speed, which needs testing facilities and this is a reason that we have launched RT-PCR tests at Rs 499. We are trying to establish our mobile vans and mobile labs in the most congested areas and conduct the tests. Today we have started our operations in Azadpur Mandi and we are trying to scale-up it quickly in this area. And, as you have said Coronavirus is temporary, so, we will try to continue to do good work in the future as well. We have plans related to vaccine deployment along with the different type of tests. In SpiceHealth, the engineers of SpiceJet have developed BiPAP and CPAP machines as well as Oximeter. So, we are doing all these things along with Coronavirus testing and this is the plan to continue innovating in the healthcare space.
Q: You have announced RT-PCR testing at just Rs 499, which I think is lowest ever cost. So, what is your view on this and what kind of business opportunities is visible to you in this segment? Also, tell us the kind of labs and states where you will enter along with the target that has been set?
Awani Singh: We are doing two models and they are B2B and B2C. Right now, we have tied-up with ICMR and through ICMR we are reaching to the state governments. The state governments', where labs are needed the most, are providing locations to us. We have a target to start the process in the containment zones and congested areas so that we can maximize testing. Our cost has been low because we are operating our fixed labs on the low-cost model without compromising on the quality in the same manner as SpiceJet is a low-cost airline. We have tied-up with a technical partner GeneStore who manufacture kits. So, we are minimizing the cost by going to the core of everything so that we can offer testing at affordable prices. Currently, we have a model with the government and going forward we will also have a direct-to-consumer model.
Q: You always have a focus to manage cost, effectively and despite the challenges of COVID‐19 you have managed to significantly cut down net loss and posted EBITDA profit. How have you managed to do so and compared to the industry your operational numbers are good?
Ajay Singh: We always try to search for an opportunity in adversity. And, we tried our best to find the opportunities when the aviation sector was going through bad times and in it, we got an opportunity in which we tried to reduce our cost structure. We also tried to reduce our lean jets, rationalized the salary structure and also remove many of our expenses that were made earlier. At the same time, on the revenue side also, we took a big step towards cargo because it was a need of the hour. And in the segment, our revenue has increased four times when compared to the same months of the last year. So, we have focused a lot on it. We also have new sources of revenue and our innovation will continue. The way we have worked in Cargo, we have also launched our loyalty program and an onboard entertainment system. Thus, due to the COVID, we didn't stop at all and continued to move ahead. And in the coming future, we will try to reduce our cost and look forward to more opportunities to generate revenues.
Q: The FAA's approval is positive for the company as you can start the commercial operation of Boeing 737 Max but I think there is a timeline for it due to which you can do it after some time and you have announced 62 new flights and you have also made announcements related to seaplanes. Then what kind of strategy the company will have and what are your expansion plans and what pockets and sectors are in focus, where you would like to fly?
Ajay Singh: We will try to look towards the highest sources of revenue. Due to COVID, there is a need to relook on the network places because there are certain places, where demand has gone down and travel has also decreased, while there are places where demand has increased. And, as we have started the Seaplane project and there are many such locations in India where airports are not available but water bodies are there and we are trying to reach there. Similarly, when the international flights will be restarted then we will Rejig our network once again. In Dubai, we had seven flights in a day were operational and now, we will begin flights to Ras Al Khaimah from November 26, 2020. This is the first time when we are going to start at Al Khaimah airport, which is just one hour away from Dubai. During the COVID, we did a lot of repatriation from this airport. So, we are going to start this airport. In the same way, we will find more international destination as soon as there is some improvement in COVID situation.
Q: What kind of margins and business opportunities you foresee like SpiceHealth? What is your projection in terms of better margins and do you think that the sector will be under stress for some more time or you are seeing green shoots here?
Ajay Singh: As far as this quarter is concerned then definitely there is an improvement. It will be difficult to predict how the future will be because it will depend on the way the virus spreads and how soon the vaccination comes. And at the same time, how quickly Awani and her team can scale-up the testing because the more tests are done, the faster we can get rid of the COVID. So there is a need to get testing done, people need to be careful and deployment of the vaccine is needed. All these factors are unknown so we have to see what will happen in future but certain improvement will be seen in this quarter.
Get Latest Business News, Stock Market Updates and Videos; Check your tax outgo through Income Tax Calculator and save money through our Personal Finance coverage. Check Business Breaking News Live on Zee Business Twitter and Facebook. Subscribe on YouTube.