SAIL turnover target of FY20 stands at Rs79,000 crores: Anil Kumar Chaudhary, Chairman
During an interview with Zee Business, Anil Kumar Chaudhary, Chairman, SAIL, said that improvement in operational parameters and reduction of cost helped SAIL to post good profits in the third and fourth quarters of FY19.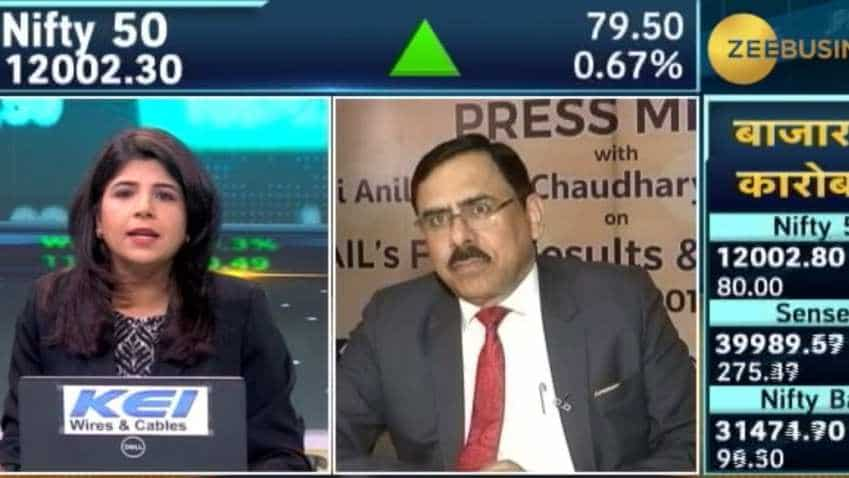 Anil Kumar Chaudhary said that SAIL has an ambitious turnover target of Rs79,000 crore for the financial year 2020. Image source: Zee Business
Improvement in operational parameters and reduction of cost helped SAIL to post good profits in the third and fourth quarters of FY19, says Anil Kumar Chaudhary, Chairman, Steel Authority of India Limited (SAIL). During an interview with Swati Khandelwal, Zee Business, Mr Chaudhary said that SAIL has an ambitious turnover target of Rs79,000 crore for the financial year 2020. Edited Excerpts: 
Q: SAIL went for a record production this time. Let us know about the factor that helped SAIL to post positive margins in the fourth quarter despite a decline in steel prices? 
A: Your observation is related to record production is correct. Even the steel prices have fallen significantly, especially in the last five months of fiscal 2018-19. It was a difficult period for the steel industry as we have seen several ups and downs during the period. We didn't move up but has gone down definitely, for instance, the prices that we were getting in the month of October 2018 has gone down by Rs3,500 in the month of March 2019 but we were able to post good profits in the third and fourth quarters. If we have a look at the third quarter performance, then our profit before tax (PBT) stood at around Rs950 crore and about Rs700 crore in the fourth quarter. These numbers were achieved by improving our operational parameters and reducing the cost. An important aspect of the steel industry is that costs can be brought down considerably by increasing production volumes. This happens because the fixed costs get divided among the larger number of units, which reduces the per tonne cost of production. This is what we did mainly in the last two months of the last fiscal as we produced nearly 2.950 million tonnes in this period. Besides, increased production also improves our techno-economic parameters. We have seen that there was an improvement in blast furnace productivity, CDI consumption, specific energy consumption or concast production. It helped us in reducing our cost by Rs2,300 crore in the fourth quarter when it is compared with the third quarter. This is a reason that we remained in profit mode despite the fall in prices. Secondly, this cost reduction process will continue in the future also.  
In fact, the company has given a target of Rs3000-3500 crore cost reduction to its employees in the current financial year and we are working on it. 
Q: You were talking about the value-added products. Do they provide better margins, if yes, then would you increase its contribution in your income?
A: In the case of the steel industry, value addition provides more opportunity to earn. For instance, if you add Rs1000 in the industry then it will provide returns up to Rs2000-2,500. This means that it has a multiplier factor of 1-1.5 times. The company is now putting more emphasis on increasing value-added products. Our value-added production grew by 12-13 per cent last year. In addition, the company also developed several new products like NPV 759 and LSV wheels. The company has increased the production of rail products, which is a high value-added product for SAIL, to 9 lakhs 85,000 tonnes. Similarly, this year, we will have a focus on increasing the production of boiler quality steel in Rourkela steel plant and high-carbon wire rod at IISCO steel plant. I wish that every product being developed at new mills are value-added product as it will provide more realisation and increase our income as well as profit. 
Q: Fire incident occurred at the Bhilai steel plant in recent past. Let us know about the contribution, in terms of production of the Bhilai and IISCO plants?
A:  Production took a hit at Bhilai steel plant. Actually, one of our blast furnaces faced some problem for two months, especially between June-August 2018 but things have returned back to normal and the plant has grabbed speed. I feel, that we will be able to meet this year's production target of 6.2 million tonnes. As far as, IISCO Steel plant (ISP) is concerned then it is the youngest member of the SAIL family and is majorly known for value-added products. We have decided not to produce any TMT in the Wire Rod Mill (WRM). The mill will be engaged only in the production of high value-added steel. It has a production target of 2.4 million tonnes for the year and I think that we will be able to meet the target. In fact, the plant is doing well at present and its production will be increased in times to come. However, the plant faced certain problems in the month of April, but it has been resolved. So, I think that Bhilai and IISCO, which were not able to perform last year will be doing well in the recent future. 
Q: The market is anticipating an increase in steel prices. Will you go by the market and increase the prices of your steel?
A: If you have a look at the steel prices, then t has remained stagnant at a point. The steel companies haven't received ample room to increase the prices since November 2018. It was hiked a slight in the month of February, which was rolled-over in March. Later, we had to reduce the prices in the month of April and May consecutively. On the other hand, if we have a look on the input cost then it is increasing like the iron ore cost has reached the mark of $105/tonnes while the imported coal, which stood at $77-78/tonnes in 2016, has gone up to $205/tonnes. Such an increase is putting pressure on our cost and that's why we will have to raise the prices to some extent to neutralise the pressure on our cost, as we don't have any other ways to handle the pressure. However, we wish that cheap steel is available in the country, as far as possible, and we try to do it. But, the increase/pressure in/on the input cost will pressurize us to increase the output cost. Otherwise, we will not be able to serve the nation. 
Q: Export is an important part of your business. What was its traction in Q4FY19?
A: Export scenario has been a good one especially for SAIL. Last year, we exported 7.63 lakh tonnes material, which was a record of 13 years, and earned around Rs3,000 crore from it. We exported 2.28 lakh tonnes in the last quarter of FY19 and earned Rs1485 crores. 
Q: What is your outlook and expansion plans for FY20?
A: We want to grow in every section in FY20 like in the case of production, we have set a target of producing 17.5 million tonnes, last year, it stood at 15.1 million tonnes. Similarly, we have a sales target of 17 million tonnes, last year, it stood at 14.8 million tonnes. When it comes to turnover, then we have kept an ambitious target for this year, which is Rs79,000 crores. The target is ambitious in nature because I feel that if an ambitious target will make all efforts to achieve it and achieve it. I feel, that we will achieve this target because there is a positivity in the steel sector and our people are enthusiastic to carry forward with the legacy that we had and remove the pressure of last 3 years. So that we can reach new heights. Amid factors like the enthusiasm of our people, market positivity and the plans of the new government, which hasn't unfolded yet, but I think that it will remain the same as it has been for last five years, I think that we will be able to meet this ambitious target.
Get Latest Business News, Stock Market Updates and Videos; Check your tax outgo through Income Tax Calculator and save money through our Personal Finance coverage. Check Business Breaking News Live on Zee Business Twitter and Facebook. Subscribe on YouTube.
Updated: Thu, Jun 06, 2019
03:58 pm
Mumbai, ZeeBiz WebDesk