Russian oil majors Rosneft, Gazprom Neft raise output of hard-to-recover crude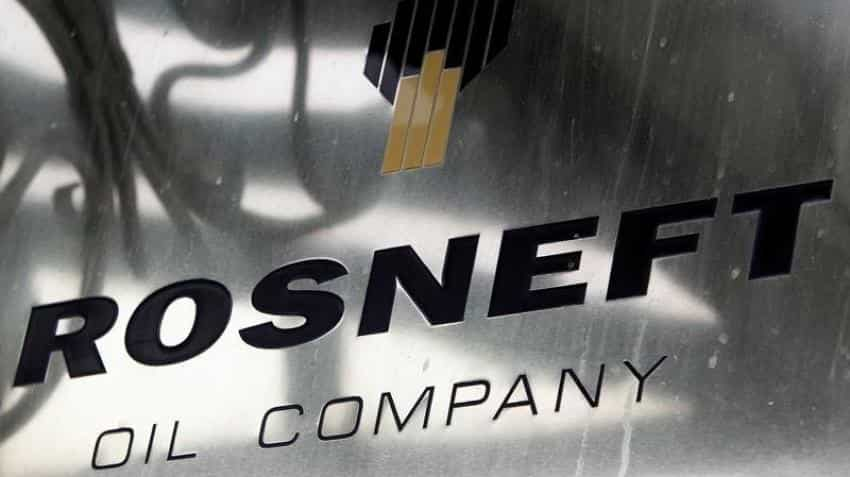 A logo of Russian state oil firm Rosneft is seen at its office in Moscow. Image Source: Reuters
Russian oil majors Rosneft and Gazprom Neft are raising the share of production from hard-to-recover reserves, to counter declining conventional output, showing the complexities facing producer nations seeking to tackle a global oversupply of crude.
Top Russian producer Rosneft expects the share of hard-to-recover oil production to rise to 11% of its total crude output by 2020, from 7% this year, it told Reuters by email in response to queries about its output plans.
It said the cost of production of such crude was between $10 and $35 per barrel.This makes it feasible to develop even in the current downturn, with prices hovering below $50 a barrel.
Gazprom Neft, the oil arm of state gas producer Gazprom, is raising its share of output of hard-to-recover oil by tapping more reserves at the Messoyakha project and other assets, First Deputy Chief Executive Vadim Yakovlev told the Reuters Russia Investment Summit.
Hard-to-recover oil refers to reserves trapped between layers of rock which cannot be accessed using conventional, vertical drilling. It requires techniques including drilling horizontal wells and fracking, similar to methods used to extract shale gas and shale oil.
As part of Western sanctions over the conflict in Ukraine, the United States (US) imposed restrictions on providing shale technology, in an effort to slow the growth in Russian oil output. But despite the sanctions on the Russian oil industry, oil production, including hard-to-recover, is growing.
Taming global oil output - to tackle on oversupply that has helped drive down prices since mid-2014 - is the central issue facing the world's major producers, including Russia and organisation of petroleum exporting countries (OPEC) members, who are meeting in Algiers this week.
While any output freeze deal is likely to be short-term, the Rosneft and Gazprom Neft plans for coming years illustrate the complexities of global co-operation, as countries including top producers Russia and Saudi Arabia seek to guard their market share in the long-term.
Siberia
The bulk of Russian oil production still comes from conventional - cheaper, easier-to-access - reserves located in west Siberia. But they are dwindling and production in the region is declining at 1.5 to 2% a year.
Russia's oilfield licences regulator Rosnedra puts the country's hard-to-recover oil reserves at around 12 billion tonnes, or 88 billion barrels - two-thirds of total oil reserves, and enough to cover 20 years of the world's total oil needs.
Rosneft is drilling for hard-to-recover oil through its biggest-producing unit, Yuganskneftegaz, where the share of this type of crude is expected to triple by 2020 from 5% last year.
It total, Yugansk is expected to produce 68 million tonnes (MT) of oil a year (1.37 million barrels per day) by 2020, a 9% increase on 2015. Rosneft said that hard-to-recover oil accounts for around 24% of Rosneft's total oil reserves.
Rosneft said it also expected hard-to-recover output to increase at its other assets in western Siberian including Uvatneftegaz, Nyaganneftegaz, Tyumenneftegaz, as well as from fields in east Siberia and the Urals-Volga region.
Horizontal wells account for around 40% of Gazprom Neft's total wells.
Hard-to-recover oil accounts for a big part of the Messoyakha project, a joint venture between Gazprom Neft and Rosneft which started oil output last week, Yakovlev told the Reuters summit this month.
Out of its total of around 600 million tonnes (MT) of hard-to-recover reserves, Gazprom Neft has gradually brought 150 million tonnes (MT) into the production process since 2011, Yakovlev said.
"This means we are bringing on line 30 million tonnes (MT) each year and plan to bring on line 200 million tonnes (MT) more by 2020 - so the dynamics are growing," he said.
Under the Ukraine sanctions, Western firms are prevented from helping both Rosneft and Gazprom Neft tapping deep water, Arctic offshore or shale oil.
But Rosneft said that sanctions had no material impact on its development of hard-to-recover oil.
"The bulk of technology and equipment for exploring of hard-to-recover oil using horizontal wells with multiple fracking are Russia-produced," it said.
Get Latest Business News, Stock Market Updates and Videos; Check your tax outgo through Income Tax Calculator and save money through our Personal Finance coverage. Check Business Breaking News Live on Zee Business Twitter and Facebook. Subscribe on YouTube.
Updated: Mon, Sep 26, 2016
08:01 pm
Moscow , Reuters