Rural India acting as torchbearer of growth in demand: Harsh Mariwala, Chairman, Marico
In an exclusive interview with Zee Business, Harsh Mariwala, Chairman, Marico Ltd, said the economy will continue to grow and growth in demand will have a positive impact on FMCG sector.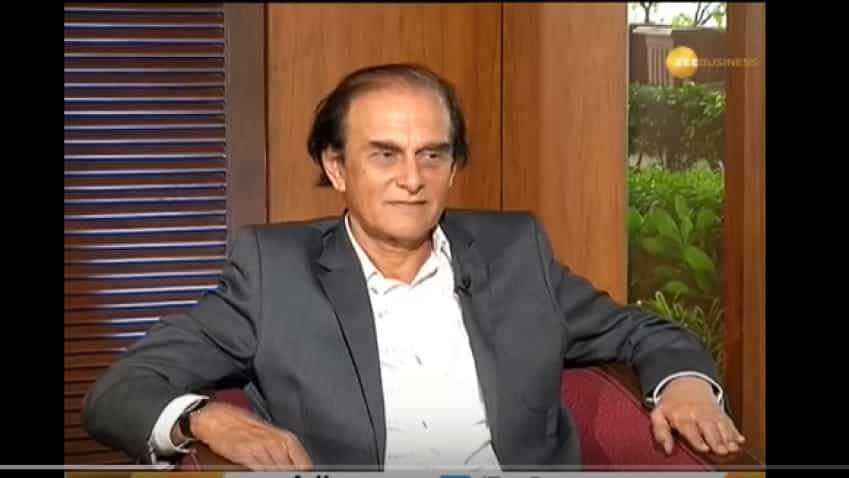 Harsh Mariwala said the existing movement of currency 'may not have any impact on the global sales of our products. Image source: Zee Business
Harsh Mariwala, Chairman, Marico Ltd, in an exclusive interview with Swati Khandelwal, Zee Business, said the economy will continue to grow and growth in demand will have a positive impact on FMCG sector. He added the existing movement of currency 'may not have any impact on the global sales of our products because our products are produced locally in countries where we are doing business'. Here are the edited excerpts: 
Q: Everyone is betting on FMCG and consumption story of India and interestingly, their growth story reveals that it is delivering as hoped for. What is your outlook on the consumption pattern that is visible, specifically in terms of Marico?
A: The Indian economy has seen certain reforms, like demonetisation and GST, over the last 2-3 years. These reform exercises led to certain disruptions, but now we have left them behind. I think the economy will grow and there will be an increase in demand and will have a positive impact on the FMCG sector. Interestingly, we have seen that the demand cycle has increased in rural areas of India and it will be backed by a good monsoon that we have had this year. These things are positive signs for economic growth. In fact, it will have an impact on our sector. 
Q: These are healthy and positive signs but we always talk about the global setup that throws challenges. I would like to know the extent to which India is vulnerable or positioned in situations such as currency volatility, geopolitical tensions, trade war and more? 
A: India is a consumption-led economy and its population will act as a support system for the FMCG sector. It may have an impact on the exchange rate, which may go down when compared to the dollar. This fall may lead to an increase in import bill of raw materials, petroleum products, but this increase may not have an impact on FMCG sector. However, it may have an impact on sectors that are involved in import and export of products. 
Q: Today, you are a global brand. Do you think that this existing movement of currency may have a positive impact on global sales of your products in short term or long term?
A: No, it will not have an impact on it because every country, like Vietnam, Middle East, Egypt and South Africa, where we are selling our products, are a large market for consumption and interestingly, our products are produced locally in these countries and we don't export anything to these countries. 
Q: You don't have a focus on day-to-day numbers as you have a macro view on things, but we have seen a 20 per cent growth in revenue and 10 per cent in Profit After Tax (PAT) in your company. The overall the volume guidance has been kept between 8-10 per cent. Do you think that you will be able to increase these numbers or sustain the same with the ongoing changes?
A: I think you will have to talk with the management of Marico to get an accurate answer on these numbers as I am not involved in day-to-day management of the company and am just a chairman of the firm. 
Q: You were talking about growth in rural India and there is a huge growth in demand in the region. However, the pace of demand has not seen similar growth in the urban areas. Tell us about your point of view or outlook on the same?
A: I feel, there should be an increase in demand in urban areas and this growth will bring a balance in both areas, .i.e. in urban and rural. However, currently, rural area is acting as a torchbearer of growth and I hope that the demand on the urban area will pick up over a period of time. 
Q: You are at a leadership position in the segment in which you are functional. What about your outlook in hair segment in which you have a variety of products?
A: See, we are the market leader in the segment and have acquired certain products in the haircare segment and are focusing at attaining the leadership position in it too.  
Q: Can you let us know about the gap areas where you need to work hard at least when you are in a dominating position in the hair segment?
A: We are not in shampoo and hair conditioner section, but we concentrate on hair nourishment section and are offering products like hair oil, hair serum, hair fall solutions, hair gels and styling products among others. We need to improve our position in the hair fall solutions section. 
Q: Copra is an important part of your business. Do you think that the ongoing floods in Kerala, from where you source a large part of copra for your business, can have a long or short term impact on it?
A: The ongoing monsoon in Kerala will not have any impact on our business because coconut is a tree and monsoon or floods can't have an impact on their production, but it will have a negative impact on ground crops like pepper and tea among others. 
Q: We are growing at a good rate and the government is also trying its best to contain inflation and it seems that the recent policy was decided to contain inflation. But such a step is also bringing a challenge to the growth story of the nation as it can have an impact on it. What is your view on these steps of the government?
A: I feel the inflation rate will go up in the coming time because the minimum support price in agriculture has been increased and at the same time and the fuel prices have also gone up. In addition, the exchange rates will also have an impact on it. 
Q: Name the step, except GST, of the incumbent government that seems to be a positive economic booster to you?
A: The government has taken several steps to boost the economy and some of them are ease of doing business and reduction of corruption level at the Centre. In addition, the government has launched several initiatives like for farming sector, insurance for poor, housing plan, infrastructure, roads, Swachh Bharat to benefit the Indian economy. 
Q: Do you think that the government has spread itself to thin in these things as expectations from the initiatives and reforms have not been met yet? 
A: I think we should wait and watch as it is a matter of time. 
Q: You have taken a special interest in entrepreneurs and it can be seen through Ascent Foundation that was started by you. It is about to complete six years. We would like to know about the foundation and where it has reached in all these years?
A: The Ascent foundation was started six years back in Mumbai to promote and support the entrepreneurs across India. It is a peer-to-peer platform for ambitious entrepreneurs, who have started small to mid to large-scale firms. Till date, we have supported 360 entrepreneurs, of which 10 per cent are women and 24 per cent are family managed, and they had a total turnover of Rs 1,700 crore. 
Watch this Zee Business video
Now, we are planning to come up with a second office away from Mumbai. The second centre will be opened in Chennai in September 2018. We chose Chennai as a city to come out with the centre because it is a good place in terms of ethics, governance and is a place with numerous medium-sized industries, which lend their support to the auto industry. We have a target of adding 500 and 100 entrepreneurs in Mumbai and Chennai.
Updated: Fri, Aug 17, 2018
08:46 pm
New Delhi, ZeeBiz WebDesk