Risk-based products that transfer risk from public to the company are in good demand: Vibha Padalkar, MD & CEO, HDFC Life
Vibha Padalkar, MD & CEO, HDFC Life, talks about the challenging times of COVID, the strategy adopted to increase the market share, inorganic growth opportunities and growth in renewal premium and term policy among others during an exclusive interview with Zee Business Executive Editor Swati Khandelwal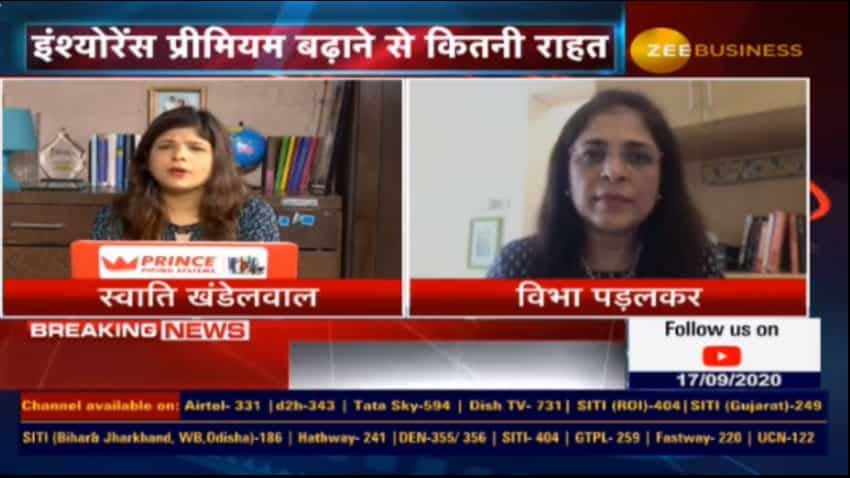 "We have a strategy about having a balance, balance in distribution and balance in the product, and it has helped us a lot against the pandemic," Vibha Padalkar
Written By:
Jitesh Kumar Jha
Updated: Fri, Sep 18, 2020
12:12 pm
new delhi, ZeeBiz WebDesk
Vibha Padalkar, MD & CEO, HDFC Life, talks about the challenging times of COVID, the strategy adopted to increase the market share, inorganic growth opportunities and growth in renewal premium and term policy among others during an exclusive interview with Swati Khandelwal, Zee Business. Edited Excerpts:
Q: These are the challenging times, so let us know the ways that will be adopted to continuously increase your market share? During our last talk you emphasized a lot on technology and innovation, so let us know about the distribution strategy for the future and what products will be launched innovatively?
A: We have a strategy about having a balance, balance in distribution and balance in the product, and it has helped us a lot against the pandemic. From distribution in all of our channels are doing well. When it comes to online channel than it is obvious that it will do well against a pandemic like this where face-to-face is difficult. Our online channel did not de-grow at all and was flat and this was expected. It is continuing to do well. But also, if you have a look on the bank insurance channel on the back of the platform, about which I talked last time, has grown well and that is a very proud aspect for us. If you have a look at our agency channel then month-on-month de-growth is going down that is one.
The second is the productivity of our agencies is going up. The third thing in the agency channel is the adoption of digital. We think that this is the most traditional channel but I am pleasantly surprised that more and more our consultants are adopting and embracing digital because it is simple to use and prospective customers are also willing to engage on digital. So that is as far as the channels are concerned. And a new ecosystem channel partners, for example, Airtel and some of the other partners, especially in edu tech and health tech, they are also doing well.
As far as products and innovation are concerned then what is very important is continuous innovation depends on what people are feeling and right now there is a lot of uncertainty and a lot of fear. So, risk-based products and products that will help transfer risk from public to the company are in good demand, whether it is protection or saving products bucked with some riders or in terms of guaranteed products. These are tending to do a lot better. The innovation that is being provided to the public in terms of new products, whether it is in our guaranteed products or the participating products that is being received extremely well. So that kind of fine-tuning that is happening in the economy that is being felt by people and that is what ends up being good reception by the market. 
Q: You continue to look forward towards inorganic growth opportunities so are you seeing anything at this point of time and are there some areas where you are seeing inorganic M&A opportunities?
A: We evaluate every opportunity that comes to us. Our balance sheet is strong and we have the currency to go and look at acquisitions. But we always are cautious as there are two-three things that are required
Quality of back book, which should be a good one because our embedded value is our pristine quality so we will be cautious about the kind of policies was written in the past. 
If we get some distribution along with them than it is a good thing and that is an attractive reason for looking. 
DNA of the two companies are complementary to each other or not because when a merger or acquisition is made then ultimately people have to merge and so the DNA becomes important. 
So, these three things are very important but we do look at and we do evaluate the opportunities that come on our way. 
Q: Renewal premium has seen a growth of 24%. What are the growth opportunities that you are seeing and going further, what kind of demand will be seen there? Also, the term insurance segment has grown by 30%. What is your view on it?
A: On renewal, we are quite happy and as you said, we have seen a 24% growth in the first quarter and that continues. It is a bit difficult for us because if you have a look on cash then we are seeing a cash conservation behaviour pattern in which people has to say that I don't know what is tomorrow like, let me just not pay anything. So, we are connecting with our customers to convince them that they must not lapse the policy at present because you need it even more so. You can reduce your discretionary expenditure and it is happening because people are not leaving their houses, they are not travelling or spending time on the weekends. We are very connected with people on this issue and that is clearly showing up.
As far as term is concerned then the term is doing extremely well. Actually on protection, in the first quarter, we have grown 50% and the strong pull visible here is continuing and this is the right thing because the core of insurance is protection. Again innovation in this is a one-stop-shop. The journey of buying online or through digital mode should be simple and intuitive, so we are working not just only on price or one-two things but from the original price to claims, short of every 100 claims there are99 plus claims that we are paying. So, this entire end-to-end proposition is there and the customers are finding it very attractive and of course, within the overall HDFC brand promise and the trust people have enjoyed, the term is doing exceptionally well.
See Zee Business Live TV Streaming Below:
And, it is doing well in all the channels. If you have a look then not just online but in the first quarter our agency channels, term share or protection share was 19%, from about 12% in the previous year. 
Get Latest Business News, Stock Market Updates and Videos; Check your tax outgo through Income Tax Calculator and save money through our Personal Finance coverage. Check Business Breaking News Live on Zee Business Twitter and Facebook. Subscribe on YouTube.