REPCO will focus on Tier-III and Tier-IV cities for growth after COVID-19 issue comes to an end: Yashpal Gupta, MD & CEO
Yashpal Gupta, MD & CEO, Repco Home Finance, talks about policy announcements made by the RBI policy announcement and the impact that it will have on NBFC.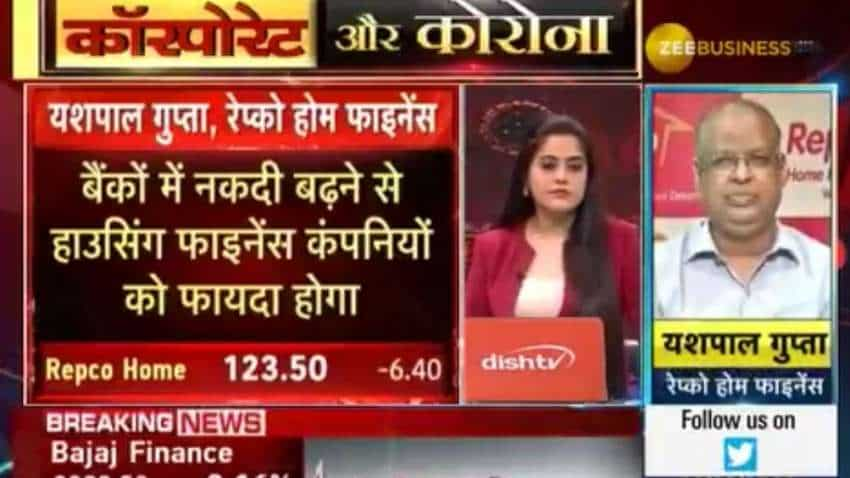 Yashpal Gupta, MD & CEO, Repco Home Finance, talks about policy announcements made by the RBI policy announcement and the impact on HFC and real estate sectors during an interview with Mansee Dave, Zee Business.
Written By:
Jitesh Kumar Jha
Updated: Tue, Mar 31, 2020
01:55 pm
New Delhi, ZeeBiz WebDesk
Yashpal Gupta, MD & CEO, Repco Home Finance, talks about policy announcements made by the RBI policy announcement and the impact that it will have on NBFC, HFC and real estate sectors during an interview with Mansee Dave, Zee Business. Edited excerpts:
What is your view on the series of announcements made by RBI on Friday and do you think that something more as needed?
The steps taken by the RBI, like improvement in the liquidity conditions and reduction in the interest rate by 75bps, are good. But these steps will benefit the bank directly and we expect that the bank will pass on this rate cut and liquidity to the NBFC at the earliest. The second thing is the three months moratorium that has been provided to our customers under which they can defer their installments by three months. I think three months is too little because the RBI has said that you can defer the installment in March, April and May and then you will have to start paying the same from June. The government has already imposed a lockdown which will end on April 14, 2020, but several doctors and experts are saying that the lockdown period can go up further. If it happens then the small customers will take a lot of time to balance their business and expecting that they will be in a situation to pay it in June is quite high and I think it will not be possible for them to do so. So, I feel that the period should be increased by 6 months instead of 3 months.
Secondly, the defaults which occurred in the recent past, like January and February, usually pay it in March but it hasn't been recovered this time and that's why some relaxations should be announced for them, which should be before March. Thus, the NPA norm should be increased to six months from the present 3 months, which will be beneficial for us as well as our customers.
See Zee Business Live TV streaming below:
Will you pass on the rate cut of 75bps to your customers?
RBI doesn't lend repo rate to us but it lends it to the banks. We borrow from the banks and if the benefit is passed on to us then it will be definitely passed on to the customers but no bank has announced yet that they will pass on the benefits.
Some relief has also given on capital fronts like deferment of NSFR (Net Stable Funding Ratio) and CCB (Capital Conservation Buffer). Give us some details on this announcement and how it is going to help NBFC?
These reliefs are not applicable to HFCs but will benefit the banks as their capital requirement will come down and provide more time for the purpose. However, it will not have any impact on us because it is scheduled to be regulated for HFCs from December 2020. But, it is a good step.
What impact it will have on your industry and NBFC market?
This will bring banks in a good position to lend and it will depend if the benefits are passed on to us by the banks. As far as it comes to the HFCs and NBFCs than the RBI just regulates them but doesn't provide any direct fund to them. It funds them through the banks but if can lend directly to us then it will a good step or should direct the banks to pass on these benefits. RBI has provided several benefits to the banks and it will be good for us if they are passed on to us.
How the decisions taken by the government to benefit the real estate sector amid concerns related to COVID-19 pandemic spread will benefit the housing finance companies, housing finance segment and the real estate sector?
The government has taken good steps but it came at a time when people are looking forward to essential items like milk, vegetables, fruits and grocery items due to which unfortunately the real estate sector has been left behind. So, we are expecting that the government will announce a big package which will include subsidy, as well as lending rates, will blow but it will improve only if the problem of coronavirus is shorted out.
Corporates have been given three months to announce their quarterly result. How beneficial it will be for your company?
It is a compliance issue and we were expecting that the government will increase the duration of the financial by one month. It hasn't happened but the government has provided time from May 31, 2020, to June 30, 2020, to declare the result. The audit process hasn't started in the office but the period of compliance has been increased by a month, which is a relief for us. Secondly, other announcements may be small in size like GST but it will help us. At the same time, we expect the effect of coronavirus will come to an end soon.  
Bank and financial sector have undergone a lot of events like PMC, yes bank crisis, PSU bank merger, etc. Do you see it is impacting the consumer's confidence and do your customers reach you with certain queries, if yes, then what is needed to be done to bring back their confidence at the government level as well as yours?
The government has taken a good decision in which it has increased the insurance amount from Rs 1 lakh to Rs 5 lakh. Secondly, the banks should be capitalised and I think it has been done. At the same time, there is a need for strengthening the methods of recovery and if the customers start timely repayment of the loans than the banks will not face difficulties. The insurance limit should be further raised from the current Rs 5 lakh to Rs 10 lakh. It can be done by capitalising the banks, monitoring them and a pro-active approach should be adopted by the arbitrator.
Looking at the current scenario what will be your growth strategy for the coming quarters and which are the segment or sector where you are planning to reduce or increase exposure?
It is difficult to frame any growth plan for the next two-three months and that's why we are mostly depending on the collection. We believe that no problem is permanent and this problem will also come to an end. After which we will look forward to Tier-III and Tier-IV cities where people want to be in a house and the cost of the house is low there. We will concentrate in these cities where the ticket size flats ranging between Rs 20-25 lakhs are available instead of concentrating in big cities where a flat costs around Rs 1-2 crore. We will also focus on flats ranging between Rs 10-15 lakhs.
Get Latest Business News, Stock Market Updates and Videos; Check your tax outgo through Income Tax Calculator and save money through our Personal Finance coverage. Check Business Breaking News Live on Zee Business Twitter and Facebook. Subscribe on YouTube.