Repco Home's asset quality will be improved in next one year: Yashpal Gupta, MD & CEO
The announced special window of Rs 10,000 crore will benefit us a lot as our lending portfolio is limited to affordable housing segment, but it will not have any major impact on the entire sector, says Yashpal Gupta, MD & CEO, Repco Home Finance, during an interview with Zee Business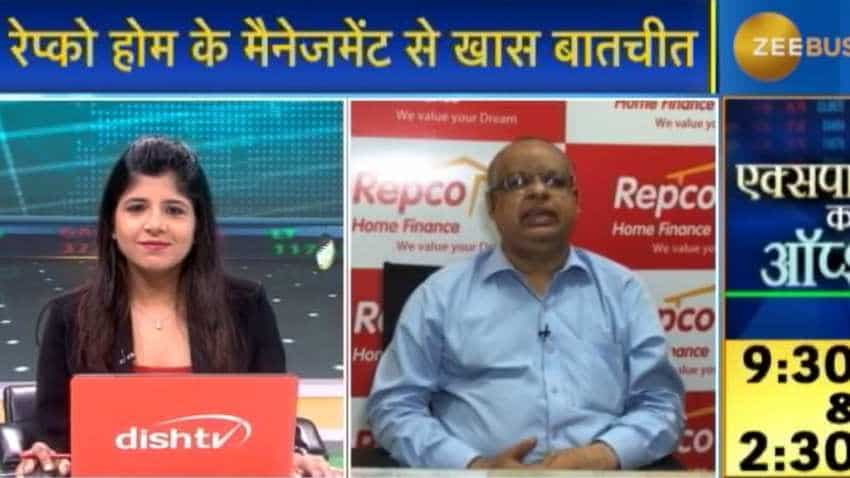 Yashpal Gupta said, "banks mainly lend for big-ticket loans ranging above Rs25 lakhs while our target segment is those who want loans in the range of Rs10-20 lakhs." Image source: Zee Business
Edited By:
Jitesh Kumar Jha
Updated: Thu, Sep 19, 2019
02:32 pm
Mumbai, ZeeBiz WebDesk
The announced special window of Rs10,000 crore will benefit us a lot as our lending portfolio is limited to affordable housing segment, but it will not have any major impact on the entire sector, says Yashpal Gupta, MD & CEO, Repco Home Finance. Gupta during an interview with Swati Khandelwal, Zee Business, said, "banks mainly lend for big-ticket loans ranging above Rs25 lakhs while our target segment is those who want loans in the range of Rs10-20 lakhs". Edited Excerpts:
Q: The finance minister has announced a special window of Rs10,000 crore to give a boost to the housing segment mainly to affordable and middle-income category. What is your view on it?
A: I would call it as an incremental step as affordable houses come under its ambit, but it doesn't cover the projects that turned up to be NPA and NCLT cases. This means several big projects will remain out of its scope. The exercise will have a slight impact on the sector but will not benefit a lot because big projects, which are out of its purview, are stuck. As far as our company is concerned, it will benefit us a lot because our lending portfolio is limited mainly to affordable housing. When it comes to the sector than the government will have to do something for the big projects as well.
Q: Do you think that the step will encourage people to choose banks for loans over HFCs and NBFCs?
A: Banks have always been the first preference for the customers because their rate of interest is quite low. But they, the banks, want to go for big-ticket loans like Rs25 lakhs and more. However, our target segment is a different one and includes those who want loans in the range between Rs10-20 lakhs and don't have all the papers for the purpose. Our offers are based on our assessment on the person's repayment capacity. Thus, we don't have much danger from the banks in that segment. However, the banks have been more aggressive in last few months, but we have faith on Indian population, which is very large and comprises people from every segment of which there is a segment that can't fulfil all guidelines of the banks. For this reason, we believe that the business of housing finance companies like us will continue to do well.
Q: Update us on the kind of strategy that your company will adopt or offer to customers to compete with the banks? Do think that linking of bank rates with repo rate will have any impact on the margins?
A: Linking of bank rates with the repo rates will have an impact on the margin but it will not have a major impact on our sector. For instance, a difference of 1% on our interest rate on Rs20 lakh loans will decrease its EMI hardly by Rs2000. Thus, it will not have any major impact on it. However, we have a strategy of servicing in which while offering a loan, we visit the customer's place or shop and take required paper in our possession and help them in making their paper. But things are different in case of the banks in which the customer is supposed to visit the bank. The second thing is related to turnaround time, we try our best to complete the proposal within a week making sure that the customer is not supposed to rush here and there. Thus, we focus on two things and they are turnaround time and customer service.
Q: Loan book growth of Housing finance companies has slowed down considerably as the banks are adopting a conservative lending approach. What are the situation of your company at present and name the avenues that you are approaching to raise funds?
A: HFCs growth rate has slowed because several big HFCs have sanctioned maximum loans to the builders, but the segment is not growing now. However, we have sanctioned 100% loan to retail/individual customers. We have been growing at an average of 15% and have abilities to reach the levels. As far as banks are concerned then they have gone conservative while sanctioning loans to Housing Finance Companies and NBFCs. We have a good image at the banks, in fact, the banks have sanctioned an additional Rs1,200 crore to us in last 3-4 months. And we are hopeful that a sum of Rs1,500 crore will be sanctioned in the next 3-4 months. Thus, we are not facing problems in getting loans from the banks but are facing a different problem where there is a decline in demand from the customers' end. This has happened because several projects are stuck, increased cement prices have had increased the cost of construction. And, this has had reduced the demand for a home loan as the customers are waiting for a time when the prices will go down. As far as availability of money is concerned then we are not facing such an issue at our end.  
Q: Repco Home, which has been concentrated majorly in South India, mainly Tamil Nadu, has also increased its focus in a few other states. Update us on the kind of response that you are getting over there and name the new geographies where you would like to focus in time to come?
A: Rightly said and if you have a look on 4-5 years old book of South then it was almost 95% but if we have a look on our data of June, the last audited figures, then the south book has come down to around 84%. Tamil Nadu book, which was above 70% at one point of time has been reduced to 56%. Thus, we have grown mainly in Western states like Maharashtra and Gujarat and its loan book stands at 12%, at present. This year, we have launched our branches in Rajasthan and Madhya Pradesh. So, in the next 1-2 years, we will concentrate on these four states, Maharashtra, Gujarat, Rajasthan and Madhya Pradesh. Nevertheless, we will continue to focus on Tamil Nadu and South India, and they will continue to grow. But, these four states will give more growth percentage-wise.
Watch Zee Business Live TV
Q: The company's asset quality has turned poor as your GNPA has reached 4.2% in the first quarter of FY20, which used to around 1% at a point of time. Can you provide a timeline by when there your asset quality will improve?
A: Yes, asset quality is a problem area for us, but we have retail customers. The issue is that a loan turns up to be NPA after the customer defaults on 3 EMIs, however, they pay it after a follow-up from our end. Undoubtedly, NPA is a matter of concern but if you have a look on other aspects than our net profit, ROE, ROA, and Capital adequacy ratio among others are very good. We are trying our best to have a control on NPA by adopting two different strategies and they are (i) recovery of the NPA and (ii) restrict new accounts from turning NPA. Thus, I think that it will come into control in the next one year from here.
Get Latest Business News, Stock Market Updates and Videos; Check your tax outgo through Income Tax Calculator and save money through our Personal Finance coverage. Check Business Breaking News Live on Zee Business Twitter and Facebook. Subscribe on YouTube.