Reliance Jio will restrict unlimited calls to 300 minutes for heavy talkers
Reliance Jio's unlimited free calling schemes has a limit. We tell you all about it.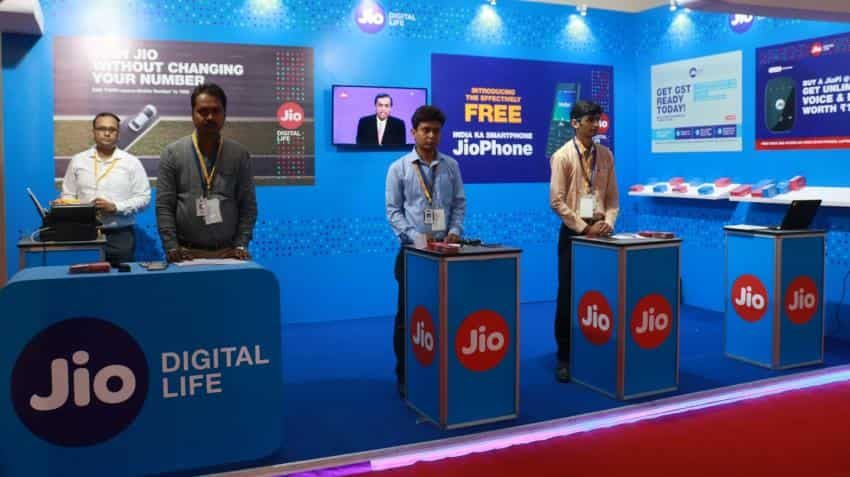 A Reliance Jio stall at India Mobile Congress organised by Department of Telecom in New Delhi. Image Source: IANS
Updated: Wed, Oct 04, 2017
03:55 pm
Mumbai, ZeeBiz WebDesk
Key Highlights

Those violating Jio's conditions of free voice calls will have them restricted.
The company will be restricting some free loaders from making calls beyond 300 minutes per day.
Other networks like Airtel charge customers that cross the 1000 minute per week limit 10 paise per minute for every call from thereon.
When Reliance Jio launched its services last year it put out a statement that read 'unlimited voice calls' that claimed calling any network anywhere in the country would always be free.
A year into operations and Jio has realised it cannot possibly afford its 12.85 crore subscribers misusing the 'unlimited' voice calls clause on its network.
"This Plan is intended only for personal use of included services. RJIL reserves the right to discontinue the free Voice benefits offered as part of this Plan in case of misuse/ fraudulent use/ unauthorised telemarketing and commercial use," Jio's website reads.
Although it hasn't officially updated its terms and conditions with a number on its website the company will be restricting some free loaders from making calls beyond 300 minutes per day, sources told Zeebiz.
TelecomTalk reported this citing a person who was making 10 hours of free calls in Punjab but was restricted by Jio later on.
Jio did not reply to any of Zeebiz queries.
"If an average GSM user is using 400 minutes per month then if in an anomaly case the company comes across someone who is using 100-200 minutes per day they will call that person up to investigate further," a person familiar with the matter said.
Other networks like Airtel charge customers that cross the 1000 minute per week limit 10 paise per minute for every call from thereon. Even Vodafone and Idea have clauses at the end of every 'unlimited' calling scheme that read, "Voice calls free for up to 1200 minutes per week."
However, Jio still boasts that voice calls on its network that 'is truly free.'
Also Read: Pay Rs 6,000 for services in order to own the 'effectively free' JioPhone