Ratan Tata destroying Tata tradition, says Nusli Wadia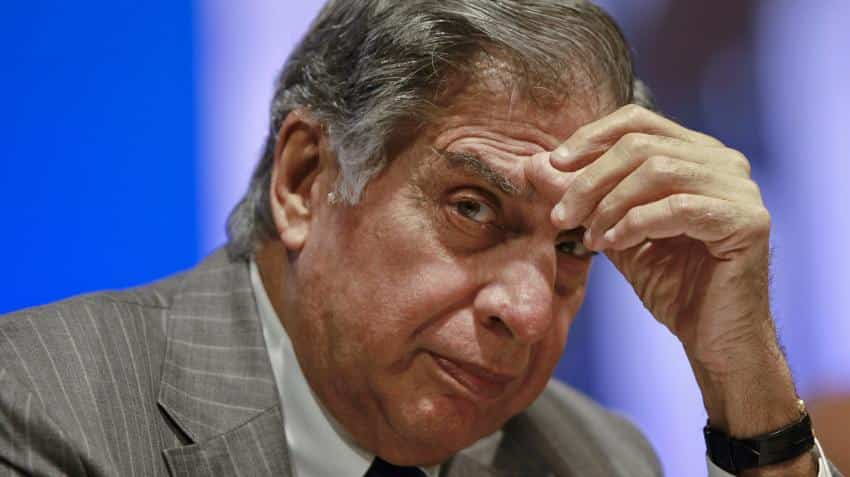 Tata Steel published Nusli Wadia's letter to the company's shareholders but maintained that his views were not the views of Tata Sons. Image of Ratan Tata, interim chairman of Tata Sons. Image Source: Reuters
Tata Steel's independent director, Nusli Wadia on Monday wrote a scathing 15 page letter stating that the very reason why Tata Sons wanted him removed was his 'independence of mind and action.'
In addition Wadia also said that the interim chairman, Ratan Tata was destroying the 'great tradition' of the Tata conglomerate.
In a BSE filing, Tata Steel published Nusli Wadia's letter to the company's shareholders but maintained that his views were not the views of Tata Sons.
"The statements and opinions forming part of the representations are of Mr. Nusli Wadia and not of Tata Sons Limited, the Company, Board of Directors or officers. The Requisitionist, Company, Board of Directors or officers reserve the right to respond to these statements in due course," Tata Steel said.
The company further added, "This has reference to our letter dated November 26, 2016 enclosing the Notice convening the Extraordinary General Meeting (EGM) of the Members of Tata Steel Limited to be held on Wednesday, December 21, 2016 at 3.00 p.m. (IST) at the Birla Matushri Sabhagar, 19, Sir VithaldasThackersey Marg, Mumbai - 400 020.
The Members at the said meeting will, inter alia, consider the resolution for removal of Mr. Nusli N. Wadia as a Director of the Company."
Here is the full text of Nusli Wadia's letter.
Esteemed Shareholders,
I come before you today in the most unique of circumstances. The notice that has been sent by Tata Sons for my removal as Independent Director has been with you for some time.
I. MY ASSOCIATION WITH YOUR COMPANY
I was invited to join your Company as a Director almost four decades ago by the late JRD Tata, my mentor and godfather.  Whatever little I have learnt, and the values that I have tried to imbibe, are those that he gave me.  The most important value that he taught me was that when one enters a Board Room, you leave your shares at the door, irrespective of whom you represent.  He encouraged the freedom of thought and expression.  If any member of the Board disagreed with JRD he not only respected it but appreciated it.  He never expected anyone to toe his or "the Tata line".  He never admonished anyone for being independent.  This is what Mr.JRD Tata practised.
It is both sad and unfortunate that Tata Sons and its interim Chairman Ratan Tata are not only not practising this great tradition but effectively destroying it.
I have always acted as an Independent Director, long before it became a requirement to do so under any law. In August 2014, I was once again appointed as an Independent Director upto 14thFebruary, 2019.
My appointment in 2014 was with an overwhelming majority of more than 95% of the votes cast (including those of Tata Sons). 
I have served your Company Independently for 37 years – longer than any other living Director including Mr.Ratan Tata and I now stand accused of having lost my independence over events that transpired in less than 17 days.
II. THE ALLEGATIONS AGAINST ME
                                              
Tata Sons in their notice dated 10th November 2016, sought my removal as Director and levelled six (6) principal allegations against me, which are unsubstantiated, baseless, false, motivated, defamatory and libellous and have been made with the intention of harming my reputation.  I have also sent a notice to requisitionist (i.e. Tata Sons) demanding the defamatory statement be withdrawn. The allegations with my responses are:
 
(i) that I have been acting in concert with Mr. Cyrus Mistry;
This is totally false and baseless.  My actions as an Independent Director are totally independent and not linked to any individual.
  
(ii) that I have been acting against the interests of the Tata Group;
I do not serve the Tata Group in any capacity and am not required to act in their interest.  The statement is irrelevant to my position as an Independent Director of Tata Steel.  It is also baseless and unsubstantiated.  I am an Independent Director of certain Tata companies, and have acted and continue to act accordingly.  I have a fiduciary responsibility to act as an Independent Director in the best interest of the companies on whose boards I serve, no more no less.
 
(iii) that I have been conducting myself as an interested party in a manner that is designed to cause harm to the Tata Group, despite 'purportedly' being an independent director on the boards of certain Tata companies;
The very reason for which I am being sought to be removed by Tata Sons is my independence of mind and action, in the discharge of my fiduciary duties as an independent director of your company. The statement that I am conducting myself to cause harm to the Tata group is baseless and defamatory and not worthy of a response.
 
(iv) that I have not been conducting myself independently and have been galvanizing the Independent Directors and acting prejudicially;
The Company's own explanatory statement issued by the board to the shareholders states that I was appointed as an Independent Director of the company at the AGM dated 14th August, 2014 and I "continue" to be an Independent Director "as of the date of this notice":  also that I continue to "serve as Chairman of the Nomination & Remuneration Committee as also a member of the Executive Committee of the Board of the Company".  Hence it is the Board who have certified that I am an Independent Director. This statement of the Board confirms that as on the date of this notice I am and continue to be an Independent Director. I am sure that my Independent Director colleagues are equally independent minded enough not to be galvanised by anybody, least of all, one of their peers.
                       
(v) that my actions may put Tata Steel Limited and its future in grave jeopardy and impact the overall morale of the workers, employees and management who have joined a Tata company; and
This is false and untrue and is conjecture.  No worker, employee, or manager or director of Tata Steel has ever complained of my conduct. On the contrary it is they who have sought my advise on several occasions outside the Board meetings on many issues.
  
(vi) that I do not have bonafides.
I have already sent notices for defamation to Tata Sons for carrying on a personal vendetta against me for not toeing their line.  I believe that it is Tata Sons and its interim Chairman who have vindictively issued this notice with malicious intent to remove me from the Board of Tata Steel Ltd.  I believe that it is their actions, which lack bonafides and in fact are malafide.
III. MY REPRESENTATION TO THE BOARD
 
As reported in the notice before you, I had requested the Board, through my letter dated 23rd November, 2016, in performance of their fiduciary duty, to forthwith investigate the serious allegations (in my opinion false) contained in the notice of Tata Sons and if found true take action against me as per law.  In the event that the allegations are not proved, it is the duty of the Board to state otherwise and inform the shareholders accordingly.  They have chosen not to do so. In the alternative I have suggested that the Board should forthwith appoint an independent impartial retired Judge who should expeditiously preferably within 15 days investigate all the charges and place his findings before you, the shareholders.  The Board has not acted on this suggestion either. By not stating otherwise the Company continues therefore to accept me as an Independent Director, which is both a de-facto and de-jure endorsement of my position and my conduct.
 
IV. MY RECORD WITH THE COMPANY 
 
1.  The alleged reasons seeking my removal do not even remotely relate to my performance or my conduct as an Independent Director of Tata Steel for 37 years.
 
2.  I had in my letter and at the Board Meeting requested the Board to provide you with information recorded with the Company and with the shareholders relating to my performance.
 
3.  In the Annual Report for the years 2014-15 and 2015-16 of your Company, the evaluation process of Directors was reported to the shareholders in which they were informed that the "Board considered and discussed the inputs received from the Directors". Further the NRC and the Independent Directors at their meetings reviewed the performance of Board and expressed their satisfaction to the shareholders in the performance of all Directors and the Chairman of the Board.  The relevant extract from the reports in the 2015-16 is reproduced below.
 
Quote from Annual report 2015-16 (Page – 67 of Annual Report)
 
"The evaluation process endorsed the Board Members' confidence in the ethical standards of the Company, the cohesiveness that exists amongst the Board Members, the two-way candid communication between the Board and the Management and the openness of the Management in sharing strategic information to enable Board Members to discharge their responsibilities."
 
V. THE EVENTS WHICH TRIGGERED THE NOTICE SEEKING MY REMOVAL: 
 
1. On 10th November, at approximately 5.00 pm, the Independent Directors of Tata Chemicals (another company of which I am an Independent Director), unanimously issued a statement affirming their confidence in the Board, its Chairman and the Management of Tata Chemicals.  At the commencement of the Board Meeting that followed the Independent Directors meeting, Mr.Bhaskar Bhatt, the MD of a Tata Company, read out a hand-written statement proposing that Mr. Cyrus Mistry should not chair the meeting. The remaining directors present did not agree to support such a proposition. A few hours later Mr. Bhatt resigned.
 
2. Thereafter it is understood that approximately between the hours of 11.00 pm and 1.00 am that night, the Tata Sons Board passed a circular resolution to issue notice for my removal with an explanatory the statement that I have referred to earlier (as in Item 2 of the notice).
 
3.  The notice from Tata Sons was delivered to your Company at 8.41 am a few hours later, on the morning of 11th November, less than 90 minutes before the Independent Directors were to start their scheduled meeting to discuss recent developments. This was obviously done in order to influence the deliberation of the Independent Directors, and damage my standing before my colleagues as the convenor presiding over the Independent Directors meeting.
 
4.  I am the only Independent Director of Tata Chemicals whose removal is being sought. No action against any other Independent Director has been taken of that Company. Near-identical notices to remove me as an Independent Director of Tata Chemicals and Tata Motors were moved by Tata Sons and delivered simultaneously with the Tata Steel notice.
 
5.  The cause of the hasty and vindictive reaction of Tata Sons and its interim Chairman to move the circular resolution in the middle of the night for my removal were obviously triggered by the above events.
 
6.  What is strange is that in Indian Hotels where I am not a director as also in Tata Motors where I am, statements were issued on behalf of the Independent Directors. Even more strange is the fact that no other Independent Director of any other Tata company has been sought to be removed other than me.
 
7.   All the above events are extraneous and irrelevant to Tata Steel.  No event has taken place in Tata Steel, which results in the notice being issued for my removal.
 
VI.CORPORATE MATTERS  
 
Over the years I have as an Independent Director expressed my views and differed with several proposals during the time of Mr. Ratan Tata's Chairmanship:
 
1. I differed strongly in a proposal for the development of the Borivali land through a joint venture with Tata Realty a subsidiary of Tata Sons – a related party.
 
2. Likewise, I differed strongly with the development of the Gopalpur land (SEZ) in Orissa again in a joint venture with Tata Realty.
 
3. I differed strongly with the acquisition of Corus for sound reason.  However a decision was ultimately takenby consensus.  I had a fundamental difference on the strategy as to whether Tata Steel would be best served in expanding, in the UK.  I was strongly of the view that Tata Steel should concentrate on the rapidly growing Indian market, and develop its new Greenfield steel plant where the margins and returns would be far superior. My strategic view was that Tata Steel would become the lead No. 1 steel company of India.  Unfortunately, that is not the case today.  The Kalinganagar project has been severely delayed with substantial cost overrun and has come on stream with 3 million tonnes alone as against a proposed original 6 million tonnes.  As a result, its financial returns have been impacted substantially.
 
4. I also differed strongly providing continuous financial resources towards Tata Steel Europe from the year 2012 prior to Mr. Tata stepping down.  From that date to now, the capital employed in the business has risen by approx. Rs.25000 cr. with nil return.  These funds could have been applied for the full completion of Kalinganagar at 6 million tonnes as also investing in or acquiring a third steel plant.
Consequently, Tata Steel has been constrained from expanding and growing in India.  Tata Steel has lost its premier position as a steel maker in India to its competitors.  With further application of resources to the UK with nil returns, I believe that the situation is likely to further deteriorate and impair Tata Steel's Indian operations from growing as they should.
It is not the role of your Company to save jobs in the UK nor to support its pension funds.  The role of your Board is to apply your funds to the most profitable growth opportunities which are quite obviously better served by investing in India where the returns are better and the Company contributes to the industrial growth and development of India. 
 
5. Any return on investment to the shareholders of Tata Steel from its investment in Tata Steel Europe looks a near impossibility. The shareholders of Tata Steel have already suffered a serious impairment of close to Rs. 35,000 cr. and are likely to have further substantial impairments in the future.  The total capital employed now on account of Tata Steel Europe is in the region of Rs.75000 cr.
 
6. The very purpose and foundation of Tata Steel by the great Indian visionary and nationalist Jamshedji Tata in 1907 was to fulfil the dream of 'Make in India' when all the steel consumed in India was being imported from the UK.
It was his pride and belief in India that is today being espoused by our Respected and Honourable Prime Minister ShriNarendraModi through his vision 'Make in India'.  Tragically in contrast we now read in the British and Indian press "Ratan Tata hailed as saviour of UK Steel Industry".
It is ironic that the Founder Jamshedji Tata started Tata Steel to fight British Steel and now Ratan Tata is trying to save British Steel (Corus/Tata Steel Europe) by deploying huge resources at the cost of Tata Steel India.
 
7. I strongly opposed over several meetings for Tata Steel to become the promoter of Tata Teleservices.  Fortunately, Tata Steel Ltd. did not proceed as a promoter. The performance and financial results of Tata Teleservices are available for all to see.
 
8. On the one hand Tata Steel is burdened with heavy debt.  On the other hand Tata Steel has large cross holdings in various Tata companies including non listed companies Tata Sons, Tata Industries, Tata Teleservices and listed companies Tata Motors and Tata Power.  The approximate value of the unlisted shares is Rs. 10,000 cr. or more.  The current value of the listed shares is in excess of Rs. 4000 cr. making a total of Rs.14000 cr. These cross holdings are being maintained in a debt ridden company only to indirectly shore up the voting rights and control of Tata Sons in the listed companies.  The holding of your company and across all the listed companies in Tata Sons Ltd. is approximately 14% and is being maintained only to shore up the voting rights of the Tata Trusts.
 
9. It is for you the shareholders who own 70% of the company to decide as to whether it is in your best interest to hold the shares worth Rs.14000 cr with no return or to disinvest, pay off an equivalent debt and save interest of approximately Rs.1400 cr per annum, thereby improving the profit of the Company by the same amount.
  
VII. CORPORATE GOVERNANCE
 
Inappropriate influence – a contravention of Law?
 
1. There are serious concerns with regard to statements made by Lord Kumar Bhattacharyya which may attract the provisions of the Insider Trading Regulations that puts restrictions on disclosure of material and unpublished price sensitive information.
 
2. Lord Kumar Bhattacharyya was part of the selection committee which selected Mr. Cyrus Mistry as the Chairman of Tata Sons and is now once again in the selection committee for the successor of Mr. Cyrus Mistry as the Chairman of Tata Sons.
 
3. Lord Bhattacharyya in a Speech in the House of Lords on 7th of July, 2016 claimed on the floor of the House in the British Parliament that he had influenced and advised Mr. Ratan Tata then chairman of Tata Steel to make Tata Steel buy Corus. Lord Bhattacharya stated that, "I know this because it is another company I made my friend buy".
 
In the same speech he went on to criticize the management of the Company and claimed that one of the causes was underinvestment.  Further, he went on to state: "I am hopeful that we can find a solution that will secure…. It was because of underinvestment and poor management.  Yet the truth is that the root causes of the steel crises should have been dealt with well before the glut".
 
4. What is of great concern is that Lord Bhattacharyya from June, 2016 and thereafter in September, 2016 claimed that he was "developing a strategy for Tata Steel to remain in the UK".  This is prior to the removal of Mr. Cyrus Mistry as Chairman of Tata Sons on October 24, 2016.
 
5. Lord Bhattacharyya stated on September 13 – "I brought steel here" he said without hyperbole, referencing Tata.  "The reason why it is in trouble is lack of investment", in reference to the precarious future of UK steelmaking since Tata Steel announced in May it would sell the loss-making Port Talbot steelworks.  A friend of former Tata chairman Ratan Tata, Bhattacharyya said that he is developing the strategy for Tata Steel to remain here".
 
6. On the evening,( Thursday, 24th November) prior to Mr. Cyrus Mistry's removal as Chairman of Tata Steel by circular resolution and also prior to the board meeting on the same day, The Guardian reported the following events. News of Mr. Mistry's ousting came just hours after a senior Tata Group official said Tata Steel UK had halted the sale of its specialist steels business and committed itself to continued steelmaking in Britain for "at least" a decade.
In making the pledge, Lord Kumar Bhattacharyya, a senior adviser to Tata's holding company, eased some of the concerns over the future of British steelmaking and the viability of the Port Talbot plant in South Wales.
Speaking to a group of local business leaders and politicians, including UK business secretary Greg Clark, on Thursday evening, Lord Bhattacharyya said: "We [Tata Steel] went through some problems in the last few months but we are now resolving it and we are working with everybody, with the workers, local authorities and government in order to make sure that Tata produce steel here for the next 10 years at least.  We will do that."
After the speech, Lord Bhattacharyya told the Guardian, said that the company had halted the sale of the UK specialist steel unit in light of the management disruption.  This was subsequently confirmed by two separate people with knowledge of the negotiations.
 
Similar report appeared in the Guardian newspaper as under:
 
"Bhattacharyya, one of the Tata group's closest advisers, said Tata is preparing "major announcements about growth in Tata Steel", and is "resolving" the problems facing the business.  He also said the company is halting the sale of its speciality steels arm, which is part of Tata Steel UK and employs about 2,000 people in northern England.
Bhattacharyya is close to Ratan Tata, the chairman of Tata Group, and advised him on the purchase of Corus, which was previously British Steel. He is also a member of the panel that will choose Tata's successor as group chairman.
The future of Tata Steel UK and its 11000 workers has been in doubt since the Indian company announced a review of the business in March, amid mounting losses and heavy debts.  
Bhattacharyya was talking at a meeting of political and automotive leaders from the Midlands on Thursday evening, which included Greg Clark, the business, energy and industrial strategy secretary.
The Labour peer said: "ofcourse we went through some problems as you have read in the papers in the last few months but we are now resolving it and we are working with everybody, with the workers, local authorities and government, in order to make sure that Tata produces steel here for the next 10 years at least.  We will do that".
Bhattacharyya claimed "Britain has got a lot of skill in Steel" adding: "we have been going through some problems off course, temporary problems, but nevertheless I think we are on the verge of solving it".
 
Several similar reports appeared across the Indian media.
 
7. The question that now arises is in what capacity did Lord Bhattacharyya make these statements and with whose authority did he commit your company, make announcements to the UK Parliament, the UK Public and the Indian public.  He has no role or responsibility in your company. His only claim is that he has influenced the decisions of your company through the then Chairman Ratan Tata and continues to do so now through the interim Chairman of Tata Sons, a promoter shareholder of your company.  
This is now confirmed by the fact that the British and Indian press are now reporting "Ratan Tata hailed a saviour of UK Steel Industry" in which a commitment for 10 years and £1 billion investment to save thousands of jobs has been done. 
These statements go beyond what has been discussed or deliberated on in the Tata Steel Board.  It is the Board of your company who has the sole jurisdiction of conducting the affairs of your company. These are serious matters and appear to be a breach of the SEBI (Insider Trading Regulation), the Companies Act.  Is it a further serious failure of corporate governance that will require be examining and suitably addressing in compliance with the appropriate laws and regulations? Is it a failure of the Tata Code of Conduct that applies to all directors of all Tata companies including Tata Sons and its interim Chairman – Ratan Tata?
 
Alleged Governance lapses by Tata Sons, their directors and certain Trustees of the Tata Trusts.
 
1. I believe that Tata Sons have misused and abused their relationship with the 'management directors' of Tata Steel in having them propose a resolution along with some other directors of the board of Tata Steel, are expected to be Independent, for the passing of a circular resolution for the removal of Mr. Cryus Mistry as Chairman. The resolution that was circulated, not as a draft as required by law, was signed by the Managing Director, Mr. Narendran in Jamshedpur, Group Executive Director (Finance & Corporate), Koushik Chatterjee and Ishaat Hussain in Mumbai, Mrs. Mallika Srinivasan and Mr. O.P. Bhatt in New Delhi, by Mr. Andrew Robb in London, Mr. Mehrotra (abstaining) in Mumbai during the day, and was sent to Mr. Cyrus Mistry, myself and Mr. Subodh Bhargava just 45 minutes prior to the convening of a Board Meeting when I was travelling in the car going to the Board Meeting.  The Company Secretary has falsely stated to the Board at the Board Meeting that "we have not had a response from one director, Mr. Wadia". How could I respond when I was in the car on my way to the meeting and how can the Company Secretary falsely say I have not responded? Why was it not sent to all directors simultaneously? Normally circular resolutions are sent to Board members in draft form simultaneously by the Company Secretary and that too only for urgent business between Board Meetings.  They are sent chronologically starting with the name of the Chairman followed sequentially by my name and others in order of seniority.  In this specific and no other case the circular resolutions that were sent to Mr. Mistry, Mr. Bhargava and me were sent by the Company Secretary after taking the signatures of all the other directors. It is obvious therefore that this action by the directors concerned and Company Secretary of Tata Steel are highly suspect, inappropriate and lacking in basic Corporate Governance, and I believe wholly illegal. 
I am advised by a respected former Judge of the Supreme Court of India that:
"In view of this mandatory provisions of law and the rigor with which the regulations are sought to be imposed, coupled with casual manner in which the said provisions have been flouted in passing the Circular Resolution to remove the Chairman of ABC Ltd., I am of the opinion that action taken is wholly illegal contrary to the provisions and policies of the Act and LODR Regulations.  In addition, I would add that it is also contrary to the elementary principals of natural justice and good Corporate Governance."
It is for you the shareholders of your company to determine as to whether they wish that their company is governed or should I say misgoverned in such a manner? They should judge whether these actions are in conformity with elementary principles of natural justice and good Corporate Governance and meet even the basic standards of ethics and morality expected of their Board.
 
2. I believe that Tata Sons as also Trustees of the Tata Trusts have sought information and knowledge and received briefings with regard to the affairs of the company, and in particular Tata Steel Europe, which are material and price sensitive.  This I believe was before the introduction on 15thJanuary, 2015 of the Insider Trading Regulations.
 
3. I believe that Mr. Ratan Tata, Mr. Noshir Soonawala and the Board of Tata Sons even post notification of the Insider Trading Regulations (15th January, 2015) sought access to information and documents of Tata Steel, Tata Motors and other Tata companies.  It is alleged that in addition, they have demanded that the senior members of the management brief them and make presentations to them on various business proposals and activities from time to time.
 
4. Mr. Bharat Vasani, Chief Legal and Group General Counsel, Tata Sons sought the opinion of a Senior Counsel on 24th February, 2015, just a month after the Regulations came into force.  He sought advice for the passing of resolutions by the Board of Directors of the Tata listed Companies to enable them to authorise the managements to pass on or present financial information/strategic presentations to the Board of Directors. I believe that these alleged that these opinions were sought on the insistence of Mr. Ratan Tata and Mr. Soonawala, Trustees of the Tata Trust.
 
5. The Opinion was obtained by Tata Sons in June 2015 and sent to me by the Group Legal Counsel of Tata Sons in February, 2016 in order to persuade me to agree and be a party to a resolution to provide the information outlined in the opinion to be passed by the Boards of the companies where I serve as an Independent Director, including your company. I did not agree with the Counsel's advice, and no Board resolution was presented to or passed by the Board of Tata Steel.  Despite this, I believe that the information and presentation was being made before and even after February, 2016.
 
6. The financial, strategic presentations and data sought, as also the presence of the key managerial personnel presenting to the Tata Sons Board and to Mr. Tata and Mr. Soonawala –as Trustees of the Public Charitable Tata Trusts, could be regarded as a violation of the Insider Trading Regulation (unpublished material and price sensitive information and knowledge) was being promised to those seeking it who are unauthorised.
           
7. I believe that that over the period 2015-16 in addition to the above, Mr. Ratan Tata and Mr. Noshir Soonawala demanded that certain important and strategic  matters be shared with them as Trustees (not being directors of Tata Sons) with regard to the affairs of Tata Motors and Tata Steel. As a result, I believe that presentations with regard to Tata Steel Europe, its strategy, its financials, its proposed merger with ThyssenKrupp and other material and unpublished price sensitive information / matters were presented to Mr. Ratan Tata and Mr. Noshir Soonawala – a violation of the SEBI Insider Trading Regulation.
 
INTIMIDATION IN NOTICE OF TATA SONS: 
 
The Notice of Tata Sons to the shareholders seems to create an atmosphere of intimidation with regard to the overstated role of Tata Sons, the promoter with regard to the brand.  Your company was incorporated in 1907 as the Tata Iron and Steel Co Ltd. The company in its Certificate of Incorporation was christened with the name Tata by the Founding Fathers.  It is they who endowed Tata Steel with the name 'Tata' and not Tata Sons, this too before Tata Sons was even incorporated.  The products of the company have been sold since 1907 under the brand name Tata 91 years before any licence agreement with Tata Sons was entered into by the company that too without a payment of any fee.  It is only from 1998 that Tata Steel have through this agreement the validity of which needs to be examined and suitably addressed, paid royalty.
 
To my knowledge no financial support has been given by Tata Sons to Tata Steel including in the acquisition and continuation of the investment in Tata Steel Europe or otherwise.  No letters of comfort nor guarantees have been provided by Tata Sons to Tata Steel or Tata Steel Europe to my knowledge.
 
IS AN INDEPENDENT DIRECTOR TRULY INDEPENDENT WHEN THE PROMOTER IS PERMITTED TO PROPOSE AND VOTE FOR HIS REMOVAL.
 
The current Companies Act and SEBI listing Regulations creates a serious dichotomy if not a contradiction of the manner in which an Independent Director could and should be removed.
 
What needs to be considered is the following:
 
1.  An Independent Director means a director other than a Whole Time Director, Nominee Director, and who is not either a promoter of a company and/or related to a promoter.
 
2.  An Independent Director is appointed for a fixed term of 5 years and not liable to retire.
 
3.  The Audit Committee of a company must comprise of the majority of Independent Directors and be chaired by an Independent Director.
 
4.  The Nomination & Remuneration Committee of a company likewise must comprise of a majority of Independent Directors and be chaired by an Independent Director.
 
5.  The Chairman of the Audit Committee and the Chairman of the Nomination & Remuneration Committee are required to attend the General Meeting of shareholders.
 
6.  Independent Directors are required by law to abide by special Code of Conduct for Independent Directors alone under which they have fiduciary obligations.  Such obligations are not cast on the Non-Independent Directors.
 
7.  The second tenure of an Independent Director requires a special resolution of
shareholders.  Therefore it is only logical and appropriate that the removal of an Independent Director during his first 5-year term should require a special resolution on which the promoter should not be permitted to vote.
 
8.  From the above it is evident that Independent Directors have extremely important and onerous duties, which require independence of mind and thought. The question arises as to whether therefore the removal of an Independent Director at the instance of a promoter goes against the very concept of an Independent Director.  If an Independent Director can be removed at the whims and fancies of a promoter shareholder then it begets the question as to whether he is truly independent, and can function as such.
 
9.  In the case of specific related party transactions as also mergers involving
promoters the promoter shareholder is not permitted to vote at a General Meeting on such resolutions.
 
10. The removal of an Independent Director stands on a much higher pedestal than a mere transaction, since an Independent Director is the guardian and custodian of all stakeholders, and in particular, the non-promoter shareholders of a company.  If the voting rights of promoters/interested parties are restricted in case of related party transactions or a merger of a listed company, then there is no reason why the same principle should not apply to removal of Independent Directors as well.
 
11. The ability of a promoter to remove an Independent Director through an ordinary resolution on which it can vote therefore represents a major dichotomy and contradiction that needs to be addressed urgently.
 
12.  A very eminent Former Judge of the Supreme Court in a very detailed opinion
has stated "in my opinion it would be fallacious to say that an Independent Director is not liable to retirement in normal course as prescribed under Section 152, but he would be liable to be removed at the caprice of the Promoter group by an Ordinary Resolution by simple majority".
He further states "I am therefore of the Opinion that the ability of Promoter/Promoter Group to remove an Independent Director by an Ordinary Resolution is wholly deleterious to and contradicts the very concept of Independent Director".
 
13. It is upto you collectively the non-promoter majority shareholders of the company
to also seek redressal of this issue in order to protect the Institution of Independent Directors who are your custodian and fiduciary.  It is for you to seek the intervention of both the central government and SEBI to address this issue by ensuring that the resolution for the removal of an Independent Director should be a special resolution and be voted on by only the non promoter shareholders.
 
WHAT ARE THE ISSUES AND WHAT IS AT STAKE?
 
1.   Although, it is my removal that you are being asked to vote upon, the real 'person' on trial is the "institution of the Independent Director" itself and not me.  Your vote will have implications not only on how the other Independent Directors in your Company are to be treated, but in fact, on all Independent Directors of all companies across the country.
 
 
2.   The reason why I state this is quite simple.  I am before you today because I chose to discharge my duty as an Independent Director honestly, faithfully to the best of my abilities as a fiduciary in the interest of all stakeholders. I did not toe the line of one particular shareholder. My independent stand has aggravated Tata Sons and my removal is being sought because I chose not to follow their diktat. My fiduciary duty is to your company and not to an unidentified Tata Group.
 
3.   Independent Directors act as custodians of the interests of all stakeholders.  By law, they chair the Audit Committee and Nomination & Remuneration Committee (NRC) and form the majority on these committees.  Chairman of the Audit Committee and NRC are mandatorily required to be present at the Annual General Meeting of the Company to directly answer your, the Shareholders, questions.
If they can be removed at the whim and fancy of a promoter, then their role is reduced to being 'yes men'. 
 
4.   The resolution proposing my removal as an Independent Director is taking place for the first time in our country and since the institution of Independent Director was created.
 
5.   It is the first time in the history of corporate India that a promoter is using his muscle power with false and vindictive allegations to remove an Independent Director. 
 
6.   Under such circumstances, the Independent Directors are left with two options- either to resign or face removal and be forced to defend their integrity before the shareholders at their own expense.
 
7.   It is for you to decide if such coercive tactics must be condemned in the strongest terms as they fly in the face of the basic tenets of corporate governance.
 
8.   Your vote will therefore be a significant signal to all other companies, promoters, public shareholders as well as Independent Directors. 
 
CLOSING REMARKS
 
It is now in your hands to decide not on my fate as an Independent Director of Tata Steel, but on the fate of the very institution of Independent Director requires to be protected by the shareholders in whose interest the Independent Director serves as a fiduciary to safeguard the interests of all stakeholders, most important of all, yours, dear shareholders.
 
Thank you for taking the time to read this. I hope that you will vote with your conscience and for what is right for your company and the institution of Independent Director.
 
I have penned down the above in good faith and with due care and attention. I have stated the above facts in my representation in consonance with and having the spirit of section 169 of the Companies Act in my mind only and no other intentions.
 
Yours sincerely,
  
Nusli N Wadia
Independent Director
Tata Steel Limited
Get Latest Business News, Stock Market Updates and Videos; Check your tax outgo through Income Tax Calculator and save money through our Personal Finance coverage. Check Business Breaking News Live on Zee Business Twitter and Facebook. Subscribe on YouTube.
Updated: Tue, Dec 13, 2016
12:14 pm
Mumbai, ZeeBiz WebDesk