Production at our Dahej Unit is likely to start in 2022: RG Agarwal, Chairman, Dhanuka Group
RG Agarwal, Chairman, Dhanuka Group, talks about the forecast of monsoon and its impact on his business, pricing trend, export market, upcoming Dahej unit, speciality formulations and promoters' stake in the company among others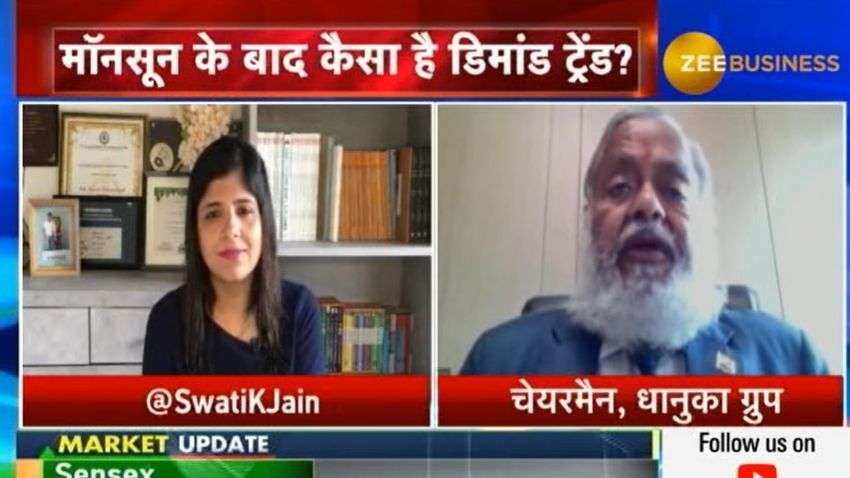 RG Agarwal, Chairman, Dhanuka Group, talks about the forecast of monsoon and its impact on his business
RG Agarwal, Chairman, Dhanuka Group, talks about the forecast of monsoon and its impact on his business, pricing trend, export market, upcoming Dahej unit, speciality formulations and promoters' stake in the company among others during a candid chat with Swati Khandelwal, Zee Business. Edited Excerpts:
See Zee Business Live TV Streaming Below:
Q: Recently Skymet downgraded the monsoon. Are you seeing any impact on sales? What do you foresee?
A: As far as the forecast of the monsoon has been downgraded, if we have a look across India then every year it has happened that rain is more in some areas, while it is normal in some and less in other areas. If we look at the overall average, then production from agriculture is increasing not declining. So, it may have little impact, but the monsoon forecast for September and the way monsoon has started at the start of September gives a sense that a lot of improvement can be the Kharif crop that faced setbacks faced in few states. In the pesticide business, we were expecting very good growth earlier, but it may not happen, and it may have less growth. But Rabi season is expected to go well because the last monsoon of September will leave moisture and water for the Rabi crop due to which the farmers may try to make two crops, a Rabi crop and a summer crop, through which they can compensate the loss of Kharif season in the Rabi season.
Q: Tell us about the pricing trend and what is the trend in input cost?
A: Prices are stable but due to freight factors and availability of the containers, a certain issue has been created through the government of India is trying that the issues related to international transportation of the containers. Due to its unavailability, the cost has increased a bit, but the industry can absorb it due to which we cannot say that there is a positive trend or there is a negative trend. Prices are reasonable and stable. 
Q: What kind of traction you are seeing in the export markets and what is your outlook on it?
A: Till now, our company is not engaged in the export of agrochemicals, therefore, I will not be able to make a good comment regarding exports. But even in the international market, export is increasing from India because developed countries are preferring India to import instead China and it is benefitting the industry and companies of our country and I feel that it will continue. At the same time, a good investment is happening in India to create a future capacity in this field. We are also establishing a new plant in Dahej with a major focus on export. 
Q: You are talking about the Dahej unit. Let us know about its expansion plans, by when it will be commercialized and how the company will be benefitted from it? What is being invested in it and beyond this do you have any investment plans lined up?
A: In the first phase, we are planning an investment of Rs 200 crore, and the production of the first phase is likely to begin in 2022. We expect that the complete project will be completed by 2023. To date, we are not present in the export market and with the completion of the project – as we are making such products that are in demand in the international market – we will enter into the export market. Overall, our sales and turnover will increase with it. If we have a look at the consumption of the pesticide of our country then it is negligible, just 300 grams per hectare while China's consumption is 13 kg, you can see the vast difference and that is the region for our crop losses. If you will see that our country's agricultural land is more than China, our monsoon is more than China but GDP from agriculture is one-third in comparison to China. Now, India is also opening up for new technology. Recently, we have invested in a start-up company for drones, whose drones are approved by DGCA. So, this technology was not available in our country so far and now we are bringing this technology in a very big way. In that way, wherever there will be opportunity in the sector our company will be aggressively working and spending for providing services to the farmers, so that, by using right technology there yield which is very-very low in comparison to if you see the world average than it is nothing. In one of the Vigyan Bhavan meetings, our honourable Prime Minister regulated by Kishan Channel said our average per hectare yield of cereal is two tons while the world average is three tons, at least reach to the world average. Now, we are not talking about the world average, why not we should explore reaching the world's best if we can provide new technology. 
Q: How much are speciality formulations contributing to the topline right now and what will be your target in the next two to three years?
A: We have a target of double-digit growth at present and going ahead, more improvement will be seen in it, once production will start from Dahej. As far as new technology and formulations are concerned, our company is a leading company in that area because we have tie-ups with six Japanese companies, and we are registering and marketing their new technology products in India. There is no research on pesticides in our country and whatever technology is available is coming from outside India. This technology is limited to Japan, Europe and the US. Currently, we are bringing this technology to India from six Japanese companies and new formulation technology and new pesticide. I believe that no other single company in India would have launched the number of products and formulations that we have launched in the last 10 years. We have launched such products, if we talk about sugarcane and maize, then the farmers' yield has increased by 25% in these two crops. Thus, we are bringing such products that are increasing the farmers' yield. 
Q: Promoter stake in the company has decreased from 75% to 70% QoQ. What was the reason? Also, how many new products are you planning to launch this FY and target segments?
A: Since the company was formed, the promoters stake stood at 90% then according to the SEBI guidelines, we reduced it to 75%. Now, the company is getting an opportunity in which it has provided 5% stakes of the company to the company of Singapore Government. There is no special reason behind offloading the stakes in the company. We will take this money and increase our investment in the services sector related to agriculture. The drone sector was restricted in India to date but is starting now and we are going to invest at a large scale in the sector. Having an eye on the future and its potential, the company thought of offloading with an aim to diversify the business. 
Get Latest Business News, Stock Market Updates and Videos; Check your tax outgo through Income Tax Calculator and save money through our Personal Finance coverage. Check Business Breaking News Live on Zee Business Twitter and Facebook. Subscribe on YouTube.
Updated: Tue, Sep 07, 2021
02:59 pm
New Delhi , ZeeBiz WebDesk