PNB fraud: Nirav Modi, Mehul Choksi put jewellery sector's growth at stake
The developments related to the ONB fraud case has hit the jewellery sector in India, where Gems and Jewellery retail market is estimated to be at Rs 3,90,000 crore, out of which 30% are formal retailers.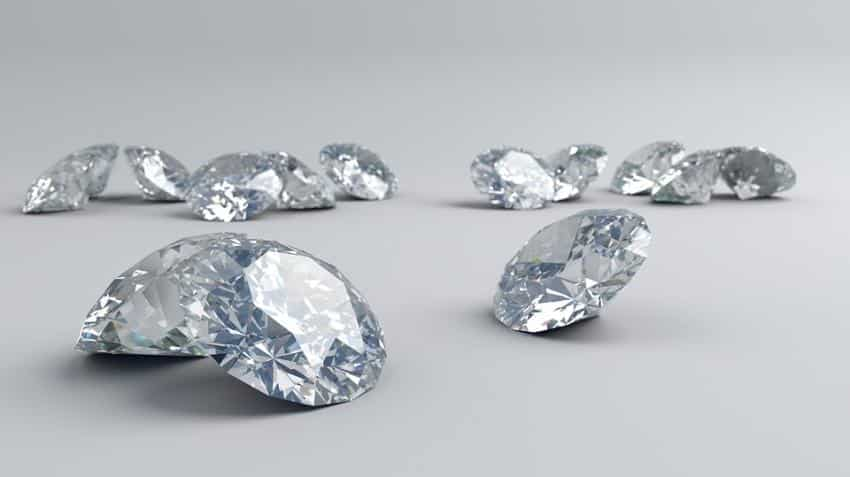 Representational Image: Photo: Pixabay
Updated: Wed, Feb 28, 2018
12:36 pm
Mumbai, ZeeBiz WebDesk
The alleged fraud at state-owned Punjab National Bank (PNB), involving diamond traders Nirav Modi and Mehul Choksi, has taken a new twist as the amount rose to Rs 12,700 crore from previous Rs 11,400 crore, putting the health of gems and jewellery sector's growth at stake.
 
PNB alleged that one of its former employees provided Nirav Modi and his associates with guarantees to obtain loans from abroad. The bank officials reportedly managed to misuse the SWIFT network to transmit messages to other banks bypassing the core banking system (CBS), keeping the bank management in dark.
 
These officials acting as a guarantor between 2011 and early 2017, guaranteed Rs 6,500 crore without issuance of any collateral, followed by another Rs 4,900 crore over March to May 2017, and the quantum of fraud reached Rs 11,400 crore. The bank filed complaints with CBI against Nirav Modi, his relatives and associates including Mehul Choksi, CMD of Gitanjali Gems Limited.
 
PNB's statement on Tuesday has further shocked markets as it said that fraudulent transactions could be Rs 1,300 crore more than the current estimate of about Rs 11,400 crore.
 
The developments related to the fraud case has, however, hit the jewellery  sector in India, where Gems and Jewellery retail market is estimated to be at Rs 3,90,000 crore, out of which 30% are formal retailers.
 
Nirav Modi, who has been in jewellery business since 2010, popularised his brand name, hiring some of the big Hollywood and Bollywood celebrities to endorse his products. The company is also known as Firestar Diamonds. Nirav Modi's main revenue came from diamond cutting and polishing business, which caters to some of the largest players internationally.
 
Since Nirav Modi was also involved in designing and manufacturing of premium-end stone and diamond studded jewellery, he opened stores in New York, Beijing and Hong Kong, besides having flagship outlets in Mumbai and Delhi.
 
Gitanjali Gems was involved in import-export of gold and studded jewellery, besides being in the business of retail jewellery in India's 200 cities and the top markets abroad. As the alleged fraud case has led to shutdown of these two bigshots' business, let's try to understand the impact on the entire sector.
 
A Care Ratings agency provided important financial indicators of a set of 34 companies for the three year period: 2014-15 to 2016-17, under which it included Firestar for 2014-15 and 2015-16, but excluded it from 2016-17.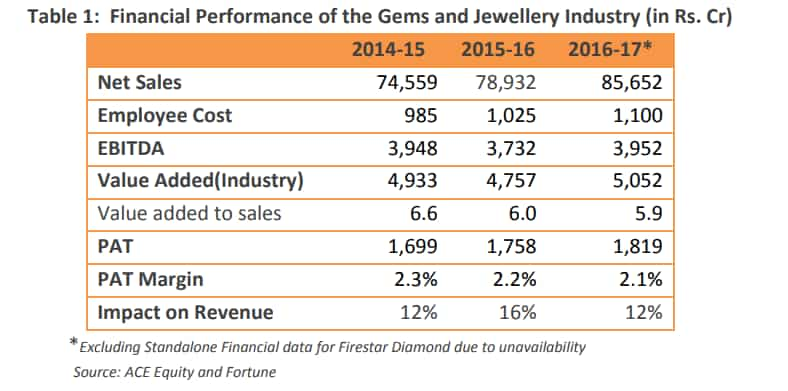 From the data, the standalone revenue of Firestar stood at Rs 1,581 crore and Rs 1,945 crore in 2014-15 and 2015-16 respectively. While Gitanjali Gems posted standalone revenue of Rs 7,157 crore and Rs 10,750 crore during the similar period.
 
With the two companies now being closed, the 2015-16 sales would be lower by Rs 66,237 crore, a reduction of 16% in the industry size. It is being expected that, the sector's sales to be impacted by around 16% in FY19, as per Care. The case has also lead to layoffs in India.
 
As of March 2017, Gitanjali and Nirav Modi employed 648 and 2,200 employees respectively.
 
According to Care Ratings, a combined 3,000 persons would be rendered jobless and another 7,000-8,000 temporary workers and employees at franchisees are expected to be affected.
 
The sector employed 22,000 people as per data available for 22 companies of this sample of 34 companies and the two companies constitute 12-15% of the total industry workforce excluding craftsmen and temporary employees.
 
Even foreign trade is going to be impacted further, thereby, lowering growth of the sector as a whole.

 
Together Gitanjali and Nirav Modi accounted around 13% of exports and 8% of imports in 2016-17. Gitanjali Gems Limited and Firestar Diamonds together accounted for 5.8% of the diamond and jewellery trade in value terms in 2015-16.
 
"The recent development is expected to impact the export-import in value terms. Also the shutdown of the two companies would have an impact of 5-6% on the diamond and jewellery foreign trade in value terms over the next year i.e. 2018-19.," said the data.


 
Moreover, total credit outstanding to the sector as of December 2017 is Rs 69,000 crore. This constitutes about 1% of Rs 72.63 lakh crore i.e. gross bank credit.
 
Gems & jewellery's stressed asset ratio for the banking system was at 12.2% as on September 2017, while their stressed advances ratio was at 11.7% lower than the sample average.
 
These two companies is expected to have reported borrowings of around Rs 16,000-17,000 crore, which as per Care, would mean overall gross NPA ratio for this sector based on o/s as of December 2017 (including the contingent liability falling due) and stressed assets as per RBI data for September 2017 would work out to around 30%.
 
Nirav Modi firms are not listed, but investors have dampened Gitanjali Gems share price. The company, which traded at Rs 68.6 per piece on January 31, 2018, traded over Rs 60-mark till February 12, 2018.
 
When the fraud came into light, share price of Gitanjali continued to tumble so much so that it has touched a 52-week low of Rs 22.45 per piece on Tuesday. This breakdown has led Gitanjali's share price to plunge by more than 64% from February 14 to till date.
Get Latest Business News, Stock Market Updates and Videos; Check your tax outgo through Income Tax Calculator and save money through our Personal Finance coverage. Check Business Breaking News Live on Zee Business Twitter and Facebook. Subscribe on YouTube.