PNB fraud: A timeline of Rs 11,400 crore scam; how bank lost nearly Rs 14,000 crore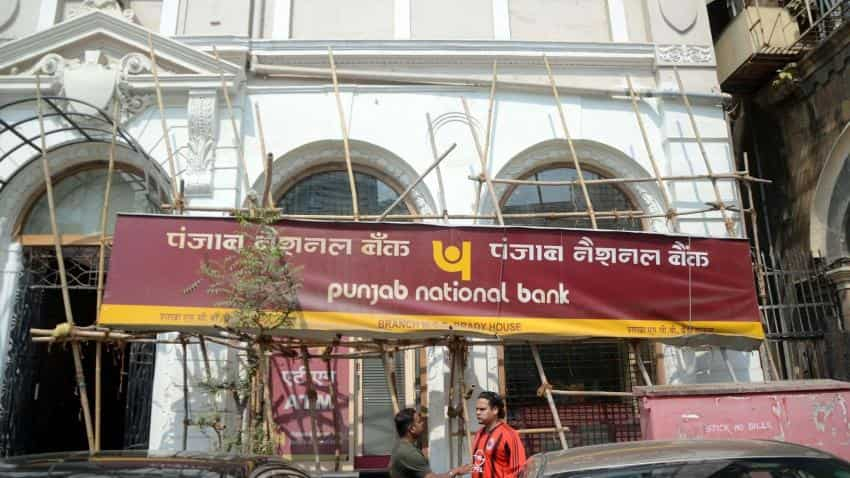 The Punjab National Bank's (PNB) Brady House branch. Photo: IANS
Updated: Tue, Feb 20, 2018
10:01 am
Mumbai, ZeeBiz WebDesk
Since the day Rs 11,400 crore Punjab National Bank (PNB) fraud case came to light, the state-owned bank is bearing the brunt of investors who continue to remove their money from its stock for the fourth consecutive day.
 
Stock price of PNB, which traded at Rs 161.65 per piece on February 12, has now reached near Rs 112.40 per piece on Tuesday, seeing a loss of nearly Rs 14,000 crore in valuation.
 
Let's have a look on how the PNB came into such a situation.
 
January 16, 2018
 
A partnership firm of Nirav Modi Group approached PNB's branch at Brady House, Mumbai. They presented a set of documents with a request to allow buyers credit for making payment to the overseas suppliers.
 
Since there was no sanctioned limit in the name of the above firms, the branch officials requested the firms to furnish at least 10% cash margin for issuing Letter of Undertaking (LoU) for raising buyer's credit.
 
On denial, the firms contested that they have been availing such transactions for past several years.
 
On scrutiny, it was observed that earlier issuance of Letter of Undertakings (LOU) had been made by the branch officials through SWIFT (The Society for Worldwide Interbank Financial Telecommunication) without obtaining approval of the competent authority, necessary applications from Importer, documents of import, legal documentation with bank and also without making entries in Bank's trade finance module of CBS system.
 
Since then, a series of meetings were held with representatives of Nirav Modi group and Gitanjali group at Delhi & Mumbai to impress upon them to pay the amount. They were also directed to provide all necessary documents as per law to ensure that the imports are bonafide trade transactions.
 
January 25, 2018
 
The first maturity of LoUs liability was confirmed on this day.
 
January 29, 2018
 
A fraudulent credit against the bank, an FMR-1 (fraud report format of RBI) was submitted to RBI January 29, 2018 amounting to $44.22 million equivalent to Rs 280.70 crore (related to 3 group firms of Nirav Modi).
 
A criminal complaint for registration of FIR against accused persons, including the maker & checker employees of the bank, for offence of cheating of fraud was filed with Joint Director (Policy), Central Bureau of Investigation and same stands registered on January 31, 2018.
 
February 5, 2018
 
Stock exchanges like BSE and NSE were informed of fraud of Rs 280.70 crores in Nirav Modi group.
 
February 7, 2018
 
Upon Nirav Modi firms confirming the maturity of LoUs liability on February 9 of Gitanjali Group companies, a fraud report was submitted to RBI on this day, amounting to $10.20 millon equivalent to Rs 65.25 crore (related to 2 companies of Gitanjali group promoted by Mehul Choksi).
 
Simultaneously, a criminal complaint for registration of FIR against accused persons for offence of cheating of fraud was filed on the same day with Joint Director (Policy), Central Bureau of Investigation.
 
During this time, further LoUs of $59.23 million approximately Rs 379.28 crore - also matured for Nirav Modi Gorup.
 
PNB in a BSE statement said, "We have mentioned in CBI complaint this issue and reported that since investigation is underway we shall be reporting crystalized amount of fraud after completion of detailed investigation."
 
From February 7, investigation process has been on against 10 officers/employees of PNB who were suspended on account their suspected involvement in the fraud.
 
Foreign branches of banks namely Allahabad Bank, Hong Kong, Axis Bank, Hong Kong and others were requested to provide all communication with borrower and documents, if any held in their record to understand bonafide of the transactions.
 
February 12, 2018
 
On the basis of investigation report, total fraud of Rs 11,394.02 crore in case of unauthorized issuance of LoUs, Foreign Letter of Credits and Inland Letter of Guarantees in the group accounts of Nirav Modi Group &  Gitanjali Group and in the account of Chandri Paper & Allied Products Pvt. Ltd. were reported to RBI.
 
February 13, 2018
 
FIR was filed with CBI against above 2 groups and M/s Chandri Papers Allied Products Pvt Ltd.
 
PNB also filed complaint to Enforcement Directorate (ED) in the matter.
 
February 14, 2018
 
Taking into account the above mentioned facts, PNB reported to exchange about Rs 11,394.02 crore fraudulent transactions against it.
 
On the same day, PNB witnessed nearly 10% decline in its stock price. So was the case of Gitanjali Gems, it saw 7% of tumble.
 
February 15, 2018
 
Enforcement Directorate (ED) conducted multiple searches at Nirav Modi's residence in Kurla, his jewellery boutique in Kala Ghoda area, three company locations in Bandra and Lower Parel, three premises in Surat in Gujarat and his showrooms in Chanakyapuri and Defence Colony in Delhi.
 
ED also raided offices of PNB and Gitanjali Gems and residences of ten suspended PNB bank officials.
 
The ED had filed a case under the Prevention of Money Laundering Act (PMLA) after going through a CBI FIR registered early this month.
 
Axis Bank says it is an active participant in the secondary market for transactions against letters of undertaking and it "sold down" certain such dealings with PNB.
 
Talking to reporters on the PNB fraud case, Financial Services Secretary Rajiv Kumar said the bank will make the required provisioning and it has "sufficient" funds for it, adding "Whole lot of assets will be recovered. Nobody will be spared."
 
Meanwhile, other jewellery stocks continue to tumble.
 
February 16, 2018
 
CBI approached the Interpol to locate Nirav Modi and his family who had left the country in the first week of January, weeks before scam was reported to the agency.
 
PNB share price slumps 38% by now on stock exchanges. Gitanjali followed on similar lines along with other jewellery stocks.
 
The Ministry of External Affairs (MEA) released a statement saying, "Nirav Deepak Modi and Mehul Chinubhai Choksi have been asked to respond within one week as to why their passports should not be impounded or revoked under Section 10(3)(c) of the Passports Act, 1967."
 
RBI clarified on media reports in the wake of fraud saying, "The fraud in PNB is a case of operational risk arising on account of delinquent behaviour by one or more employees of the bank and failure of internal controls. RBI has already undertaken a supervisory assessment of control systems in PNB and will take appropriate supervisory action."
 
February 17, 2018
 
Three accused were arrested in the PNB scam and were to 14-day CBI custody, and the court said the scam has "consequences for the economy of the nation".
 
ED continues to conduct raids in these three parties.
 
February 18, 2018
 
Rating agency Crisil changes its rating on PNB to 'watch' following the Rs 11,400-crore fraud detected by the lender at one of its Mumbai branches.
 
ED seized diamond jewellery worth around Rs 1 crore from an outlet here that has business links with PNB scam accused Nirav Modi and Mehul Choksi.
 
ED's fourth day search resulted in confiscation of illegal diamonds and gold worth Rs 20 crore. The agency is also moving to attach at least two dozen immovable properties under the Prevention of Money Laundering Act (PMLA).
 
With this, at least 200 shell firms and "benami" assets have come under the scanner of the investigative agencies in matter of PNB fraud.
 
February 19, 2018
 
ED commences attachment of properties, bank accounts of Nirav Modi and Mehul Choksi.
 
CNBC report stated that ED has seized properties worth Rs 22 crore, after carrying out searches in 39 more properties belonging to Nirav Modi and Mehul Choksi.
 
Report further highlighted that 13 PNB officials, including the then GM level officers were questioned by CBI along with four of Nirav Modi group's employees were also quizzed.
 
ANI tweet said, "Enforcement Directorate conducted raids at a #Gili showroom in Thane."
 
Sources say Nirav Modi helped high profile clients in exchanging cash post demonetisation drive.
 
PNB and Gitanjali share price tumbles by 7.36% and 9.99% respectively on stock exchanges.
February 20, 2018
Nirav Modi,the kingpin behind the largest banking scam in the country's history, has virtually wrung his arms in the air saying PNB's overzealousness has shut the doors on his ability to clear the dues, which he claimed is much lower than the bank has gone public with, reported in PTI. 
Share price of PNB remains on downward trend, as it trades at Rs 112.40 down by 3.44%.While Gitanjali Gems also follow the same, as the share price of the company plunged by 9.91% to Rs 30.45 per piece on BSE at around 1005 hours. 
Meanwhile, ED and CBI investigation continues at speed in all three parties. 
What will be the outcome of Nirav Modi case, we will have to wait and watch. We at Zee Business will provide you with the latest updates in the case.
Get Latest Business News, Stock Market Updates and Videos; Check your tax outgo through Income Tax Calculator and save money through our Personal Finance coverage. Check Business Breaking News Live on Zee Business Twitter and Facebook. Subscribe on YouTube.