Paper Industry to grow by 6-7 per cent in FY20: AS Mehta, JK Paper
JK Paper has asked the government to look into the differential duty that is slapped on wood logs and chips, says AS Mehta, President, JK Paper, in an interview with Zee Business.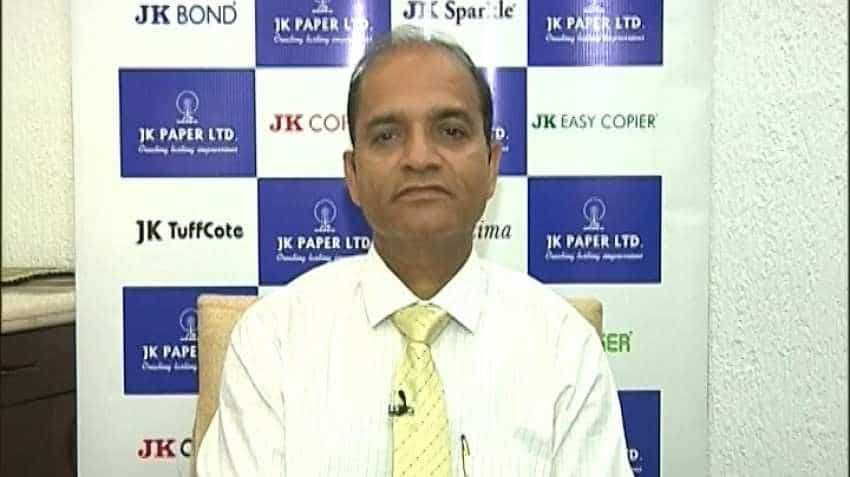 AS Mehta said the positive movement of the economy will encourage demand in the paper industry, which in turn will benefit the industry. Image source: Zee Business
JK Paper has asked the government to look into the differential duty that is slapped on wood logs and chips, says AS Mehta, President, JK Paper, in an interview with Swati Khandelwal, Zee Business. Excerpts: 
Q: What are your expectations from the upcoming Union Budget? 
A: As far as the paper sector is concerned, we had a pre-budget meeting within the industry and with the revenue board officials. At this point in time, I am not in a situation to demand a lot for the industry because the customs duty on pulp has been brought down to zero. We have asked about the differential duty that is slapped on the wood logs and chips. 
As far as local demand and supply are concerned then I think that the steps taken by the government to stimulate the economy or to heal it will increase the demand of paper because some industrial grade paper demand is directly linked with economic growth. Thus, the positive movement of the economy will encourage demand in the paper industry, which in turn will benefit the industry.
As far as demand is concerned, we have placed certain demands, it is related to the GST council because GST rates hardly have any mention in the budget. But we have asked with a hope that it will be forwarded to the council.  Rate of 18 per cent is slapped on wood pulp, which turns up to be an inverted duty structure case. So, rates slapped on wood pulp should be brought down because 5 per cent rates were during the pre-GST season on the product but now, it has gone up to 18 per cent. So, we have suggested the same to the government. 
Apart from this, there are some paper products in the paper industry where 18 per cent GST rate is being slapped while the general rate stands at 12 per cent. So, we have also suggested the government to bring it down to 12 per cent by streamlining it.  So, these two things – connected directly to the GST council – has been advised to the government because the subject comes up during the budget discussion. 
The third subject that has been raised is related to free trade agreement (FTA) and we have asked the government to review them because their review of the year 2019 is still due. They should be reviewed because such FTAs are not benefitting either to the country or the economy. In fact, this 0 per cent duty has harmed us as it has increased our imports instead of exports. So, it should be reduced to make sure that it is not harming us. 
Q: How do you see the current domestic demand outlook for the next few quarters and your hopes from FY20?
A:  As far as industry is concerned then I expect that the paper industry will grow by 6-7 per cent and the trends have gone fine till date. May and June are months when slowdown approaches the paper industry due to the closure of schools and colleges and work reduction in offices and courts, which leads to a fall in demand of printing and copier paper. But, a positive change is seen in terms of demand from July, the month when schools, colleges and courts are opened and gets back to their routine job. So, I think that the paper industry will grow by 6-7 per cent. And, when it comes to JK Paper then I think that we can see a pleasant growth because we have started production at Sirpur mill, which was acquired through IBC bankruptcy code, and by next quarter, we will try to ramp up the production at the mill and bring it to a normal level. So, the volume generated at Sirpur mill will help JK paper to grow by at least 20 per cent. 
Q: Provide a timeline by when Sirpur mill will start contributing to your production?
A: Full-fledged production at Sirpur Mill will start from the month of October 2019. 
Q: Update us about your price hike plans for the next few quarters?
A: The existing global scenario is moving on a different track where Chinese commodity market had an impact and the pulp prices in the international market have gone down. Consequent to it, the paper prices, in certain categories, have gone down. So, there is uncertainty about paper prices – whether it will increase or decrease - in the Indian market. In fact, the coated paper prices have gone down by 3-4 per cent in this quarter itself. So, I feel that the prices of the coated papers will be governed by the price trend of pulp and paper of the international market. However, the price of writing and printing paper will depend on the demand and supply scenario of July and the kind of improvement that it witnesses. Then, we will take a call, which will be based on the factor that does the industry/market has abilities to absorb an additional price increase or not. So, it will be very difficult to anything in that regard but, price correction can be made - if there is any possibility to do so - in the month of August. 
Q: What sort of margin expansion is expected in the next 2 quarters?
A: Paper companies have posted healthy results in the last quarter of FY2018-19. I think FY2018-19 has been the best year for the paper industry as there was a margin expansion, growth was good, and every company has done well in terms of profitability. So, if we have a look at the factor for 2019-20, then we find that the NSR of 2019-20 is not dropping against the NSR of 2018-19. Because, still I think that the price will continue to be at the same level or it can improve, the year and I am not comparing it quarter wise. 
As far as the input cost is concerned, the raw material prices haven't gone up, but pulp prices have dropped. So, we can take advantage of the input cost. When it comes input costs of other things like coal or some other chemicals then their prices are fairly stable. But, the commodity market is not known, and global pressures can improve the commodity prices., which can impact your profitability. However, I think the margin scenario may vary by 1-2% in any direction (positive or negative).
Q: Do you plan to make any further acquisitions/merger in the near future, if yes, then let us know about the segment/s? 
A: Merger and acquisition is a question that props up when the company has surplus cashflow or has a fiscal strength. You also look forward to it in the case when you have such a lucrative proposal on your table, but we don't have any viable proposal on our table. However, we are expanding and have acquired Sirpur mill under the plan. In addition, we are also expanding the board and pulp mill of CPM and they are big expansion plan. 
Get Latest Business News, Stock Market Updates and Videos; Check your tax outgo through Income Tax Calculator and save money through our Personal Finance coverage. Check Business Breaking News Live on Zee Business Twitter and Facebook. Subscribe on YouTube.
Updated: Wed, Jun 19, 2019
04:06 pm
Mumbai, ZeeBiz WebDesk