Our EBITDA margin will stand around 30% for the next five years: Vinati Saraf Mutreja, Vinati Organics
Vinati Saraf Mutreja, MD & CEO, Vinati Organics Limited (VOL), talks about her source of inspiration, demand in enhanced oil recovery segment, the impact of anti-dumping duties on her company, new products launches, growth guidance for Isobutyl Benzene (IBB) segment, new capacity related to IB derivative segment during a candid chat with Zee Business Executive Editor Swati Khandelwal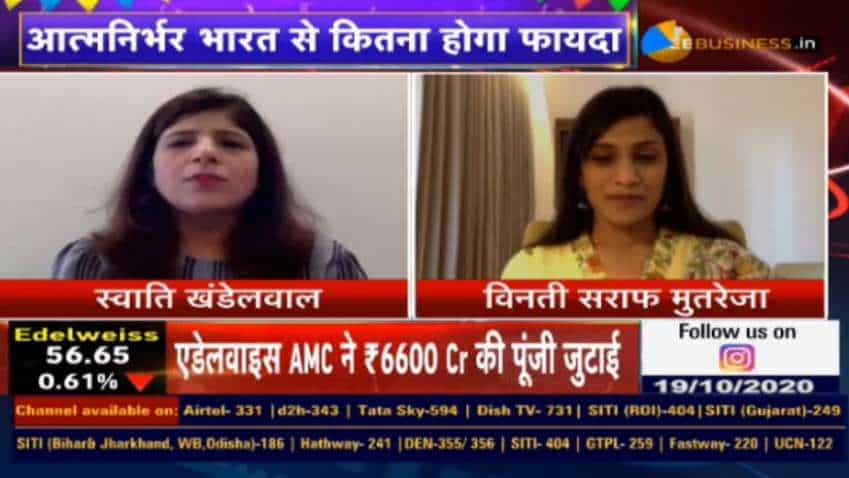 Updated: Tue, Oct 20, 2020
04:11 pm
new delhi, ZeeBiz WebDesk
Vinati Saraf Mutreja, MD & CEO, Vinati Organics Limited (VOL), talks about her source of inspiration, Demand in enhanced oil recovery segment, the impact of anti-dumping duties on her company, new products launches, growth guidance for Isobutyl Benzene (IBB) segment, new capacity related to IB derivative segment and margin guidance of Viniti Organics for next five years among others during a candid chat with Swati Khandelwal, Zee Business. Edited Excerpts: 
Q: Name the form of the Goddess from whom you draw inspiration?
A: Since childhood, there has been a strong emphasis on studies in our family, so I have a great belief in Goddess Saraswati. She also inspires me a lot because I think you can make your life only through education. Goddess Durga also has the place as she gives us the power for whatever you have in your mind and want to achieve it. Durga Maa also provides you with the power to do whatever you want to do including taking care of the children as well as the family. So, all Goddess have their place. 
Watch Zee Business Facebook Video Below:
Q: Let us know about the important attributes that have helped you to focus and inspire you the most? Also, tell us about the two attributes that a women leader should have and that has helped you in growing your business?
A: First of all, the family plays the biggest role in creating a women leader in a culture like ours. It starts with the parents, how much confidence they create in you since childhood, how much freedom they give to you so that you can follow your desire. Then there is a step in which you are married like I am married and it depends on your husband/ the spouse and how open-minded he is and what importance he gives to your career and the level to which he considers you equal to himself. So, one of the external factors, like for my family has been very supportive, since childhood, my parents, mother and father, always said to be independent. Then my husband is very modern, he has his own business but he has always given equal priority to my business. Similarly, my in-laws, my husband's parents have always encouraged me. So, there is a need to bring a change in the mindset of the whole society, then only women leaders can go ahead and get confidence that we can also achieve something apart from managing the house and the children.
Q: Let's talk about the business now and we have seen demand progress especially in the enhanced oil recovery segment. Do you think the full recovery has been achieved? Also, what is your outlook on rest f the segments linked to the ATBS end users?
A: Oil and gas, as well as enhanced oil recovery segments, have definitely played an important role in the growth of our company in the last 10 years and they have been a very important segment for us. But, now we have diversified our products a lot and it is used for various applications other than oil and gas. It is used in water treatment, new make products for pharmaceuticals and agro-chemicals. In fact, from the last six months because of the COVID, oil and gas segment is slightly down and its future outlook continues to be soft for the next six months or maybe for a year. But because our other segments have performed well, like pharmaceutical, agro-chemical and water treatment, therefore the company has not been impacted a lot, maybe there is a 20% decline in demand, overall. 
Q: The government has a special focus on the chemical sector and continuous antidumping duty is being slapped on different products and chemicals. What is your view on these activities and how beneficial it is for your company? Do you have any demand for specific chemicals where you feel that India can play a big role but more dumping is happening from other companies and the government should focus on it?
A: For the purpose, there is a need to understand our business model. We make niche chemicals, where we are the world leaders. Two of our main products Isobutyl Benzene (IBB) and 2-Acrylamido 2 Methylpropane Sulfonic Acid (ATBS) and we have a 60% market share and mostly they are exported. 75% of our revenue comes from export sales. Then coming to imports, we don't rely on imports and we import very little from China. In general, most of our raw materials are purchased domestically. So, all these things, like anti-dumping duty, have less effect on our business. We are a technology-focused and R&D focused company. We put moiré emphasis on process innovation and 8-10 products remain under R&D at any given time. This is a type of mindset we have. So, all these duties among others majorly affect commodity type chemical and slightly low margin chemicals and we have less to do anything with that. 
Q: What focus do you have on new product launches and what kind of revenue contribution is expected from it this year and the next year?
A: When we identify the products, then we keep three-four matrices in mind. 
Synergies: The kind of integration that we can do with the existing product line, maybe it is a forward integration of backward integration. For example, we create ATBS, and then we started manufacturing its raw material Isobutylene (IB) and now with IB, we are going to make 4 butyl Phenols or are manufacturing already and we are the only plant in India to make these four butyl phenols. With this, now we are going to make one-two more butyl phenols, they are small products, but will be added. So, we have a look at the synergies, which provides us with a barrier to entry and competitive advantage. 
It should be an environmentally friendly process and must not be a polluting one. This has been our principle since the beginning, i.e. for the last 20-25 years. 
We also have a look at RoI matrix and perform market research like it should have a period of at least 5 years. 
So, looking at these items, I can say that 8-10 products are in pipeline and if even one-two products become a hit from these because in the case of R&D there are chances of failure but if 10-20% of these products turn into a hit one then it is said that there will be year-on-year 15-20% revenue growth. Market saturation has reached in the existing products, so how should be grown and for that purpose; we have to keep adding new products constantly. Recently, we have announced an investment of Rs 150 crore that has a revenue potential of Rs 250 crore and these products are used in plastics. Butyl phenol, which is a new product segment for us, we expect to earn revenue of Rs 400 crore from it. So in the next 3-4 years, if you have a look at us by considering 15-20% growth then our revenue should double and that is the plan. 
Q: What is the growth guidance from IBB segment, (major raw material of Ibuprofen)? Has there been any increase in the same due to BASF ibuprofen plant resumption, and can you quantify the same in revenue increment expectation in percentage terms?
A: Today, IBB contributes to less than 20% of our revenues. Undoubtedly, we started with IBB but today one can say that ATBS is a larger product for us. And yes BSF, which is a large customer of IBB, and there is a public knowledge that their plant was closed for a long time but it has started once again. Because of this, there is a growth in IBB compared to the last year. In fact, that is one reason that this growth is offsetting the low demand in ATBS because of the lukewarm oil and gas segment. So, IBB is doing okay for us and this year, year-on-year in IBB one can say 25% growth. 
Q: You recently added new capacity, enhanced capacity under IB derivative segment. How big an import substitution opportunity you see under this segment and what is your growth guidance from the same?
A: IB derivatives are the same butyl phenols about which I have talked earlier. So, the capacity we have installed, including all the four together will produce around 35,000 ton per annum. And, about 25,000 metric ton of the same is imported to India. Of course, we are targeting input substitutions as well as some export potential. Currently, it is being imported from Singapore and Korea, so let see we are backward integrated into IB so we should have some advantage over imports definitely. And, customers are more than happy to have a local source and local supply chain as it gives them a lot of flexibility. It has a revenue potential of around Rs 400 crore. 
Q: Are you reconsidering the plans to set up Para Amino Phenol, the key raw material for Paracetamol capacity, as it will come under the PLI scheme of the government? 
A: We are trying for PAP through a patented process, for which we also created a pilot plant by investing a lot but those trials have remained unsuccessful last year when we did it. Then COVID came in place and now PLI scheme is out under which PAP is also a product and we have applied for it. We will restart the trials because we are quite interested in this product because there are customers who are dependent on China and are very keen that we develop this process, so we will restart it. We hope that our trails will be a successful one. 
Q: What is the timeline for it?
A: In the case of R&D, we cannot say anything about the timelines but restarting it will take a month or two. After this, we will run the pilot plant for at least six months and maybe more. And, if the trials are successful then it will take around one to one-and-a-half years to commercialize it. So the production will not be started before two-and-a-half-year. 
See Zee Business Live TV Streaming Below:
Q: As you are saying that you are in niche products and good margins are expected from them. So, what is the margin guidance of the overall company for the next 3-4 years?
A: If you have a look at the last year, then the EBITDA margin was somewhere in the range of 40%, which is very high for any manufacturing business. So, if it is seen in a long-term then the sustainable margin will be somewhere around 30% maybe you there is a lot of specialities. Because in the butyl phenols we will be competing with imports, thus the margins are low. So, 30% EBITDA margin is a safe estimate going forward for the next three to five years. 
Get Latest Business News, Stock Market Updates and Videos; Check your tax outgo through Income Tax Calculator and save money through our Personal Finance coverage. Check Business Breaking News Live on Zee Business Twitter and Facebook. Subscribe on YouTube.