No-Fly list: Controversial tweets, jokes at airport security cost passengers abroad their air travel tickets
After several years of flying Indians across the country and abroad India will finally have a no-fly list that will attempt to tame unruly passengers. While other countries have had no-fly lists in place with stringent rules grounding passengers for a long time.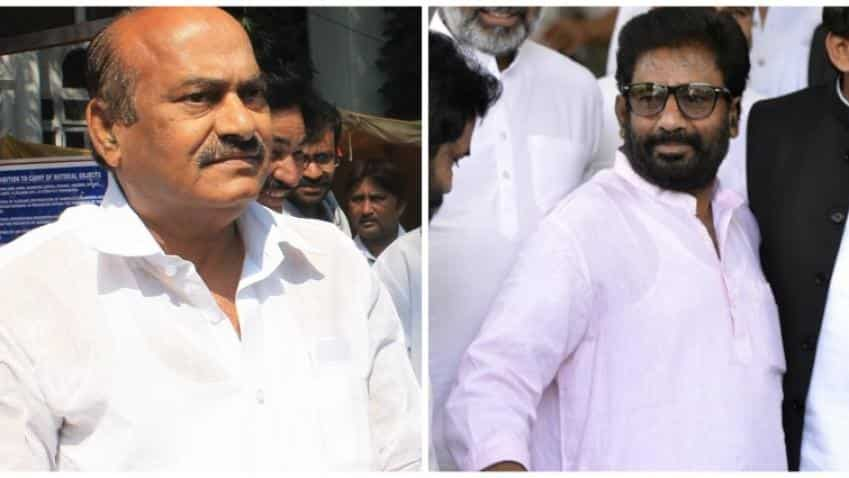 (L-R) Photo of TDP Party MP, Diwakar Reddy and Shiv Sena MP, Ravindra Gaikwad. Image Source: IANS
Updated: Wed, Jun 21, 2017
11:31 am
Mumbai, ZeeBiz WebDesk
Key Highlights

Indian government will mull over a no-fly list in the first week of July.
DGCA draft rules to put people on the no-fly list includes drunk passengers, a no-smoking rule and disruptive behaviour.
Other countries have barred people from flying on the basis of controversial tweets and jokes at airport security.
Terrorist activities and the grave events that took place on 9/11 shaped the no-fly list in the US that began a decade ago. Now with MPs hitting airline staff members with chapals and threatening to break airline property, India will soon have a no-fly list too.
 
The rules for this list attempting to tame unruly passengers is anticipated to be decided upon by the government in the first week of July.
After a Shiv Sena MP – Ravindra Gaikwad was accused for beating up an Air India official, he was grounded by many domestic carriers until he wrote a written apology to the government apologising for his actions.
Days after the event, an MP from Telugu Desam Party Diwakar Reddy was banned from IndiGo airlines and other carriers for allegedly shoving the airline staff and threatening to break airport property.
The Directorate General of Civil Aviation (DGCA) has come up with a draft rule that prohibits drunk passengers in the aircraft; smoking individuals; failing to obey commands of aircraft commander and acting in a disruptive manner.
Disruptive behaviour as defined in the draft rules state, "Use of any threatening , abusive or insulting words towards a member of the crew; behaving in a threatening, abusive, insulting or disorderly manner towards a member of the crew or intentionally interfering with the performance of a crew member."
Certain countries like the US have put people on no-fly lists on the basis of racial or religious backgrounds of the people. In his second executive order on immigration, President Donald Trump barred citizens of six Muslim dominated countries from entering the US.
While we hope that India does not take a leaf out of the book on racial discrimination while forming the no-fly list rules, here's a list of things which people did and got grounded by airlines for.
1. Think before you tweet. 
Guidelines published by the Intercept in USA states that social media posts would be taken into account when blacklisting someone. While the laws by the US ground customers on the basis of communicating suspicious content via the micro-blogging website, the straining process is a bit more stringent. So chances of your jokes on Twitter may not get you in trouble here.
2. Having a similar name as someone on the no-fly list.
Complaints from US and Canadian citizens have been documented who have had their names match those on the no-fly list. The unfortunate instances though few have grounded people and cost them their holiday plans.
3. Airport security have no sense of humour.
security asked if i had any flammable objects in my bag and i said just my mixtape fam & now im banned from flying in australia

— LUCA LUSH (@LUCALUSH) June 10, 2017
Jokes about carrying weapons of mass destruction like guns and bombs alike are not tolerated at airport security in other countries.
4. You're drunk.
Drunken passengers causing a ruckus 35,000 feet above the ground became a serious problem with United Kingdom airlines two years ago. The British Transport Association held meetings to mull modifying the norms of their no-fly list to include drunk and abrasive behaviour on board.
5. Criminal offences
Other countries also have in place a no-fly list barring individuals from flying if they have engaged in criminal activities as defined by the Criminal Code in that country. Citizens have also been put on the list for travelling to the 'wrong' country frequently which have been defined as trouble zones.
Get Latest Business News, Stock Market Updates and Videos; Check your tax outgo through Income Tax Calculator and save money through our Personal Finance coverage. Check Business Breaking News Live on Zee Business Twitter and Facebook. Subscribe on YouTube.