Next government should grow India's GDP at 10 per cent, says Ajay Singh, SpiceJet
Ajay Singh, Chairman, SpiceJet, during an interview with Zee Business, spoke about his view on global investment in India, IMF growth forecast and expectations from the budget.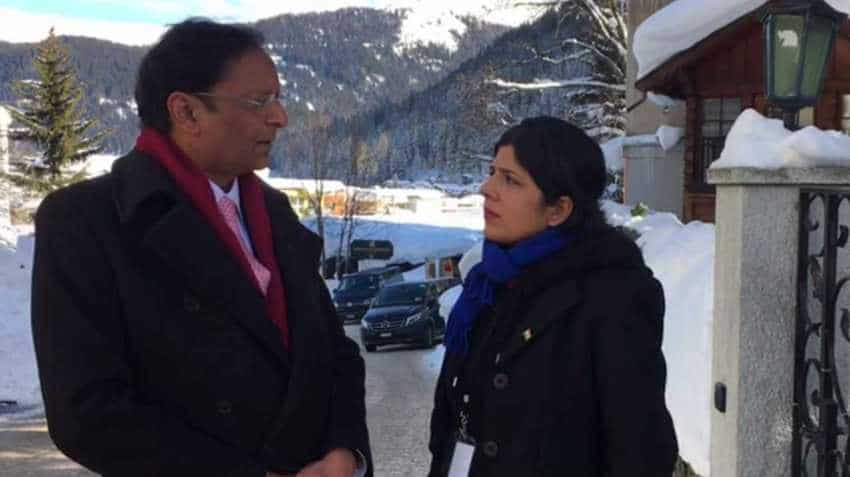 Ajay Singh said, "I feel India has emerged as a bright and shining spot in the world when the world is facing certain problems." Image source: Zee Business
Ajay Singh, Chairman, SpiceJet, during an interview with Swati Khandelwal, Zee Business, spoke about his view on global investment in India, IMF growth forecast and expectations from the budget. Edited Excerpts: 
Q: There are talks related to Invest in India, but there is a need for a stable policy for it. What is your view on it? 
A: See, the Indian government has done a commendable and unique job in the past five years. This is something really to be proud of. I feel India has emerged as a bright and shining spot in the world when the world is facing certain problems like the tension between the US and China and Brexit in the UK among others. 
Q: But are we leveraging on the opportunity?
A: We should leverage more on the opportunity. Under such situation, we must move out and tell the world about the kind of changes that India has seen in last five years like the passage of GST legislation and implementation of Bankruptcy law. Changes also include the opening of bank accounts under Jan Dhan accounts, unique identity for every citizen, electrification of villages, toilets, health scheme, road development at a fast pace and Swachh Bharat program. 
Q: IMF in its recent forecast said India will grow by 7.3 per cent in FY19. Do we have potentials to achieve the numbers?
A: I think, it is a time when we should look beyond 7.5 per cent – 8 per cent levels and the next government should take the growth rate to at least 10 per cent. In fact, we should have a target to grow India by 10 per cent for the next 10 years. 
Q: It is an interesting time as the interim budget will be followed by the elections and it is being said that the government will announce many things? 
A: Every government does it and this government will also do the same. But, when it comes to farm loan waiver than everyone knows that farm loan waiver can't be a long-term solution. In fact, people will stop lending to farmers after farm loans are waived off. So, we should come up with a comprehensive solution that increases the income of farmers in a way that they do not need to take loans and can easily repay the loans if they are opting for loans.
Q: Your expectations from the budget especially for your sector?
A: This government is known for taking bold decisions at crucial times like demonetisation, which was announced just before the UP elections, among others. Therefore, we expect a good budget will be announced and it will also carry something for sections, who are in pain. 
The privatisation of airports has increased our expenses by increasing our airport cost, which is not good for the aviation sector. Thus, the government should revise the cost structure in accordance with the cost structure of international companies, as it will help us to compete with international companies. 
Apart from this, the taxes slapped on aviation turbine fuel (ATF) should be brought down to 8 per cent from 11 per cent, as the fuel costs are going up. Earlier, the excise duty on ATF was increased from 8 per cent to 14 per cent, which was brought down to 11 per cent. 
Q: But talks are taking place on it. Do you feel that the excise duty on ATF will be reduced?
A: Let's see what happens but most importantly, ATF should be brought under the ambit of GST and the union government is trying to do so. But, everyone knows that it can happen only if a consensus is reached at the GST Council. Majority of the states are ready for it expect few who are opposing the proposal. I think we will have to reach them and lobby for the purpose. In addition, the sector should be strengthened by creating international hubs within the nation, like Delhi, Mumbai, Bangalore, Hyderabad, instead of exporting it. Currently, India's international hubs are present in Dubai, Abu Dhabi, Singapore and Bangkok. This also means that Indian airline should have abilities to fly directly to Europe, America and other places and government should help us on that front. 
Q: Aviation industry is going through a difficult phase at present and the quarter results are an indication to it. What is your outlook on the sector at least when crude prices are going up? 
A: See, the industry is facing a tuff situation but they, the airlines, are not sitting ideal and some airlines like SpiceJet and Indigo airlines, are inducting new technology aircraft that will consume less oil. On the other hand, we are also trying to increase our revenues and be profitable. Legacy airlines are facing difficulties as their economics is different from us. Domestic airlines should be provided with a level playing field in terms of cost with other airlines. In addition, the Indian aviation sector's potential is different from others as it is growing by 20 per cent at least when just 3 per cent of Indians are flying today. 
Q: Jet Airways is an important airline but is looking forward to cash and that's why they are talking to many sources like Tata Group, Etihad and SBI among others. Are you looking at Jet Airways?
A: Absolutely not because we are a small airline company while Jet Airways is quite big then us and thus their problem is too big, which can't be borne by SpiceJet. We wish luck to them with a hope that they reach a solution to the problem at the earliest. When it comes to Mr Goel and his family then don't take them lightly as they have faced such situations on multiple occasions and have been successful in pulling away from the airlines from it.  
Q: But time is sticking as they have just 2 more months in hand?
A: Whatsoever the problem is but I am sure that all of them including the stakeholders, promoters and government of India are working very hard to pull it out of the problem. 
Watch this Zee Business video
Q: Any expectation of rate cut from RBI?
A: See, it depends on the RBI, but the rate cut is going to be beneficial for the industry. However, you will have to take a long-term view in which inflation remains good. And, several economists feel that this is not the right time for a rate cut. 
Get Latest Business News, Stock Market Updates and Videos; Check your tax outgo through Income Tax Calculator and save money through our Personal Finance coverage. Check Business Breaking News Live on Zee Business Twitter and Facebook. Subscribe on YouTube.
Updated: Mon, Jan 28, 2019
11:54 am
Mumbai, ZeeBiz WebDesk