New India Assurance has grown 22% in the last two months: Atul Sahai, CMD
Atul Sahai, Chairman cum Managing Director (CMD), the New India Assurance Co. Ltd., talks about March quarter numbers, underwriting loss, price hike plans for premium, growth guidance and OFS among others during an exclusive interview with Swati Khandelwal, Zee Business.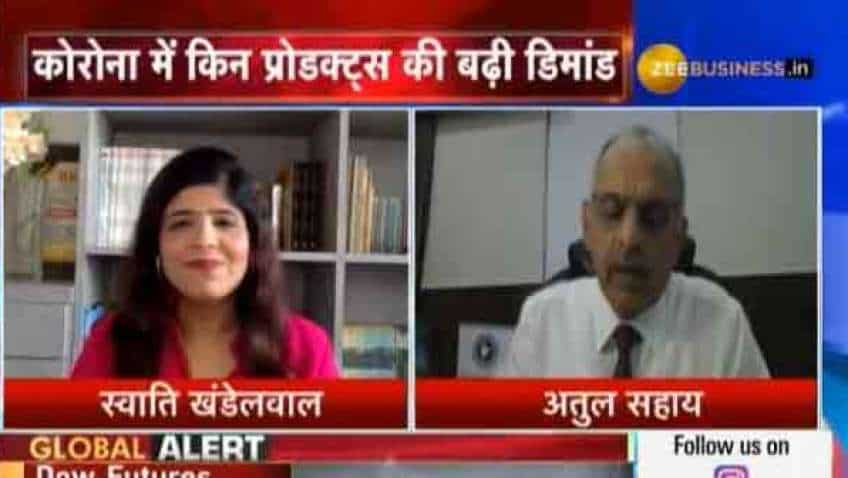 "We have also posted the results for the whole year and it has been very good. It has been the finest in the industry from all aspects including the business front."
Written By:
Jitesh Kumar Jha
Updated: Mon, Jun 14, 2021
04:00 pm
Patna, ZeeBiz WebDesk
Atul Sahai, Chairman cum Managing Director (CMD), the New India Assurance Co. Ltd., talks about March quarter numbers, underwriting loss, price hike plans for premium, growth guidance and OFS among others during an exclusive interview with Swati Khandelwal, Zee Business. Edited Excerpts:
See Zee Business Live TV Streaming Below:
Q: The Company has reported good numbers for the March quarter. Tell us about what led to this growth and how much growth did we see in Health Policies and Motor policies for the Quarter?
A: We have also posted the results for the whole year and it has been very good. It has been the finest in the industry from all aspects including the business front. But as far as this particular quarter is concerned, our profit has almost doubled. Anyway, the company has performed very well on all the major yardsticks and it has also reflected a bit even on the stock market. But in this quarter, the pace of growth slowed as compared to what we imagined earlier. In fact, we thought that we will be able to bring down our combined ratio, although there has been a good improvement compared to the last year and it has dropped by around 3-3.50% but this time, more COVID claims have reached us. As you know, the world is suffering from this pandemic and it has had an impact on us. As far as numbers are concerned, this time the PBT crossed the Rs 2,000 crore-mark, our global business has crossed the Rs 33,000 crore-mark, which stood at Rs 31,000 crore last year. So, we are doing fine and trying to it well and our growth in all the sectors – it is not limited to any specific sector. Health awareness has increased and we are getting business in the health domain as well. But our growth has also been good in the personal accident (PA) segment. Overall, it has been growing as it should be in a company but there has been an exception and that was in the motor because a lot of movement is not happening. Now, we expect that we will get out of this problem at the earliest and the business will continue to grow at its speed. But we are standing firm at our end.
Q: Your underwriting loss has widened slightly on a QoQ basis. Was it just because higher claims were paid in this quarter? Also, going forward, what is your outlook related to claims?
A: Frankly, it is very difficult to predict our situation because as I said the number of claims that has increased is due to the COVID claims. This is why, the loss; in fact, the claim ratio in this quarter has increased due to COVID. And, if I will provide an idea of these number then we have got COVID-claims of around Rs 5000 crore. This is a huge number and had there been any other company, it might not have been able to handle it. But, it has not impacted us a lot. So, I would like to pray to God to end it as soon as possible because it is no more in the hands of anyone of us. Besides, the initiative of our government in relation to the vaccination will be increased because around 25 crore people have been vaccinated by now and possibly by which around 70% of people will be vaccinated the third immunity will be born. So, I feel that in the next two months, we will be back to normal and once we are back to normal the claims will disappear, the claims worth Rs 5,000 crore will go away, which is a big number and it had an impact on this quarter and will also have an impact in the coming quarter. However, I am happy to share with you that in the first two months, the industry has shown good growth and has grown by around 16-17% but we have grown at 22%, which is 5-6% more than the industry average. So, these numbers will compensate because insurance has a principle the way the business has increased the losses goes down. So, we are trying to do so and the government's vaccination drive and the cycle of the pandemic is towards its end and I feel that soon, we will be back to the normal business cycle
Q: Reports suggest companies will hike premium on various policies. Is it right and what kind of hike we can see for products and by when it can be regulated?
A: I think that even last time when we interacted in this corona period - some 4-6 months back – I said that we have taken a conscious decision that we will not hike the premiums due to the pandemic. We will play the role of a responsible corporate – especially the role of the responsible government corporate. As far as rate revision is concerned, all retail products have a life and they are filed for three years with the regulator. They are reviewed every third year and as it is due, we will try our best to cover the inflationary asset, inflationary angle as much as we can. But, we don't have any plan to increase the prices and I feel that if the pandemic comes to an end and normalcy is resumed then we will be able too to do better with it. When it comes to the underwriting loss, I have always cleared, that it is related to the combined ratio and one aspect becomes important for a company like ours and I usually use it to share it and inform that there is a combined ration and an adjusted combined ratio. Because we are such a big company, we have technical reserves. Technical reserves mean the liability that we have for the policyholders like provisions for the claims. All types of provisions of the liabilities that we have been termed as technical reserves and today it stands at around Rs 42,000 crore. This Rs 42,000 crore is the investment income – I am not talking about the shareholders' fund and it is just about the policyholder fund – and if it is adjusted then our combined ratio already stands at 97%. But, still, we want to bring down the gross combined ratio. So, I expect that by the end of this year, we will be able to bring our combined ratio to 104-105%.
Q: Going ahead, what growth guidance would you like to give and what are the targets of your company for FY22?
A: We have set a target of 15% for ourselves. Following the type of environment we are living in at present we have kept a target of 15% but would happily like to inform you that in the first two months, we have grown by 20-22%. This 20-22% growth for us means we have to grow by Rs 1,100 crore may be for other company 20% growth means a growth of Rs 100 crore because our base is quite big. So, we have created a target of 15% for ourselves. But I feel, as it happens every time where we set a target for ourselves, we overachieve the targets and this time, I think that we will over achieve the target of 15% that we have set for ourselves. But more important than the business target is that the grievances at the grievances redressal mechanism that we have to remain zero because the rest of the customer services are top class in itself. Especially, during the COVID, we have seen that our grievances have increased a lot. You would have seen that our net worth at the fair value has increased by around Rs 10,000 crore compared to the last year, which is a big number. There is an increase in the net worth and these parameters - like our net worth should increase our combined ratio come down - are also very important for us. So, we are working with an overall target and it is just not limited to the business growth target but we have set a business growth of 15% for ourselves.
Q: Reports suggest that the government is fast-tracking disinvestment in the company. What is an update on it? Also, there were reports related to OFS so let us know as the government has 85% plus stakes in the company at present?
A: I have no idea about the question that you asked. As far as, the OFS is concerned, so as per the SEBI guidelines it has to leave 25%, therefore, we will have to take out more than 10% and now the government will view it and make a decision on what is an appropriate time. But, we are performing good, and as you said, our shares are growing but yet it hasn't reached near the book value, which is quite high from here. So, the period that will pass will reflect in the actual book value and prices and the government will make the right decision on when it should launch an OFS but I feel a consideration would have been happening on their end.
Get Latest Business News, Stock Market Updates and Videos; Check your tax outgo through Income Tax Calculator and save money through our Personal Finance coverage. Check Business Breaking News Live on Zee Business Twitter and Facebook. Subscribe on YouTube.