Natural Gas is likely to come under GST ambit: SN Goel, Chairman, IEX
S N Goel, Chairman, Indian Energy Exchange Ltd (IEX), talks about Q3FY21 quarter numbers, future outlook and divestment of the S N Goel, Chairman, Indian Energy Exchange Ltd (IEX) during a candid chat with Zee Business Executive Editor Swati Khandelwal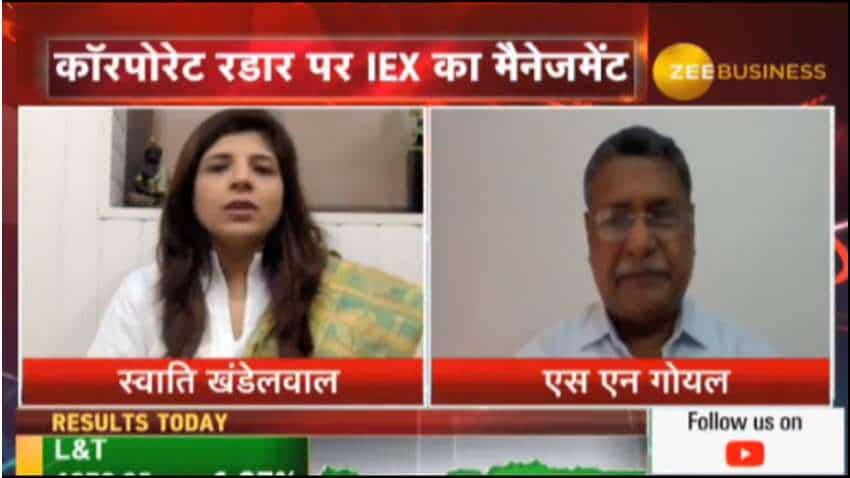 "We have faced many challenges this year due to the COVID. The first two quarters, there was a fall even on the economy side and the electricity consumption also fell significantly," S N Goel said
S N Goel, Chairman, Indian Energy Exchange Ltd (IEX), talks about Q3FY21 quarter numbers, future outlook and divestment of the S N Goel, Chairman, Indian Energy Exchange Ltd (IEX) during a candid chat with Swati Khandelwal, Zee Business. Edited Excerpts:
Q: Congratulations, it has been a strong quarter for you, sir. What were the key highlights, and do you think that this momentum will sustain in the coming quarters as well or it will be better than this?
A:  We have faced many challenges this year due to the COVID. The first two quarters, there was a fall even on the economy side and the electricity consumption also fell significantly. But there was an economic revival in the third quarter and there is a growth of around 7% in electricity consumption and of this 7% a substantial part around 40% happened through the exchange.
See Zee Business Live TV Streaming Below:
We have also launched two projects this year. We have a project called, Day-Ahead Market under this market any consumer distribution company or industrial consumer can buy power today for tomorrow. We have also launched a product, Real-Time Market, where you can buy power one and a half hour before earlier from the market exchange and this market is run 48 times in a day, i.e. it runs in every half-an-hour. Several people participated in these markets as well.
Apart from this, lot of work is happening in the renewable energy in the country, so we have also started a product for renewable energy, where the renewable energy generators can sell their power and the distribution companies, industrial consumers, who are supposed to be RPO compliant can buy the power. So, these products have had good participation in the market. Also, coal availability was very good this time due to which the generating companies were able to generate power and sell power at competitive rates in the market. Our clearing price for this year stood at Rs 2.76, which is a quite competitive price and many distribution companies and industrial consumers have purchased power at these competitive rates. In fact, states like Andhra Pradesh have saved around Rs 1,000 crore in the nine months, while Maharashtra has saved around Rs 300 crore in the same period. So, many states saved a lot by purchasing power at these competitive rates.
Also, the economic revival led to good growth at our end and there was a growth of 60% in the third quarter. And, I feel in the coming year when the economic activities are likely to be good and GDP growth has been estimated at around 8-9%, due to which I feel that the electricity growth will also be around 8-9% this year. At the same time, coal availability is also likely to be good. Due to these factors, I think, the volume growth at the exchange will be even better than the third quarter in the coming years.
Q: Adani Gas and Torrent Power have bought 5% stake each in your subsidiary Indian Gas Exchange (IGE). How are you going to use the proceeds of the stake sale and do you have any plans to sell stakes further? How is the gas trading business performing currently and what kind of traction is visible there?
A: The Gas Exchange was launched on Jun 15, 2020. Right now, there are big challenges in the gas market and there is a need to create enablers and we are working on it. Going forward, to work in this, we need a few strategic investors who are big players in the Gas market. Torrent and Adani are quite big players in the Gas market and the divestment was done to get the support. We didn't need the money but need support from big players. We are also talking with another 2-4 big players of the gas market who are active and there can be some more divestment in the coming one to two months. Basically, we are looking forward to creating an institution as we have created the Indian Energy Exchange in the power sector.
Today, Indian Energy Exchange has around 6,500 consumers. Likewise, we want to create an institution in the gas sector for which we need the support of all these participants. A lot of activities have started in the gas market, but a lot of challenges are present in it as gas prices have increased a lot during the winters and in gas prices have crossed $30 in the international market. Whereas in the Indian market, Indian consumers cannot purchase the gas at such high price because we don't have such affordability. However, I believe that the gas prices will come down between February and March and activities will start in the market. Also, there is a need to work on the front of the government as well as the regulator and we are working with them, as well, so that the enablers are created. For instance, GST, which applies to almost every product but does not apply to gas.
So, every state has its taxation system in which it is taxed at 4% in a state while it is also taxed at 26% in the other state, such a huge variation exists in the sector. So, we are working on all these factors and we had words even with the government on the issue. As far as our information, the matter has been referred to the GST council. Hopefully, gas will also come under the ambit of GST in the next two-four months. Besides, work on system operators is also going on it under which the existing pipelines allocation will be made for gas transportation and the market is done and it will be done by a system operator. So, such activities are going on.
Written By:
Jitesh Kumar Jha
Updated: Wed, Jan 27, 2021
04:45 pm
New Delhi, ZeeBiz WebDesk