Mukesh Ambani at Vibrant Gujarat Global Summit: Read full speech by Reliance Industries chief
Reliance Industries Chairman and Managing Director Mukesh Ambani Friday urged Prime Minister Narendra Modi to take steps against 'data colonisation'.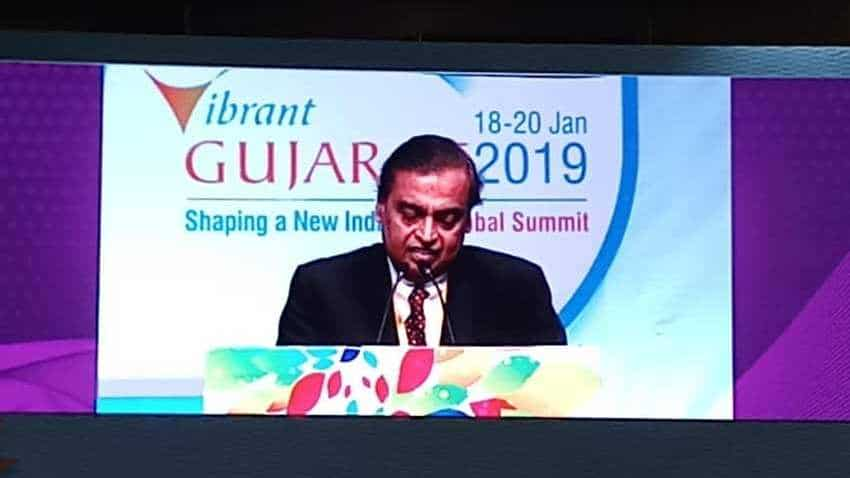 In comparison to the past decades, Reliance will double this investment and employment numbers over the next ten years.
Reliance Industries Chairman and Managing Director Mukesh Ambani Friday urged Prime Minister Narendra Modi to take steps against 'data colonisation', specially by global corporations, stating that Indian data must be owned by Indians. Below is his full speech at the Vibrant Gujarat Summit:
Most Respected Prime Minister Shri Narendra Modiji,
Honourable Chief Minister Shri Vijay Rupaniji,
Ladies and Gentlemen,
A very good morning to each one of you.
I am privileged to have participated, like Gautam bhai, in all the nine Vibrant Gujarat summits so far.
And since the first one, it is very satisfying now that every other Indian state has since followed Gujarat's transformative template.
The credit for this pioneering initiative, and its subsequent replication, must go to only one leader.
He is the proud son of Gujarat…
He is the visionary leader of India.
And he is Shri Narendra Modi, our beloved Prime Minister, under whose leadership, India is the fastest growing economy in the world.
Dear Friends,
Gujarat is Reliance's Janmabhoomi as well as its Karmabhoomi.
Gujarat has always been - and will always remain - our first choice.
At Reliance our motto is: India First. And within India, Gujarat First.
We have so far invested nearly Rs. 3 lakh crores in the state of Gujarat.
And created and catalyzed over one million livelihood opportunities in Gujarat.
In comparison to the past decades, Reliance will double this investment and employment numbers over the next ten years.
Reliance's new business model will move away from concentrated investments in a few locations to much larger investments in a distributed manner all across Gujarat.
As a proud Gujarati myself, I wish to tell my six crore fellow Gujaratis:
That your dream is my dream.
Can we together make Gujarat the most prosperous place in the world?
Yes, WE CAN!
And Yes, WE WILL!
And how can we do this?
By energizing the power of Gujaratis' globally acclaimed enterprise and entrepreneurship.
By empowering and creating an enabling ecosystem that will make our Gujarati youth to be the best in the world. 
And by harnessing the revolutionary power of emerging digital technologies of the Fourth Industrial Revolution.
Gujarat will thus act as a model not just for India but for the entire world.
As again my friend John Chambers said.
Friends,
Let me now talk about Reliance's five initiatives that align with Gujarat's future developmental model.
Each of these initiatives will contribute significantly to our Prime Minister Shri Narendra Modiji's inspiring vision of 'EASE OF LIVING' for every citizen.
First: Jio is committed to create a fully Digital Gujarat and make Gujarat the best Digitally Connected State in India.
Today, Gujarat is the showcase for Jio's 4G wireless broadband network. 
This network already connects the entire state to the global Information highway.
This means connecting:
Every home and office;
Every school and college;
Every hospital and doctor;
Every mandi and market.
And Jio's network is fully 5G ready; which means Gujarat will continue to remain on the forefront of digital connectivity for years to come.
And on the back of this world-class and most affordable digital connectivity, we can make our beloved Gujarat,
The No.1 in nurturing Startups in Financial Technology, Agriculture Technology, Health Technology and other critical areas that enhance the well-being of every citizen;
No.1 in promoting New and Renewable Energy, New Materials and New Mobility that create sustainable development.
And also, No.1 in building SMART VILLAGES – yes, not only Smart Cities, but also digitally empowered Smart Villages. 
This will mean a truly participative society – where the power is in the hands of every individual, every family, every community and every business.
Our second mega mission for India, which we will first roll out in Gujarat, is:
Jio and Reliance Retail will launch a unique New Commerce platform to empower and enrich our 12 lakh small retailers and shopkeepers in Gujarat – which are part of over 3 crore community in India.
Third: Today, our scientists and engineers have created highly promising innovations in our new 'Oil to Chemicals' strategy at Reliance's Jamnagar refinery, which is the largest in the world.
As the world moves towards Electrical Vehicles, Reliance will use hydrocarbons less for fuel and more for producing high-value New Materials with a wide range of uses in society.
Our 'Oil to Chemicals' strategy will greatly boost the value of Indian exports – and also create new employment opportunities.
Fourth: Pandit Deendayal University, or PDPU, here in Gujarat has today over 5000 students. 
In a short time, PDPU has emerged to be amongst the top universities in Gujarat.
The Reliance Foundation has committed an investment of Rs. 150 crores to make PDPU even stronger and an institution of international repute.
Fifth: I am happy to mention that the Reliance Foundation, which is present in all districts of Gujarat – and thousands of villages in other states in India – has demonstrated how India can move away from Rural Distress to Rural Progress.
By combining the power of digital technology, Reliance Foundation will increase these success stories many more times in the coming decade.
Respected Prime Minister,
The entire world has come to recognize you as a Man of Action.
I therefore conclude with a suggestion for your kind consideration.
We have all gathered here in this magnificent Mahatma Mandir.
I pay homage to Mahatma Gandhi, the Father of our Nation, in the year of his 150th birth anniversary.
Gandhiji led India's movement against political colonisation.
Today, we have to collectively launch a new movement against data colonisation.
In this new world, data is the new oil.
And data is the new wealth. 
India's data must be controlled and owned by Indian people - and not by corporates, especially global corporations.
For India to succeed in this data-driven revolution, we will have to migrate the control and ownership of Indian data back to India - in other words, Indian wealth back to every Indian.
Honourable Prime Minister, I am sure you will make this one of the principal goals of your Digital India mission.
Thank you. 
Updated: Fri, Jan 18, 2019
02:15 pm
ZeeBiz WebDesk