Mindtree's order book is very strong: Dayapatra Nevatia, ED & COO
Dayapatra Nevatia, Executive Director and Chief Operating Officer, Mindtree, talks about Q4FY21 numbers, revenue growth, business strategy, deal wins and deals in pipeline, growth outlook to the existence of work from the home model during an exclusive interview with Swati Khandelwal, Zee Business. Edited Excerpts: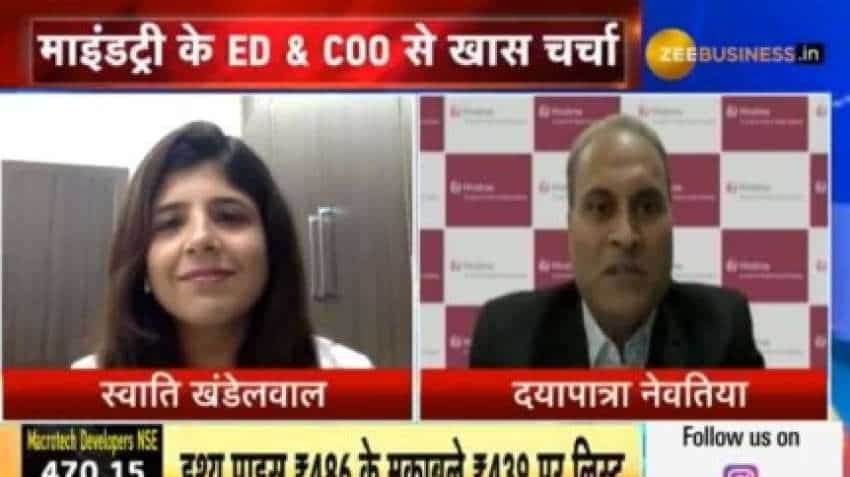 Dayapatra Nevatia, Chief Operating Officer, Mindtree, talks about Q4FY21 numbers with with Swati Khandelwal, Zee Business: Zee Business
Updated: Tue, Apr 20, 2021
08:10 pm
Mumbai, ZeeBiz WebDesk
Dayapatra Nevatia, Executive Director and Chief Operating Officer, Mindtree, talks about Q4FY21 numbers, revenue growth, business strategy, deal wins and deals in pipeline, growth outlook to the existence of work from the home model during an exclusive interview with Swati Khandelwal, Zee Business. Edited Excerpts: 
Q: Q4FY21 numbers have beaten the street estimates, especially the operating profit stood at Rs 391 crore and operating margins were also good. What was the reason for this kind of performance and how sustainable it is?
A: Last year has been very good for us. Our revenue has grown by more than 5% in the last two quarters and our profits have increased by 580 basis points (bps). Our order book stands near USD 1.4 billion and the pipeline is very healthy. And, you have asked how we did it. We refreshed our strategy last year and under the strategy 4x4x4, we focused on 4 service lines, 4 industry verticals and 4 geographies and this focused approach is playing out very well. Apart from this, we created strategically engagement team whose main goal was on multi-year large deals. Plus, we had launched a lot of other initiatives, which have helped in our revenue growth. As far as profit and margin are concerned, it is the result of the operational efficiency drive, the initiative which was launched last year. It is giving us very good results quarter-by-quarter and we are confident that our performance will continue even in FY22.
See Zee Business Live TV Streaming Below:
Q: When it comes to revenue growth, on a quarter-on-quarter basis it has been in line with the street estimates, which was about 5%. Considering the digital transformation opportunity, what revenue growth rate should be expected in FY22?
A: Digital transformation is a good opportunity for the Information Technology (IT) industry and has always been good for the industry. COVID pandemic has increased its scale significantly. As you know, Mindtree has always had its focus on digital technology and the maximum of our business comes from digital transformation projects. The four service lines, which were created even before the pandemic started, have been very helpful to us and we have an order book of around USD 1.4 billion and the pipeline is quite healthy. So, the deals, which were closed in the last quarter, will help in revenue growth. Besides, the travel, transportation and hospitality sector, which were hugely impacted by the pandemic, has shown good growth in the last two quarters. Therefore, we firmly believe that with new investment coming in digital transformation and the efficiency we have in this sector, we will be able to continue the performance that we displayed in the last two quarters. 
Q: As per the service line, your cloud share has gone up from 16.5% to 19.4%. Do you think that the share can go up, if yes, how much?
A: There has been very good growth in the cloud. Due to digital transformation, a lot of investment is happening in the cloud. If you have a look at our four service lines, then one of the service lines is completely focused on the cloud and in the last one year, we have created partnerships with hyperscalers like Microsoft Azure, Google Cloud, AWS and Hitachi. It is very useful for us and due to this our cloud share has increased a lot. Our market share will grow further, next year. 
Q: On the pricing front are you still giving discounts to your clients and has been there any payment deferral arrangement running for your clients? Also, there is a concern related to COVID, especially in India. Let us know about the strategy the company has adopted on the domestic and global front in terms of business?
A: If you see, all our strategic clients have been associated with us for a very long time. We have been working with them for many years and when the pandemic hit, some of our clients faced some troubles and we stood shoulder-to-shoulder with them. As of now, most of the problems are over and the pricing scenario is quite stable. We have a major focus on outcome-based deals, therefore we had very little impact. 
Q: Analysts say that Mindtree faces a risk of client concentration. What is your view on it
A: You can call it a risk. But if you have a look then we share a very strategic relationship with our top clients, our top line has grown well and we have a lot of focus on growing the clients and penetrating new areas. But if you have a look at the revenue that we get from our top clients has reduced in the fourth quarter of FY20 as compared to the first quarter of the same financial year. It has gone down because, we are focusing a lot on other clients as well and due to it, we have launched many initiatives and taking our capabilities to the rest of the clients. Therefore, there is an increase in top clients as well as other clients, due to which our dependence is reducing. If you will look at our top line than last year, as I have said earlier about the transportation, travel and hospitality sector was impacted a lot, due to which as a percentage the revenue has increased a lot but that percentage is going down gradually. As we go further, the revenue from top clients will also increase and with it, there will be an increase in other clients and the percentage will decrease. 
Q: Let's talk about the deal wins. A sequential improvement was seen with the total value contract standing at $ 375 million in Q4FY21 from $ 312 million in Q3FY21. So, there is a QoQ improvement. Going forward, what is the outlook and what deal pipeline is expected in FY22?
A: As I have said earlier that our pipeline is quite healthy and we have closed many large deals in last year, which stands at $1.4 billion, which is the largest order book to date. Our outlook on the deals which are in pipeline and we are working on them is very positive. We are quite confident and we will close many deals by the end of the first quarter. Ramp up has started in the deals which were closed in the last quarter and due to this, there will be good growth in our revenue this year. 
Q: What can be the ticket size of those deals?
A: It will depend on different deals. Currently, we are major focusing on the large size and multi-year annuity deals. As I have said earlier that we have created a strategic engagement team and it has the main goal to focus mainly on large deals, which are big and multi-year deal and we will have a focus on it. As you are aware that traditionally we have a focus on digital work and a lot of work that comes in it comes in the shape of the project and will also include small deals but they will be in a continuous stream in which one project will be followed by other. But our share of large deals is increasing continuously and will continue to grow. 
Q: Where are you expecting maximum growth from the vertical point of view if we will talk about FY22?
A: If we will look at FY21, our growth has been broad-based. Of course, technology vertical, communication and media technology has bounced a lot and these verticals will continue to do well even in FY22. As more technology adoption is happening, like remote working, cloud, security, digital transformation. So, there will be a lot of growth in technology. Apart from this, we are also seeing good trends in RCM (retail, consumer goods and manufacturing). We have closed a lot of deals in this sector, due to which it will ramp up. A lot of customers in the retail and CPG sector are adopting digital technology, like omnichannel, supply chamber organization, due to which a lot of deals will come. Travel, transportation and hospitality sector, as I have said you earlier, have shown good growth in the fourth quarter and there is a sequential growth of 16%. So, green shoots are visible here as well. As we will move ahead, contactless experience is a very big opportunity and the customers are investing a lot in core modernization and cloud migration. Healthcare is also a vertical that we have launched and a good opportunity is visible in it because a lot of customers, who are traditionally not associated with healthcare, are also investing in the sector. The capability that we have in customer experience in data and cloud provider is helping us a lot. So, by and large, across sectors good opportunities are present and the pipeline is also quite healthy across the sectors. 
Q: Work from Home culture is on an increase. How much percentage of your employees is working from home at present? The second wave from India's point of view seems serious, so do you have plans to continue with the hybrid set up? Also, tell us your observation of this work from the home culture in the last one year and what is the company's strategy for it?
A: For the last 1 year, since Pandemic has been a hit, we have been working from home. More than 99% of our employees are working from home. A lot of good work has been done in the last one year and our client feedback is very positive. In fact, if you have a look at the client satisfaction survey that we conduct once a year at the senior level and CXO level – it is also done quarterly at the project level – and its rating is, historically, at the highest level. We have not missed any deadline of project delivery and haven't faced any billing loss. So, the last one year has been quite good and our working model, delivery model, client engagement model, employee engagement have been fine-tuned and we are very comfortable working in this model. A few months back, we constituted a task force, which has provided its recommendations to us and our new normal working model is completely ready. But as you spoke about the second wave that is hitting but the vaccine is also available in the market, so, hopefully in the next few months there will be an improvement in the situation. But it is difficult to say that given the current situation, when the new model will come into force and what will be the final percentage of people who will be working from home and the office. But, we are completely prepared for all type of situation. It is confirmed that it will be a hybrid model and everybody is not going to come to the office and few people will work from home and few will work from home and few will work from the office at times and from office at times. So, the hybrid model will exist. 
Get Latest Business News, Stock Market Updates and Videos; Check your tax outgo through Income Tax Calculator and save money through our Personal Finance coverage. Check Business Breaking News Live on Zee Business Twitter and Facebook. Subscribe on YouTube.