Microsoft buys LinkedIn; here are 5 companies that it bought and shut down soon after
At $26.2 billion (approximately Rs 1.74 lakh crore) the acquisition of LinkedIn dwarves every other deal that Microsoft has done till now.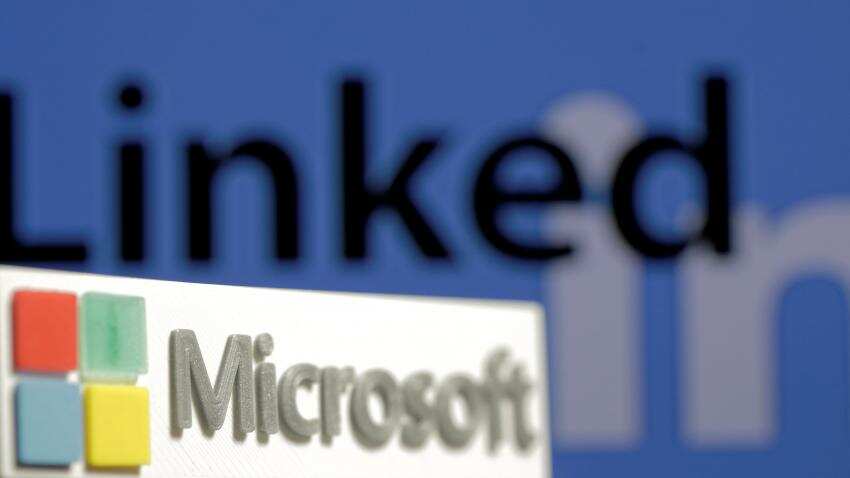 A 3D printed logo of Microsoft is seen in front of a displayed LinkedIn logo in this illustration taken June 13, 2016. Photo: Reuters/Dado Ruvic
Updated: Tue, Jun 14, 2016
11:22 am
Mumbai, ZeeBiz WebDesk
Social networking website for professionals--LinkedIn--has proved its utility. The network where millions logged-in every day to find jobs, exchange ideas, have found itself a suitor in Microsoft.
In a surprise move, Microsoft snapped up LinkedIn for $26.2 billion or $196 per share. Jeff Weiner will remain CEO of LinkedIn, now reporting to Satya Nadella, CEO of Microsoft.
The deal does give Microsoft a large 433-million user base of professionals where it previously has not seen any success.
While it has acquired LinkedIn, Microsoft once tried to buy its way into the social networking sphere by offering Facebook $15 billion, which was turned down. The company even tried to buy Yahoo! for $44 billion in 2008 but the deal didn't materialise.
When this acquisition didn't pan-out, it created its own social networking site. Albeit not a very successful one, given not many have even heard about its existence till now.
The story of Microsoft buying Nokia and then shutting it down is well known.
Quietly launched in May 2012 'So.cl' (pronounced 'social') is targeted towards students and meant to compete with the likes of Facebook and Google+ at the time. It was developed by Microsoft's FUSE Labs and had been in development for almost a year prior to the launch.
At $26.2 billion (approximately Rs 1.74 lakh crore) the acquisition of LinkedIn dwarves every other deal that Microsoft has done till now (Skype the highest at $8.5 billion in May 2011). It is also the biggest deal for a social media site. The previous deal being Facebook's acquisition of Whatsapp for $19 billion in 2014.
Microsoft's bad deals
However, Microsoft has been known for doing deals which later on turn sour. Some of the acquisitions made by the company not only ended up running top companies to the ground but also ended by costing Microsoft dearly.
The biggest example of this is the acquisition of Nokia for a massive $7.2 billion to strengthen its mobile phone business. Two years later it, Microsoft wrote off the acquisition at $7.6 billion and recently sold it off for $350 million.
In 2007, it has acquired aQuantive, an online advertising company, for $6.3 billion to compete with Google. This too ended up with Microsoft writing off $6.2 billion of the acquisition in July 2012.
Microsoft acquired Danger, a company known for software and services for mobile devices, in 2008. The company was hit by a major shutdown at its data centre that resulted in huge losses. Even Microsoft KIN created with the collaboration of the two companies did not do well and was pulled off the shelves just 48 days after it was launched.
Tellme Networks was acquired by Microsoft for $800 million and came to an end with the emergence of search engines and mobility-based devices, according to an Economic Times report.
Navision was another failed acquisition by Microsoft that cost $1.45 billion. It was acquired to strengthen its business management software and bundled Great Plains Software of Microsoft. However, it lost out to competitors such as SAP, Salesforce and Oracle.
With such deals, it remains to be seen if LinkedIn will succeed under Microsoft's wing.