Mastek has added new customers in UK and Middle East: Abhishek Singh, CFO
Abhishek Singh, CFO, Mastek, talks about the second wave of CORONA, Q4FY21 results, client additions, Order backlog, the contribution of healthcare and cloud migration verticals in the company's revenue and acquisition among others during a candid chat with Swati Khandelwal, Zee Business.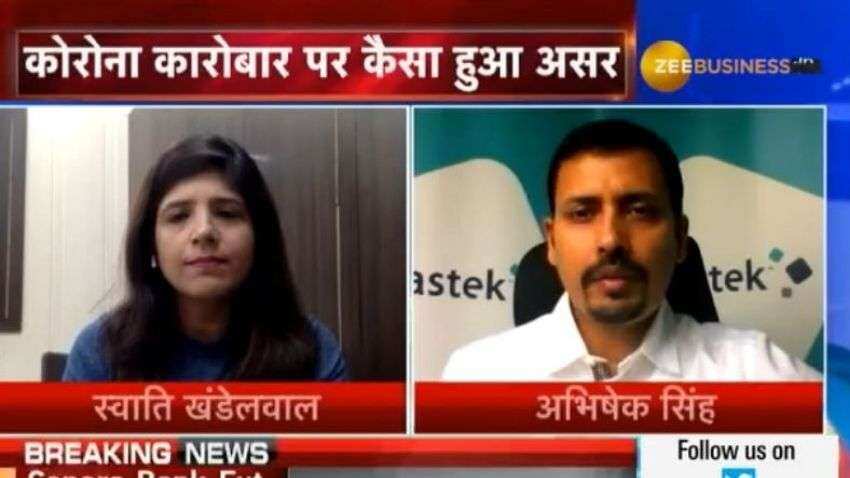 Abhishek Singh, CFO, Mastek, talks about the second wave of CORONA.
Written By:
Jitesh Kumar Jha
Edited By:
Jitesh Kumar Jha
Updated: Fri, Apr 30, 2021
07:29 pm
New Delhi, ZeeBiz WebDesk
Abhishek Singh, CFO, Mastek, talks about the second wave of CORONA, Q4FY21 results, client additions, Order backlog, the contribution of healthcare and cloud migration verticals in the company's revenue and acquisition among others during a candid chat with Swati Khandelwal, Zee Business. Edited Excerpts: 
WATCH | Click on Zee Business Live TV Streaming Below:
Q: How big a concern the second wave of CORONA is and what kind of impact it can have on your business?
A: The wave of Corona has created a worrisome situation. Our customers in India and abroad as well as our overseas employees have expressed their concerns. So, it is subject to worry. The good thing is that our employee base is most concentrated in Mumbai, then in Ahmedabad and Delhi and a little in Chennai. So, the situation in Mumbai seems to be improving now, however, we are much engaged with our employees to find ways to help them and how to facilitate the work from home, so that they can work in their safety and work and customers delivery are intact. We are focusing on it, although concerns are there. 
ALSO WATCH:
Q: Quarter-on-quarter the constant currency growth of Mastek has been impressive at 7.5%. Where does the maximum growth come from and how sustainable it is?
A: Growth has come from our two growth livers. Order booking and revenue realization of our UK public sector business has been quite good. So, after clarity on Brexit, it is growing in a clear direction. The second growth engine is the cloud transformation in the oracle space of the Evosys business that we have. These two are our growth engine and bookings and pipeline on both sides are good and revenue conversion is also looking good. 
Q: You have added 45 new clients in Q4FY21, which is conventionally considered to be a soft quarter for the IT sector. How did this happen and what percentage of client addition is expected in the next two quarters from here?
A: If you look at our customer addition journey from the last two quarters, then we are on the same trajectory. After the acquisition of Evosys and clarity on Brexit, both the engines are growing and in it, our customer addition has been very impressive. We have been adding 40+ customers per quarter. We have deepened our relationship with our existing public sector customers in the UK. In this quarter, we have signed our first 25 million pounds plus business and have also made engagements of more than 10 million in the UK. In Evosys business has been growing well in the health sector in the UK. Customer acquisition has also been good in the Middle East. We have seen some traction there in the UK and Europe, which was running a bit soft. So, overall, I will say that whatever the count of the customer was but the quantum has been impressive and the momentum suggests that we can move it forward, at this speed.
Q: Likewise, in the 12 months order backlog has shot up by 1.4% QoQ and currently stands at Rs 1,130 crore. How has been the pricing scenario here and are you giving any discounts like other IT companies amid the pandemic scenario?
A: Pricing has always been competitive in this sector. There is an abundance of big, medium and small companies in our sector, so pricing always remains competitive here. In the scenario in which we are right now, there is such a situation where the customers need to do their digital transformations to protect their business. So, the customers need to adopt the cloud to take their business ahead. So, when you will address the customers focus and place the value on the table, then pricing is a factor but pricing is not a singular factor. So, there is pricing pressure, it is not so that I would say that pricing pressure is not there. The pricing discounts have come in our public sector in the last calendar year itself. But organizational performance has been good despite pricing pressure. Overall, I will say that we try to neutralize it through the operation efficiency and are building on it. 
Q: The UK and Europe have a 70% contribution to your revenue. So, how is the situation of IT clients' budget allocation for FY22? Are there concerns related to cutting down on spending as economic activity has decreased on account of the pandemic?
A: One of the finest questions by you. I would say that there is acceleration in digital activities, in terms of digital adoption. However, there is a slowdown in the traditional services. This trend was existent in the past as well and has become more pronounced now. So, I would say that our maximum services are present in the digital space and cloud adoption space. So, we remain intact on that trend and we are still experiencing that trend. 
Q: In terms of verticals, healthcare has shown a good increase and has had a 5% QoQ contribution to overall revenue. This is significant. To what level do you see this vertical to be at the end of FY22?
A: Healthcare has been our focus in the past as well and due to the pandemic it has also come into focus of our customers. I can say that the opportunities have multiplied in the markets where we are operating. So, healthcare will be a major growth engine in FY22, there is no second thought to it. In healthcare, we have a good presence in all three geographies, in the UK through the NHS, it is also available in the Middle East and now in the US we are getting good traction through Evosys. In the hospital chains, we have recorded good gains in the last six months. So, I feel that healthcare will play an important role in FY22, as well. 
Q: In the service line, we have seen a huge jump in Oracle suite and cloud migration from 25.8% to 35% now. How do you see the growth ahead and where do you see this too by end of FY22?
A: Both the engines of the business are running well. Works, like application development, application modernization and digital transformation, is the specialization of Mastek. So the growth has come from both sides and I believe that we will continue to compete and grow on both sides. As far as cloud migration is concerned, the market has is expanding well in it and we were seeing the results of Oracle and in cloud infrastructure, it has registered good growth. So, it gives a clear idea that the space in which we are working is growing well, which means you have growth opportunities in it. If I will have a look at both, it seems that the growth trajectory that has been experienced will continue to be there, if not accelerate in the next year. 
Q: Update us about the kind of response you have received in the first quarter of FY22 amid the surge in pandemic and do you think that you will be able to maintain the performance of the first quarter of last year or will do better than that?
A: If instead of the first quarter of next year's expectations we should talk about the lead indicators like you have talked about the order booking. The 12-month order backlog that we have shown has grown well. This is the best leading indicator to give confidence that the business is on a good trajectory. If there is a growth opportunity as we are saying and we have engagements with the customers then there is no reason that the trajectory cannot be maintained. 
Q: Acquisitions is an important part of your business and have acquired Evosys, which is an existing Oracle Platinum Partner. What is your acquisition plans going ahead?
A: Acquisition is a continuous process. Enhancing your capabilities is very important. You can create the capacities yourself but expanding ourselves in the space of capability is very important for us. So, the cloud is a very clear area of focus where we are focusing on PAS (Platform as a Service). Azure and AWS is an identified area, where we have grown well and we are further focusing on the same space. So, if I will say in zero down fashion then we have a clear focus on enhancing cloud capability and we are identifying the assets in the same direction. As far as size is concerned, we always see an acquisition in a pragmatic manner. The acquisition should not be such that it is too big for the entire organization and imbalances it. But, with it, I would also like to say that Evosys was a reasonable acquisition and this is the only guarding principle on and we are walking on it in which capabilities should be enhanced and size should be in a way that we can manage it properly. 
Q: What kind of tie-ups the company will do with big clients and other companies in future?
A: At our place, we term it as an alliance partnership, which plays an important role in the company's growth in terms of capability development and expertise development. And, the exploration is going on. We are focused on Tier-I OEMs and Tier-I service providers on a practical basis on projects where size is quite large. Here, we are open for tie-ups there and also looking forward to it, for instance in the 100 million pounds plus opportunities that are available in the UK Public Sector and it will require partnership. So, we are looking forward to it. And as I have said, to enhance the cloud capability we will have to strengthen the relationship wither with Amazon or the Google Cloud or Microsoft and we are focusing on it. 
Get Latest Business News, Stock Market Updates and Videos; Check your tax outgo through Income Tax Calculator and save money through our Personal Finance coverage. Check Business Breaking News Live on Zee Business Twitter and Facebook. Subscribe on YouTube.