Making you pay for seat selection is now serious money for airlines
Since the DGCA announced unbundling of airline services all domestic carriers have been charging customers for separately for add-on services. DGCA had said that it would make airfares cheaper. Zeebiz analyses.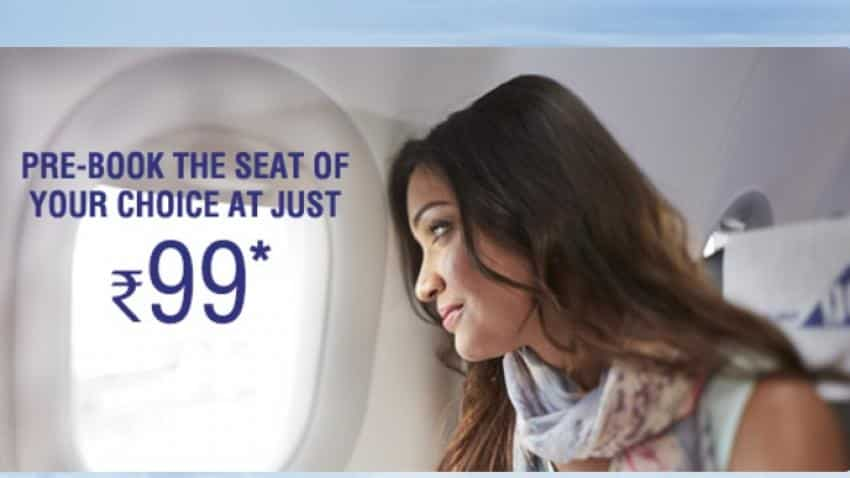 The move was seen as one that could 'unbundle' services of an airline in a way that passengers could reduce the price they paid. Image Source: GoAir Company website
Updated: Wed, Jul 19, 2017
03:58 pm
Mumbai, ZeeBiz WebDesk
Key Highlights

DGCA announced unbundling of services by airlines in July 2015 to make airfares cheaper.
Ancillary passenger related service revenues for airlines have increased up to 37%.
Ancillary revenues could amount to higher than 10% of airline revenues.
British airline Ryanair was once proposing charging customers to use the washrooms on airplanes. The plan, however, did not take off (pun intended).
However, something similar is happening in India's fast growing aviation market. 
 
In July of 2015, a notice from the Director General of Civil Aviation (DGCA) read, "Sub-rule (1) of rule 135 of the Aircraft Rules, 1937 states that every air transport undertaking engaged in scheduled air services shall establish tariff having regard to all relevant factors, including the cost of operation, characteristics of service, reasonable profit and the generally prevailing tariff."
 
In simpler terms, the government 'delinked' the price of your airline ticket from services that you get on board a plane like meals, airport lounge charges, web check-in, carry-on baggage and even charging for a seat, as it was felt unnecessary to all. 
"On the basis of various feedback received, it is felt that many a times these services provided by the airlines may not be required by the passengers while travelling," the government's notice read.
These add-on services are demarcated under 'ancillary revenues,' in the airline financial reports. The simple idea behind the move was to see if flyers could be charged for only those services that they use. For example, an airline could reduce its ticket price if a flyer isn't checking-in her baggage. 
The move was seen as one that could 'unbundle' services of an airline in a way that passengers could reduce the price they paid. However, two years later, airlines have managed to create a revenue stream from these ancillary service that can now cost a flyer more than the base fare for their ticket.
And this is where frequent flyers have started to feel the pinch as nearly 40% of your air ticket cost could be just for a choice of seat on a flight.
Ancillary revenue is the revenue from non-ticket sources, such as baggage fees and on-board food and services, and has become an important financial component for low-cost carriers.
"In August 2016, Jet Airways introduced Fare Choices which enabled a guest to pay for only what he or she required. This was a major step in 'unbundling' the products and providing our guests with choices and value," a Jet Airways spokesperson said.
 
Customers now have to pay for almost every seat they choose during a web check-in. Here are the various prices listed by those airlines on their respective website for seats that are not inclusive of seats near emergency exits, with extra legroom and/or bulkhead - or seats behind a dividing wall/curtain between cabins, which inevitably cost way more.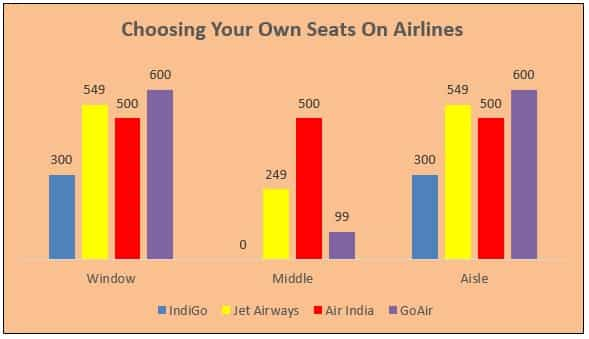 *Prices of seats in back rows are relatively cheaper for these airlines however we have considered the highest prices charged for regular seats.
 
IndiGo Airline's 2016 annual report defines ancillary revenue as, "Revenue from ancillary passenger related services, which mainly consists of charges for special service requests (including seat selection, charges for infants, and assistance for unaccompanied minors), ticket modification or cancellation including expiry of credit shell, excess baggage, lounge income and convenience fees; and revenue derived from products and services that are ancillary to our airline passenger services, which mainly consists of cargo services, in-flight sales, advertisement, commission from insurance and our tours and packages business."
Just in the last three months of the financial year ended March 31, 017, these ancillary revenues formed up to 10% of airline revenues in India. 
For India's largest private sector low-cost airline IndiGo, these ancillary revenues were up 3.1% at Rs 548.43 crore for the quarter ended March 2017 -- 10.66% of its total revenue for the given three months. 
 
Revenue from ancillary 'products and services' was at Rs 2001.99 crore which was 12% higher for IndiGo than the year ago period, the airline's annual report show.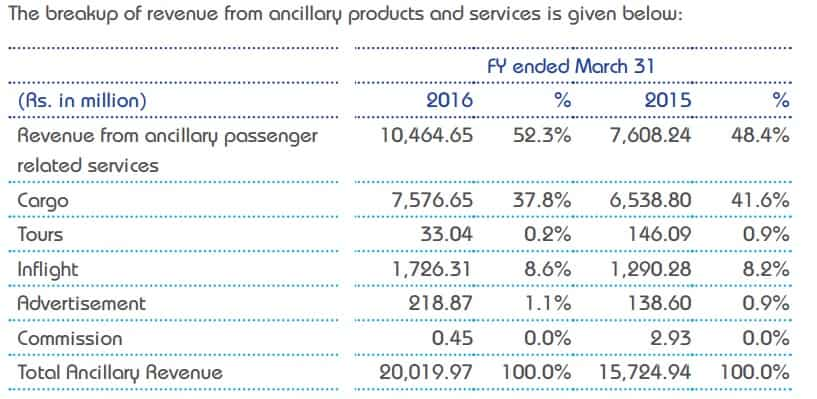 "Our revenue from ancillary passenger related services increased by 37.5%, from Rs 7,608.24 million (Rs 760.82 crore) in FY15 to Rs 10,464.65 million (Rs 1046.46 crore) in FY16," IndiGo said.
Passenger ticket revenues amounted to Rs 14062.42 crore, which was 87.1% higher than FY15 which stood at Rs 12,293.89 crore.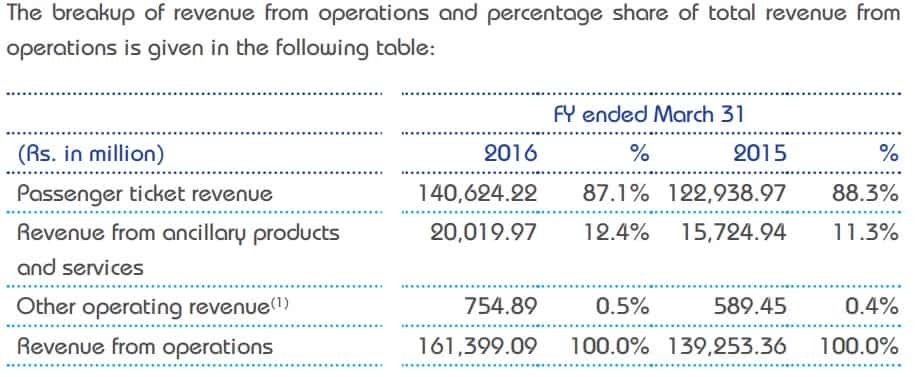 "Our revenue from ancillary passenger related services per passenger increased from Rs 302 in FY15 to Rs 316 in FY16," IndiGo said.
 
Full-scale carrier Jet Airways reported 6% increase in ancillary revenue to Rs 1,778.69 crore in FY16 from Rs 1,670.23 crore in FY15, annual reports filed by the company read. 
Total revenues from the airline was recorded at Rs 21,167.33 crore in FY16, which makes ancillary revenues 8.40% of its total.
Jet Airways said, "Ancillary Revenue has seen a steady growth over the last few years. It comprises passenger related services such as Excess Baggage, Cabin Upgrades, Seat Selection, Duty free amongst others."
 
SpiceJet has not revealed its income earned from ancillary revenues in its financial report filings but said, "On Ancillary revenues, the Company has maximised revenues from cargo operations and other ancillary streams, viz. on-board food sales, value added services. We have identified and implemented more avenues for generating additional ancillary revenue viz., Vacations and Loyalty. These initiatives should gather more traction during Financial Year 2016-17," in its annual report.
So have airline ticket prices become cheaper than before?
 
Zeebiz spoke to a few research agencies that said all airlines do not disclose all the charges applicable on 'add-on' services which makes it difficult to estimate its total revenue for airlines.
  
Vistara has only listed charges for its bulk head seats that includes a standard fee for those flights less than and more than 90 minutes.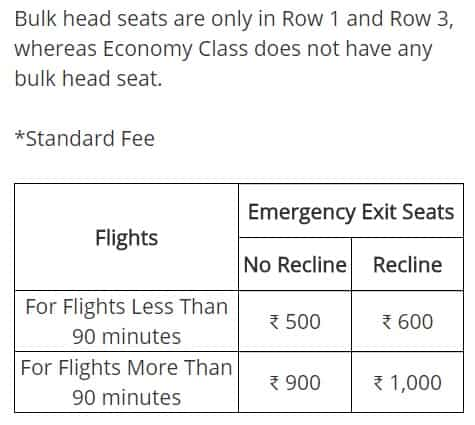 Image Source: Vistara website
 
SpiceJet does not list any charges for allowing customers to choose a seat via web check-in on its website; however the airline still charges them a fee. Its website under SpiceMAX lists charges for choosing seats with extra legroom starting at Rs 600 going up to Rs 1200 per flight.
 
SpiceJet refused to reply to any of Zeebiz queries as to what were the charges applicable on regular seats.
 
"The number of paid seats depends on various parameters, including but not limited to the aircraft type, route, time of day and expected flight loads. Typically, rows at the front of the aircraft, Exit rows, as well as certain window and aisle seats form part of the seat select programme," Jet Airways spokesperson added.
 
Fewer free seats are available but only for those stuck in the middle.
 
Jet Airways said, "The airline is careful enough to earmark only a certain portion of the total seats for sale under the Seat Select programme, ensuring that the choice and freedom to choose a seat of their liking also rests with other guests, who may decide to not reserve one prior. Naturally, the remaining seats are freely available." 
"Revenues from ancillary related services is expected to increase in the future," an industry expert said.
He further added, "For IndiGo, ancillary revenues contribution has declined in 4QFY17 vs earlier in FY16. While ancillary revenue contribution has been increasing for SpiceJet basis the various accessories it offers," the expert said.
 
"Going by the annual growth rate of 22% (provisional) for the year 2016-17, the domestic air traffic, carried by scheduled Indian carriers, could reach about 126 million passengers during 2017-18," Minster of State for Civil Aviation Jayant Sinha told the Rajya Sabha in a written reply on July 18, 2017. 
With air passenger traffic in the current year expected to rise to 12.6 crore, the revenues for airlines are only going to up, especially from these new revenue streams
 
ALSO READ: Choosing a seat could cost you up to Rs 1200 on a one-way flight
Get Latest Business News, Stock Market Updates and Videos; Check your tax outgo through Income Tax Calculator and save money through our Personal Finance coverage. Check Business Breaking News Live on Zee Business Twitter and Facebook. Subscribe on YouTube.