Mahindra's first product in association with Ford will be launched in 2022: Pawan Goenka, Managing Director
Mahindra and Mahindra MD speak on Finance Minister's announcement related to the investment of Rs 1 lakh crore on infrastructure in the next 4-5 years.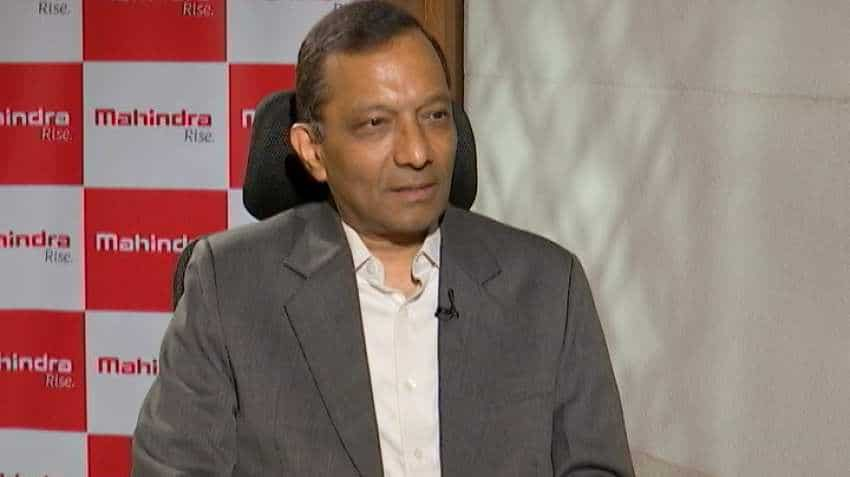 The Previous slowdown was a global phenomenon, but this one is more Indian phenomena, says Pawan Goenka, MD, Mahindra and Mahindra Ltd.
Written By:
Jitesh Kumar Jha
Updated: Thu, Sep 05, 2019
08:50 am
Mumbai, ZeeBiz WebDesk
Finance Minister's announcement related to the investment of Rs 1 lakh crore on infrastructure in next 4-5 years is a positive thing for the auto industry as if implemented it will give a boost in sales of commercial vehicles like trucks and pick-ups, says Pawan Goenka, Managing Director, Mahindra and Mahindra Limited. During an exclusive interview with Swati Khandelwal, Zee Business, Mr Goenka said, "overall sentiment is the main culprit of this slowdown; however, liquidity crunch is also a factor for it". Edited Excerpts:
 
We are at a juncture, where everyone is talking about the problems related to the economy, but you are an internal optimist. Tell me where is the optimism coming from?
There has been a slowdown in the auto industry and overall world economy for the last few months and the government, as well as the industry, has taken several steps to deal with it. We are seeing the festive season that is about to begin. We also talk about green shoots then monsoon has been a good one, however, there were floods at certain places. But, keeping those floods aside, the monsoon has been a good one and is likely to have a positive impact on the rural economy. Any improvement in the rural economy will increase the sales of tractors and have an impact on the automotive sector.
See Zee Business Live TV streaming below:
Secondly, finance minister in her last week's announcement said Rs1 lakh crores will be spent on country's infrastructure in the next 4-5 years. The announcement is quite big and has capabilities to encourage vehicle sales like trucks, pick-ups and other commercial vehicles. So, that is a very big positive. Besides, she has also announced a stimulus and it will have a slight impact on the auto industry.
Apart from this, the financial institutions are also going through a change in terms of passing on of the repo rate reduction and availability of fund (liquidity), which is also a big positive. Finally, commodity prices, which has been subdued will also have an impact. If we have a look on these four-five things, then it is hard to say that it is enough to make a big change/swing but when these are combined with a changed customer sentiment along with constant positive announcements from the finance minister can have a positive impact on the festive season. And, if it happens then the vicious cycle, through which we are going at present, will come to an end, which will pull the auto industry that drives the economy to a certain extent, thus, the economy will also improve.
 
Has the demand scenario improved post the recent announcement by the finance minister or you are still waiting for it to happen?
It is a good and difficult question to answer. If we have a look on August month's performance, then there has been a negative growth and the month's performance suggest that it will take a few more months to recover. The most important outcome of the announcement is related to financing cost reduction, which is not out yet and I hope, and it is a need of the hour that the announcements related to liquidity and EMI reduction through financing rate reduction that must happen. And, if it is not implemented in next 7-8 days then our festive occasion will also come to an end. So, implementation of the announcement is the need of the hour, which will bring a positive change. The second thing is related to purchasing cycle of the vehicles in which starts from the time when a customer reaches us to see the vehicle and end at the time when the actual purchase happens, which takes a week or 10 days. So, from the announcement to the end of August there was not enough time for that announcement to come to an effect on the retail sale.
 
The ongoing slowdown is part of the global phenomena, but we are in a denying mode that the problems are just related to India. So, drawing the two phenomena parallelly will give an outcome that suggests that it is a global phenomenon instead of the domestic problem?
 It depends on the way we want to see. If I say that there is a de-growth in India as well as across the world, then we can say that global phenomenon is responsible. But I don't consider it because there are expectations that our economy is likely to grow by 7-7.50% and we have been near it for the last few years. The ongoing slowdown in India is big and we can't say that we are growing by 5% at a time when other countries are growing by 1-2% and few have entered a negative zone of growth. Then, it is not the right comparison because we are an aspirational economy right now. Growth of 8-10% in the auto industry in India is considered as an average desired growth, while this can be termed as an exceptional bumper growth in the case of other countries. So, if our 8-10% turns up to be minus (-) 20% then we are talking about 30% gap. 
In some countries, which are going through a slowdown, I will not name them, then there the growth of 2-3% has turned into a minus 2-3%, then it is creating a difference of 4-5% but in case of India the growth has come down from 10% to minus 20%. Thus, the previous slowdown was a global phenomenon but this one is more Indian phenomena undoubtedly there is a slight global effect.
And, the main culprit is the liquidity crunch?
I will not say so, however, it is one of the big factors. But I will say that the overall sentiment is the biggest culprit. Things being said about the economy because of slowdown and crash in the share market as many customers use money that comes from the profit in the share markets to buy several things. And at the time, when there is a de-growth/meltdown in the share market has had an impact on their income and probably, these people do not want to sell their shares at a loss. Thus, if we have a look on this cause then sentiments have a major impact, however, liquidity and interest rates, have had an impact on it. The third thing is related to the transaction price on the vehicles, which has seen a huge jump – not overnight but over a period. So, when you add that to the sentiment and financing cost, it becomes a deadly combination.
It will grow more because we are heading towards BSVI and we have always said that rolling out of BSVI norms will increase the cost of every vehicle. So, don't you think that people should buy new vehicles because the prices will go up in time to come?
I was thinking on the same lines but there is a confusion on that front. However, clarity has been given that people will not face difficulties while using BSIV vehicles after BSVI is rolled out. Again, the best time to buy is right now because the ongoing discounts will be phased out if there is a growth in vehicle sales in quarter 4 and pre-buying starts. Best discounts are available in the market at present and thus this is a right time to buy a car and I hope that the customers who are sitting on the fence should decide that this is a time to jump in and buy the car.
How things will change for the consumers after BSVI is rolled out? Can you provide any data on the quantum by which vehicle prices will be increased?
It will increase in three cases and they are (i) fuel prices – oil companies are saying that they will have to recover the investments, so I have heard that the fuel cost will go up by Rs1 or 2, (ii) Fuel efficiency of the vehicles, normally, with BSVI will come down slightly and this means that the running cost will go up slightly but that will not have any major effect and (iii) cost of the vehicle, but I can't provide the numbers at present as we haven't decided on it yet however, it will be less than the cost that we assumed three-years ago because the frugal engineering, for which India is considered, suggest that the delta cost will be below the initial estimates but yet it will be a substantial increase, especially for diesel but it will be lesser for petrol.
 
Few companies have already announced that they will not manufacture diesel engines for small vehicles any more, Maruti being the first to do so. What is Mahindra's approach towards small diesel vehicles?
A: Even, we are not manufacturing small BSVI diesel engines and we are not turning our 1.2-litre diesel into BSVI but converting 1.5-litre and 2-litre into BSVI. The cost in case of 1.2-litre engines will become a high percentage of the overall vehicle cost and that is why we think that it will not be desirable for the customer to pay the extra delta cost. Thus, we are also aligned with 1.2-litre not becoming BSVI.
 
How do you read the future of the auto sector amid people preference toward the vehicle that should be bought and variety of choice that is available in the market when there will be a transformation in the industry? Tell the side we are heading forward, .i.e. diesel, petrol, electric or hybrids?
Obviously, the auto industry is going through a churn, I am just not talking about the ongoing slowdown but the changes that are being implemented are big and significant changes. It has the capability of changing the dynamics of the complete auto industry. In case of India, there will be a certain percentage drop in diesel vehicles after the BSVI norms are rolled-out, however, I feel that diesel will be preferred in case of mid-sized SUVs and UVs, but petrol will turn up to be a preferred choice in case of cars. There is a major change. The good thing is that Indian vehicles will become internationally competitive. If we move five years down the lane then Indian auto industry was quite back in context of safety as well as emission but the safety norms, which were rolled out in the recent past, has brought us on par with the international norms and same is the case with emission norms as it is bringing us par with many countries. So, therefore our vehicles are international vehicles from the regulation side. If we talk with the aspect of content then the designs that are being introduced are modern and futuristic designs and every new design is beating the previous design. When it comes to features then technology being introduced in vehicles are moving by a leap and bound. Every vehicle is coming out with something new, in the aspect of features, i.e. the features that are available in a vehicle that cost around Rs4.50-5 lakhs were not available in vehicles which were sold at Rs15-20 lakh five years ago. Thus, there is a rapid change and pricing, when compared to what is being offered, is coming down with every launch. So, for customers, it is going to be a delight and it will continue and is not over. Next time, when you will buy a vehicle then it will be cheaper than the existing vehicle and better, better design, comfort and technologically ahead. So, it is a significant technological change that is happening and that has been made possible because of the power that is with the engineers because of the digital computing as they can do a lot more today than they couldn't do a few years ago. So, that is one change, but the bigger change is going to be in how the vehicles are used. There is a talk related to shared-mobility, which is still a small one but will continue to grow. Thus, under the shared mobility, things will depend on how a consumer is using a vehicle in which whether the consumer says that I will still own my car for my weekend pleasure or evening outgoing for a cup of coffee and use the shared-mobility during the day time to commute to work and be back. This is one possible scenario. The second scenario is that I will not buy a car I will just use shared-mobility. Off course, we hope that it is a former not the latter. I think it is going to be mixed as owning a vehicle, at least in the case of India, is an aspiration thing. As far as I think, possibly I can go wrong, that maximum people still want to own a car - maybe 10-15% won't buy - though they will not always use their car for commuting.
Thirdly, there comes the electric vehicle where we are talking about shared-mobility then I think soon, shared-mobility will become very predominantly electric soon, I am not saying tomorrow, but after 5-8 years from now, you will see a significant penetration of electric vehicles in shared mobility because the affordability shared mobility for electric car will be much higher than the electric car for personal use as the number of kilometres that you will drive for your personal use will be low ranging from 25-30 kilometres while in shared-mobility you will be travelling around 150 kilometres in a day. So, financially, electric vehicles will be much better. The second thing is related to charging infrastructure then it is not that important for the shared-mobility because we are driving the vehicle in a confined area and that's why we will always have charging status within a city. What is more difficult is if you have to move from Mumbai to Pune then how will you ensure that there is a charging station in between because its use will be very infrequent and therefore you will not be able to justify the investment. Thus, electric, shared and the technology that is coming into the cars and the prices, which is going down constantly will make a huge difference. It will create a difference under which new players, who don't exist till date, in the market, especially in two-wheelers and three-wheelers segment, as several players have already emerged in the segment. But everyone will survive but some of them will become big. So, there will be many "Tessler's" in two-wheeler and three-wheeler space, who will be brand new but non-existing today but will emerge as a big brand, with big market cap, a lot of investment coming in and that is going to happen. And, some players who are very big today may or may not exist or become small, if they are not able to keep pace with the major changes that will happen.
 
At a time when the industry is going through a transformational era, what are Mahindra & Mahindra's plans to carry on with the business and grow it as you are present in almost every domain?
It is easy to speak about tractors because we are a market leader with a good market share in the segment. If we look forward than it is reasonably for us to predict the demand growth, which may vary due to monsoon conditions, but on an average, we still think that the demand growth will remain between 8-10% for next 8-10 years. Our market share may go up in the segment because we are designing new products and have three brands at present, namely, Mahindra Swaraj is among top-two brands and third brand comes from GROMAX. We are developing several new products intending to increase our customer value proposition and how to sell a solution, which is beyond the tractors. Thus, along with tractors, we want to sell implements and agricultural knowledge. We are also bringing new techniques which may help us in increasing our market share, although our market share stands at 43% at present. So, we are very confident about tractors and feel that everything is on course.
When it comes to Auto, then it has many variables right now and it is very difficult to make a long-term prediction on overall industry demand. When it comes to growth than the last 12 months have been a very difficult period and that's why it will be difficult to predict what the demand would be. Secondly, it is also hard to predict that what will be in demand, i.e. diesel, petrol, electric, hybrid and too many unknows again. So, we, the auto industry, will have to keep several options in hand and that's why we are working on many things. Fortunately, as far as diesel and petrol is concerned, it doesn't matter to us because we have designed our vehicles and plant in a way that whether it is 100% diesel or 100% petrol or anything in between the two then we will be able to cater to it and probably that would be there in about 12 months' time. As far as electric is concerned, then I think that electric vehicles will grow majorly in the shared mobility segment in form of fleet applications, corporate fleets and aggregators and other office commute and so and so and not so much on the personal side. Therefore, our focus is on shared mobility for electric vehicles and Mahindra eVerito is the largest selling vehicle in India at present, however, volumes are still very low. Similarly, our Treo electric three-wheeler is again largest selling electric three vehicles in India though the volumes are very low. I foresee, rapid change in electric vehicle and electric auto because auto is completely commercial therefore completely shared mobility and that should become near all-electric on its own if the current situation doesn't change, i.e. the GST rates, farm benefit, registration benefit all of these things, which are currently in place, as far as it doesn't change, I think, you will see a natural shift to electric auto. And, we are in a very happy position to be there with our vehicle with a lot of other things that we are doing, we have capacity technology and electric power input. Thus, we are well placed, and I think that when it comes to shared electric mobility, we are very well placed. We are watching the personal mobility space and have some thoughts and plans, but it is not our priority right now. Our priority is shared mobility.
When it comes to buses and another heavy commercial passenger vehicle business or UV business then we have many new models coming up and we have launched three models last year. However, right now, will focus on BSVI but and they will be launched after BSVI is rolled out.
Do you think that bringing several models is a solution or bringing a right model that will work for the consumer is an option because the competition in last one year has given god products at good prices, which is a delight for the consumer, but the competitiveness in the market turns up to be challenging?
We are just in the UV space and we don't want to enter into the passenger car segment and will never try to do so, except Verito. Interestingly, we have our vehicle in almost every sub-segment that is available in this space. The only sub-segment where we are not present in a real sense is 4.3meter kind of five-seater vehicle. As far as new vehicles are concerned then that is the only segment that we need to fill. We have the XUV500, which is slightly bigger than that segment and we have XUV300, slight small then that segment. Thus, we need XUV400, I am not saying that we are working on it, but I am just saying that we need an XUV400.
You are present in almost every segment but haven't emerged as a significant player in the domain. Do you think that it is justified?
Keep in mind that we are a specialist in UVs with no presence in hatchback or sedan. But if we go for a like-to-like comparison then we have several vehicles in the UV segment and that too because it is our speciality.
But are you happy with its performance in the segment?
'Dil Maange More' that is a phrase that is there always. No matter how much we sell, we want to sell more. So, the new products that we will launch will not necessarily be in new space, it could be the replacement of the old package. Therefore, the number of products that we will have in the market will not go up, but the products could change.
 
If Mahindra & Mahindra is compared with other UV products that are available in the market at present and are being introduced then where do you figure out yourself in the segment and where do you think that you can improve further to emerge as a market leader?
What should I answer to this question because our vehicles are present in the market. It is a competitive field and three players are almost equal in which one or the other keeps taking the leading position at regular intervals. These three players are 75% of the market and the remaining 12-13 players are 25% of the market. So, I think we just need to see, where we are today and try to inch up. The kind of competitiveness that we have in the industry, at present, where every player is launching UVs aggressively and 70-80% of the new launches are UVs. And, very few launches are being made in the volume space, I am not talking about the premium segment but in the volume space of Rs5-20 lakhs then almost everything being launched is in UVs. Thus, in that space with this kind of competition to be somewhere between 25-30% market share is a good market share to have and we will aim to be on the higher side of the 25-30%. Right now, we are on the lower side, but we must move on the higher side of the same levels.
By what time?
If I can help then from tomorrow. But amid this slowdown what is happening in the industry is that maximum volumes are seen in the new launches. When we are out of the slowdown then I think you will be able to see a more widespread growth that is happening. If you have a look at the numbers of the last quarter, we had the least degrowth despite the new launches made by other competitors. Degrowth is degrowth but we had the least degrowth among all major players in wholesale. Similarly, in the case of retail, the available data that we have – unpublished data – we are the only player that had a small positive retail growth. I may be wrong because this is not published data. Thus, we are doing comparatively well in these difficult times.
 
Update us on Mahindra & Mahindra-Ford JV (joint venture) and about the products that are likely to be launched from it?
Mahindra-Ford is in an alliance under which we are working on several projects together including electric vehicles but haven't signed any contract till date but are at a very advanced stage. Thus, we have signed a contract for C-SUV, which will be a common platform for Mahindra and Ford, however, it will be separate for both vehicles but on a common platform. It is being developed by Mahindra. One of our engines, namely 1.2-1.5 litre will be used in Ford's vehicle and that is once again a product of Mahindra. Currently, we are seeing at Ford's platform where a new vehicle will be designed for each, Ford and Mahindra, separately, and that will be again a common platform. Similarly, the electric vehicle based on Aspire will be developed as Mahindra-branded electric vehicle. Thus, we are working on several projects and we are also working on a connected vehicle. And, everything is that whatever we have announced, when we first signed the MoU nothing has been dropped. Five out of six have been almost finalised, 3 are announced, 2 are more like finalised and 1 is a little bit lagging.  
Then when the first product will be launched with them?
In 2022.
Earlier, you have talked about the CapEx of around Rs18,000 crore in the next three years, till 2022. Is it intact amid the ongoing slowdown?
We have deferred the CapEx amid the slowdown but not in the product and haven't reduced anything in the segment and all the product development programs are intact. But have made certain deferment in terms of capacity because with the slowdown the need for capacity, where we have a lead time of two years that now we can wait for a year or so. Overall for this year, we have deferred little over Rs1,000 crore of CapEx.
 
Have you changed your strategy in the two-wheeler segment, just in the electric two-wheelers?
We have launched Java in the two-wheeler segment, and it is responding well at present. Even customers are giving positive feedback. So, we have found a niche for ourselves in that segment of retro bikes, going back to old times. It is doing very well. As far as electric two-wheelers are concerned, then that is a very different game because Java, on one hand, is a high-end and mid-end vehicle while electric vehicles are being encouraged by the government. However, the vehicles, which were being sold here were very low-end and low-performing two-wheel vehicles. But the new vehicles being produced and launched by the mainstream players are regular two-wheeler with a battery as the propulsion system. I feel, the two-wheelers will also do well, but it will be used maximum in the B2B space and less in B2C.
Will you have any participation in the electric two-wheeler segment?
We haven't decided yet. As you know that we are got out of the mainline two-wheeler and, we have yet not decided whether we want to come back into it with an electric vehicle or not. We are working on it, i.e. we are in the process of deciding whether we should get back in the two-wheeler segment with electric.
 
We have seen a consolidation of banks in recent past, so can we see similar consolidation in case of auto players as 23-24 auto players are operational in India?
It is so that you are talking about the 23 PSU banks, who had a single owner, thus it is easy for one owner to consolidate but auto companies have their respective owners and that's why consolidation is not that easy. But having said that you are seeing the ongoing alliances in the auto sector at the global level for an instant an alliance between Maruti and Suzuki was announced in the recent past, Mahindra-Ford. Similarly, if you have an eye at the global level then you will find that big players are forming big alliances and are also going for buyouts. Thus, such a consolidation is likely to happen but there are little hopes that any big brand will exit from the auto industry. There can be ownership change but no big brands will exit from the industry because the exit cost is very high in the auto industry. Once you are in it then you are in it.
 
You have the financial muscle do you have any plan to acquire something amid the ongoing downturn at the global stage?
A: We are always on a lookout, but we have invested a lot of tractors and have acquired a lot in the segment. And, the existing acquisitions, have turned up to be good pieces of a tractor strategic puzzle. For an instant, we bought three companies in Turkey and last year, we turned them profitable together not every one of them was profitable but the combination of the three was profitable. We are improving our harvester company in Finland and the Japanese tractor company. So, I think, right now, we have pretty much at a point of having everything that we need in the tractor side. We haven't closed the eyes but are not on a lookout in any sort of aggressive manner. But will look forward towards something that is good for us and this doesn't mean that we don't have anything good in our eyes might be there is something but can't speak about it.
As far as the auto is concerned then given the uncertainty it is very difficult to make a large investment in any specific field because we don't know where to choose. Should we invest in shared mobility or electric vehicle or traditional IC vehicles, we don't know but if you have an eye on our investments then you will find that we have invested several investments, which are small in size, in the new age auto industry i.e. electric vehicle and mobility. We have invested in Zoom Car, Porter and have started our Glide and have some other things, which is going on right now, on the plate. So, we have invested small investments in the segment, which is creating a combination of things that will allow us to play in the space of mobility and the electric vehicle space.
Get Latest Business News, Stock Market Updates and Videos; Check your tax outgo through Income Tax Calculator and save money through our Personal Finance coverage. Check Business Breaking News Live on Zee Business Twitter and Facebook. Subscribe on YouTube.