Mahindra Q4FY18 PAT surges 70% to Rs 1,059 cr; SUV Scorpio, Bolero drive sales
A Bloomberg poll of analysts predicted net profit and revenue of Mahindra to come in at Rs 1,050 crore and Rs 13,110 crore respectively during this period.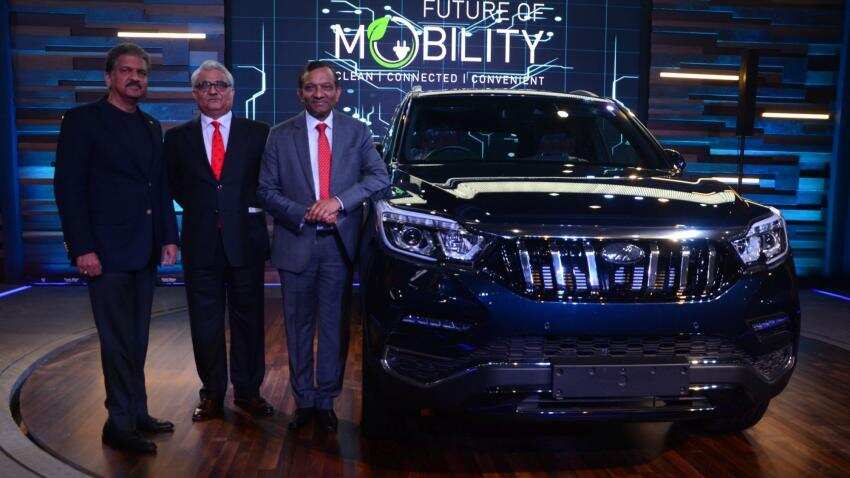 Representational Image: Photo: IANS
Passenger car maker Mahindra and Mahindra soared on stock exchanges after the company posted over a whopping 70% growth in standalone net profit during fourth quarter ended March 2018 result (Q4FY18). M&M surpassed analysts estimates in both bottom-line and top-line performance in Q4FY18. Standalone net profit was at Rs 1,059.09 crore which increased by 70.33% compared to net profit of Rs 621.78 crore in the corresponding period of previous year. However, the standalone Q4FY18 net profit was a decline of 12.90% from Rs 1,215.91 crore in preceding quarter. 
Standalone revenue came in at Rs 13,307.88 crore, registering rise of 10.46% from Rs 12,047.58 crore in Q4FY17 and up 14.94% as against Rs 11,577.78 crore in Q3FY18. 
A Bloomberg poll of analysts predicted net profit and revenue of M&M to come in at Rs 1,050 crore and Rs 13,110 crore respectively during this period. 
For FY18, standalone net profit was at Rs 4,356.01 crore up by 19.56% from Rs 3,643.39 crore in previous fiscal FY17, whereas revenue was at Rs 49,444.49 crore higher by 4.35% versus Rs 47,383.74 crore in FY17. 
On consolidated basis, net profit of Rs 7,957.79 crore in FY18 grew by a massive 96.46% from Rs 4,050.53 crore in FY17. Meanwhile, revenue stood at Rs 93,264.77 crore in current fiscal higher by 4.81% from Rs 88,983.03 crore in FY17. 
For the year F2018, improvement in overall economic sentiment, two consecutive years of normal monsoon, Government's focus on development of Agri and Rural sectors, with continued investment in Infrastructure, coupled with easy availability of affordable finance, helped drive the demand for the automotive as well as the tractor industry.
For Q4 F2018, the domestic auto industry (excluding 2W) grew 19%, with the passenger vehicles reporting a growth of 7% and the UV segment a growth 25%. The domestic tractor industry witnessed a very high growth of 44%. In Q4 F2018, the domestic Automotive volume for the company grew 20% while the domestic tractor volumes grew 44%. 
M&M said, "Domestic sales crossed the 5,00,000 mark after a gap of five years. The company achieved its highest ever sales for Scorpio and Pik-Ups this year and Bolero volumes crossed 1 million since launch. Also, in F2018, the company recorded its highest ever tractor volumes for both domestic and export, and retained the leadership position for the 35th consecutive year." 
For further outlook M&M said, "Economic activity is expected to gather pace as the transitory effects of implementation of the goods and services tax (GST) recede. This outlook will also be lifted by tailwinds from normal rainfall with the weather bureau forecasting a 'normal' monsoon for the third successive year in its first stage long range forecast."
It added, "While the spatial and temporal distribution remain to be seen, well spread out rainfall is likely to have a salutary impact on the overall demand conditions. However, rising crude oil prices, which have already risen noticeably, call for greater prudence."
On global front M&M said, "Global growth backdrop too remains benign with the synchronised cyclical rebound. However, escalation in geo-political risks, trade frictions, tightening monetary conditions, and higher crude oil prices could pose downside risks to global trade and demand growth outlook."
Following the Q4FY18 announcement, M&M share price surged by 2.16% and also touched intraday high of Rs 868 per piece on BSE. 
Updated: Tue, May 29, 2018
03:35 pm
Mumbai, ZeeBiz WebDesk