Mahindra & Mahindra is prepared to launch BSVI in every product: V S Parthasarathy
The last quarter was very difficult for the industry for both tractors and auto segments, says V S Parthasarathy, Group CFO & Group CIO, Mahindra & Mahindra (M&M), in an interview with Zee Business.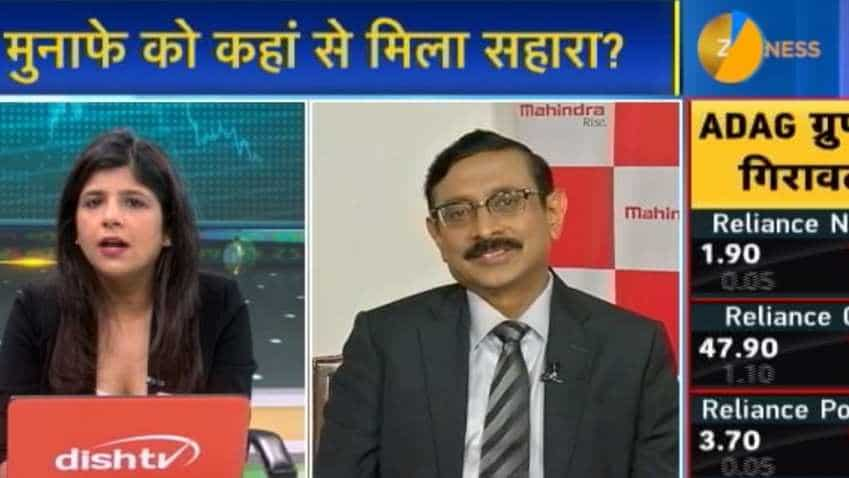 Parthasarathy said, "M&M's margin has declined when compared on YoY basis but has grown 50 bps in comparison to the previous quarter of the last fiscal". Image source: Zee Business
Updated: Fri, Aug 09, 2019
04:41 pm
Mumbai, ZeeBiz WebDesk
The last quarter was very difficult for the industry for both tractors and auto segments, says V S Parthasarathy, Group CFO & Group CIO, Mahindra & Mahindra (M&M). In an interview with Swati Khandelwal, Zee Business, Mr Parthasarathy said, "M&M's margin has declined when compared on year-on-year (YoY) basis but has grown 50 basis points (bps) in comparison to the previous quarter of the last fiscal". Edited Excerpts:
Q: Mahindra and Mahindra's margins have been hit in June quarter. What can be the reason behind this fall? What are your growth expectations for the future?
A: Last quarter was very difficult for the industry in both segments, tractor and auto. The industry declined a lot, and this fall was backed by certain factors like rural stress and urban sales. This is the first time since 2001 when negative growth was seen in almost every category of the industry. But we are happy as our market share increased in every category like the personal vehicle, i.e. utility vehicle, three-wheelers. We have performed well in terms of market share and volume in such difficult situations. As far as the margin is concerned then our margins of the Q1FY20 stands at 14%, which stood at 15.8% last year.
You were asking the reason behind the decline then I would like to say that the same quarter of the corresponding year was the best in decades/years. It was so good that our top line and bottom line grew by 25% and 50% respectively. So, you must see this quarter's performance with respect to the exceptional performance of last year. But there is a second way of looking on the numbers in which the numbers should be compared with Q4FY19 margins, which stood at 13.5%, which means there is a 50bps growth in this quarter and you can say that there is an increase in the margin. But I agree that it has declined if seen with the year on year (YoY) basis. However, this is quite close to the full year's margin and I feel that improved conditions in future will help us in posting better margins than last year's margin and it will be supported by the material price that is benign now.
Q: There is a demand vacuum in the auto sector, and it has an impact even on tractor volume. So, let us know about the expected revival in the tractor segment soon?
A: This is an interesting question because the ongoing situation/atmosphere has introduced a decline in almost every category of the auto segment, which was not seen in several years of the past. Such a huge drop in every category was seen in 2001, as I have said. So, we as well as the government will have to look on things that must be done to revive growth in these categories. I think, honourable Finance Minister is discussing the issue with the industry and it seems that something good, which may give a boost to the industry, may emerge out of the discussion. Besides, the government is also starting investment in rural India, which can revive growth in these areas. Also, the material cost is benign at present and is settled at a good position from the material cost point of view. So, it will also benefit the sector. Good monsoon, which was a matter of worry earlier in June, and future predictions are hinting towards better future quarters. But, providing predictions about auto segment doesn't seem to be a good thing at this juncture. We should wait to have a look at government steps and RBI policies and how they are regulated, as it will help us to predict the things in a better way. As far as tractors are concerned, then I feel it will grow by 6-8% in time to come despite a slowdown in the past four months.
Q: Update us on the kind of response that M&M has received on its new products mainly SUVs and MPVs and expected growth in future?
A: I would like to inform that we have grown in the retail space in the last quarter, but the reduction of stock had an impact on our wholesale billing. However, we grew positively in retail space. So, considering this factor, you will find that our new products performed well, and this is something that contributed to increasing our market share. So, all three products, namely Marazzo, XUV300 and Alturas, that we launched have performed well and several customers are attracted towards these vehicles leading to good demand. However, the demand doesn't revolve around our expectations because the market is dull at present and there is a degrowth situation in the industry, but these products have kept us growing. We expect their demand will go up as soon as there is an improvement in the industry.
Q: Will you provide certain discounts on your existing products to attract people and what are your expectation from the festive season of the year?
A: I believe, if you improve the features of our products and take the reduced finance cost to the customers and transfer the benefits of government decisions to the customers will act as a gift for them for the season. So, we will not talk about discounts but try to take the products to the customers at the right time and see the ways to increase our production among others.
Besides, the second half of last year, the tale of two halves, in which the first four months were good while the remaining 8 months were not good and led to negative growth/flat growth. But the base is not too strong in these year's and that's why I feel that this year's growth can be seen at a right time along with passing off RBI rate cuts and support of the government.
Watch Zee Business Live TV
Q: How prepared you are for the launch of the M&M's BSVI compliance vehicles and are your BSVI products are ready?
A: We are doing good and are prepared to launch BSVI in almost every product and can do so. M&M in a recent press meet has demonstrated the complete range of BSVI products in front of everyone and informed them about our readiness and how we can bring it out on time and at a good cost for the customers. So, we are ready, we are able, and we are willing.
Get Latest Business News, Stock Market Updates and Videos; Check your tax outgo through Income Tax Calculator and save money through our Personal Finance coverage. Check Business Breaking News Live on Zee Business Twitter and Facebook. Subscribe on YouTube.