Maharashtra government should provide relief in stamp duty this year as well: Dhaval Ajmera
Dhaval Ajmera, Director, Ajmera Realty & Infra (I) Ltd., talks about the second wave of CORONA, ongoing projects, demand and impact of the lockdown like restriction on sales, and stamp duty cut among others during a candid chat with Mansee Dave, Zee Business.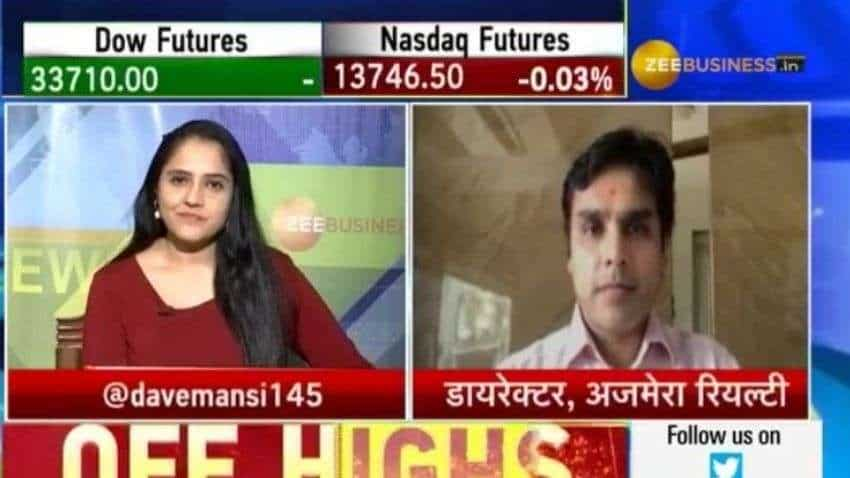 Dhaval Ajmera, Director, Ajmera Realty & Infra (I) Ltd., talks about the second wave of CORONA.
Written By:
Jitesh Kumar Jha
Edited By:
Jitesh Kumar Jha
Updated: Mon, Apr 26, 2021
03:34 pm
New Delhi, ZeeBiz WebDesk
Dhaval Ajmera, Director, Ajmera Realty & Infra (I) Ltd., talks about the second wave of CORONA, ongoing projects, demand and impact of the lockdown like restriction on sales, and stamp duty cut among others during a candid chat with Mansee Dave, Zee Business. Edited Excerpts:
WATCH | Click on Zee Business Live TV Streaming Below:
Q: The second wave of CORONA is hitting almost every sector and industry. What impact did it have on the realty sector and your business?
A: As of now, CORONA has had its impact on the realty sector. Because, when the first wave struck it created a panic due to which many labourers who were working on the construction sites migrated due to the lockdown. Bringing them back was a very big task. After that, thanks to the Maharashtra government who gave an incentive of stamp duty to boost the sector. The incentive created a wave that churned the entire cycle a bit. If seen from that perspective then gradual growth from the revival point of view started in the sector. The growth in the sector confidently gives us a sense that one growth cycle in the real estate industry helps around 250 other industries to move forward. Even a small churn also helps 250 industries. But, what has happened now is that something similar to the second lockdown has been seen, specifically in Maharashtra, where many of our projects are present. So, if we see in it then the April month has become a lull month a complete slowdown kind of situation has been created. If we have a look at the cycle of the wave, which was in an upward rising situation has seen a sudden drop because of public and clients, everyone is feeling that this is a month's lockdown, so, we should wait and watch. So, the wait and watch policy are in existence at present. So, we are just hoping that this does not continue and if it continues then it will have a huge impact on this market and the real estate sector. 
Q: Update us about the status of your ongoing and upcoming projects, in terms of sales performance at present?
A: Due to COVID, there is a realization in many people that bread, clothes and house are the most important things. These are the most essential items if seen in line with India's population and, somewhere down the line, it was seen that in the last three-four years buying a house was becoming a very difficult task for the new millennial, the young population. But the pandemic has changed the thought process of Indians and house has again become a very-very important thing which was little-bit lost for the last three-four years. But, if seen now, the importance for the house has improved and we ourselves have experienced in the last 6-7 months in our projects - where the projects were ready and occupation certificate was received – a great movement was seen there. And, ready stock not only of Ajmera but many other developers around Mumbai and pan-India, who had ready stocks have seen good sales. So, just giving you an example, we have an i-Land project in Wadala and there we saw that the ready stocks in that project – luckily, we received its occupation certificate in March just before the lockdown last year – and in this pandemic, our sales were quite good. If seen in terms of 2019-20 vs 2020-21, our sales were almost double in that projects. So, it was a very big boost for us. And at the same time, we also launched a separate affordable project and we received a good response there as well. This response shows that people understand the importance of a house and people are there actually to go and buy if the project is nice and is available in their budget. 
Q: Have the labourers, who might be migrants, have started migrating back? How the company is managing its employees?
A: This time, a lot of migration has not taken place, although, I would not say that 100% it has not happened. There has been migration. However, we have made preparations for ourselves as compared to the last year and we have had a talk with the labourers and ensured them that there is no lockdown. If you are working at the site – as the Maharashtra government is allowing construction at the site – such kind of movements and constructions will continue and there will be no pause in it. So, if compared from the last year then such migration has not occurred and work is happening at the sites currently. 
Q: How do you feel the performance of the March quarter look like? How do you see the earnings in Q4FY21?
A: If seen the Q4FY21 results, specifically, for the overall real estate sector, a general survey conducted not only in Mumbai but also in other six-seven cities, shows that the buying trend was quite good and improved in Q4FY21 as compared to Q4FY20. So, we are definitely seeing a rise of at least 10-20% over an average of 25-30% compared to 2019-20 and 2020-21. As far as Ajmera Realty is concerned, we also have great expectations and when the numbers will be finalised then they will be declared. But overall, it looks like a good and healthy growth. 
Q: Maharashtra government has announced no extension in stamp duty waiver recently. How do you see it affecting the real estate sector?
A: If seen closely, then the waiver ended on March 31, 2021, and then the impact of lockdown was seen in Maharashtra from April 1, 2021, which has had an impact on sales. Because of the lockdown, people cannot come to our sites, thus site visits can't be conducted. Due to this, such a movement in sales has not been seen this month and it is expected due to the lockdown restrictions. The impact has brought a slowdown in or sector in Maharashtra and I would like to request the Maharashtra government to accept our request for an extension of the same duty. Because the momentum has been historically proved, when it last year the measure was announced which led to apprise in the momentum and an increase in the trend and it should continue this year as well. So, I would like to request them to continue with the trend this year so that the entire economic cycle continues to grow and help the other 250 industries associated with it. So, we just hope that the Maharashtra government will listen. 
Get Latest Business News, Stock Market Updates and Videos; Check your tax outgo through Income Tax Calculator and save money through our Personal Finance coverage. Check Business Breaking News Live on Zee Business Twitter and Facebook. Subscribe on YouTube.