L&T wants to exit from Nabha Power Plant, L&T IDPL & Hyderabad Metro: SN Subrahmanyan, CEO & MD
SN Subrahmanyan, Chief Executive Officer & Managing Director, Larsen & Toubro, talks about the deal closure with Schneider Electric, Plan to exit from other businesses.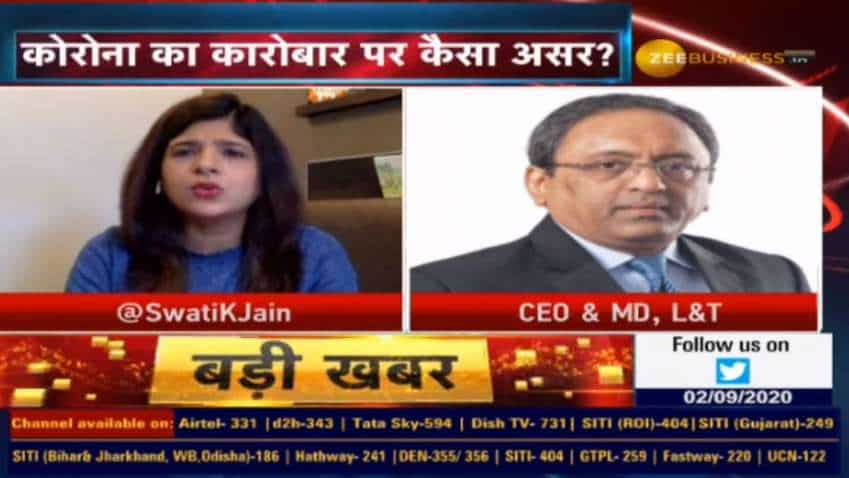 SN Subrahmanyan, Chief Executive Officer & Managing Director, Larsen & Toubro, talks about order book, expectations from defence sector among others during a candid chat with Swati Khandelwal.
Written By:
Jitesh Kumar Jha
Updated: Thu, Sep 03, 2020
10:12 am
New Delhi, ZeeBiz WebDesk
SN Subrahmanyan, Chief Executive Officer & Managing Director, Larsen & Toubro, talks about the deal closure with Schneider Electric, Plan to exit from other businesses, order book, expectations from defence sector among others during a candid chat with Swati Khandelwal, Zee Business. Edited Excerpts:
L&T has achieved the deal closure worth Rs 14,000 crore with Schneider Electric. How the proceeds of the deal will reflect in the books and how it will be used?
It was a very complex deal. We use to see the quality in the business, it included a wide range of low and medium voltage switch gears, electrical systems, industrial building automation solutions, energy management systems, metering and project business data. The Indian business was within L&T, it was part of L&T and was not a subsidiary or a separate company and we removed it as a slum sale. The international business, present in the Middle East and to some extent the Far East, these all were registered companies in those countries. Company transfer/ share transfer was made of the companies which were registered there. So, slum sale in India and share transfer in the international market. The total valuation enterprise value of the business was Rs 14,000 crore. All those transfers have been done and we have got the money and right now that is in our balance sheet. Now the accounts have to decide in which way to treat it as it is a fairly large amount of transaction, so we will have to look into the present-day situation because you are well aware that the pandemic is there and the situation is little tough right now. We are conservative as we are careful company. We will take it forward as it should be done properly and correctly.
See Zee Business Live TV streaming below:
If I am not wrong then you have borrowed an additional Rs 12,500 crore in the recent past to buffer up the liquidity in your books due to the COVID. How the company will use the amount and what part will be used to reduce the debts? 
We are a cash-rich company in the sense that we have sufficient liquidity with us. We raised the debts earlier for two reasons (i) we wanted to be little more careful in this season of the pandemic. We wanted to be conservative and wanted liquid money in our hands. The money was all invested and nothing has been used for the business point of view because it was not required as adequate cash was available with us to run the business. The money that we received according to the sale proceeds will be used to reduce some debt and we will also strengthen the liquidity buffer within the company and some of the equity unlocks will be invested for growing the business. We also have shareholders and we have to take care of the stakeholders, L&T lives because of its shareholders and stakeholders. We have to think about it. There are a lot of options and ideas within the company and we will take a considered view over a period of time and will let you know when we decide on that.
As part of the sale, your electric and automation (E&A) manufacturing facilities will also be transferred to Schneider. I would like to know that were these facilities used for some other business, as well or they were doing only E&A work, if yes, then where those facilities will be shifted now?
As I said earlier that there were five manufacturing facilities. These facilities were in the same plant areas where we had other facilities, for example in Baroda, we have our knowledge centre and we had a plant near it which also had AIC facility. In Coimbatore, there was a defence and another business and electrical and automation business was available at another place. So, when you have all the facilities coming up in the same land and when the AIC facility goes to another company, Schneider right now, then we have to parcel out the land, divide the land, create separate way and utility centre so on and so forth. So, carrying out all these activities took time because it was a part of L&T, it was not a subsidiary or an associate company. It was a vertical of L&T. Division of these types of businesses is termed as slum sale. We have to carve it out from the existing business and take it forward. These facilities were not used by any of the businesses of L&T though they had certain synergies of L&T because we are into installation of meters and we are also involved in building and projects where the electrical panel and switchgear are required. So, that kind of usage is there as there was a use of the products but the use of facilities was never there. Of course, some administration, security and other things, where the synergies match in every company and that was present there. So, we will look at the properties that went to Schneider and will take care of what has been with L&T as we were doing.
Tell us a bit more about L&T's core focus areas now as it is a big conglomerate? Are there any other smaller businesses you aim to exit?
As we look at our future then like as it has been done in the last few decades our aim and idea have been to concentrate on EPC construction and projects, make to order manufacturing in defence and services areas, which is IT and technology services. We will concentrate more on these three sectors/ areas and take them forward. There could be more aggressiveness in the projects, there could be more looking at geographies/ areas, there could be more ranges within this sector, where we may look at. We are not trying to go anywhere beyond this at this particular moment because they are huge sectors in themselves. From the point of divestment in the future, we have stated many times in the past and will reiterate that we have a power plant called Nabha Power plant and we would like to sell it. It is a profitable well-run one of the most efficient power plants in the country but we are not operators and would like to move out of the business. Secondly, we have a business called L&T Infrastructure Development Projects Limited (IDPL) and we were 100% in it and now we are 51% in it at present and Canadian Pension Plan is our partner there and we would like to divest out of it and come out of it shortly. So, the work is in progress. Thirdly, we have invested in the Hyderabad Metro and the project has been completed in a very efficient metro, very beautifully done and a lot of international acclaims has come for that but we are not operators of the metro. So, we would like to divest it in the future and take the money and so some other project or take the proceeds for some other forward investments. So, these three are a few forward-looking things that we are attempting. All these businesses are doing reasonably well there is no distress involved in it. It is a question that it does not fit into from our point of view to the future right now or core, you may call it. Therefore, if we will take it forward if some opportunities are available.
In terms of performance, how has Q2 been so far? What is your outlook for the next few quarters?
The first three months, April-May-June, were under a severe lockdown. Just to give you a perspective that in the pre-pandemic era around 270 thousand labourers were working in L&T. Just before the pandemic, Holi happened and some labourers went to their homes to celebrate Holi, including the staff. Then during the pandemic, we had more than 160-170 labourers, who were there in our colonies and housing areas labour colonies, we treated them well and kept them. Now around May-end when unlocking started many of them due to the panic or psychosis or family pressure among others went back to their homes. Most of these projects are in the West and South and the labours moved back to East and North into many villages and towns. Nearly 210-220 thousand labourers are back to our rooms, so we are getting back to a certain amount of normalcy. If we have a look at how much cement and steel, we are buying all seems to go up and is very positive. So, we are confident that in other 30-odd days things will return more or less normalcy and we hope to pick up the momentum after that. Right now, we have started warming up, started jogging and want to start running and will try to do that shortly.
Update us on your order book pipeline and the vertical from where you are expecting that good orders can come from?
I would look at infrastructure, power transmission, water, hydrocarbon if we are lucky. So, these are the sectors, which would broadly be little positive as we see it. The building and real estate are little down right now for obvious reasons as people are getting conservative and are being careful of the cash. So that will take some more time to get back. We see the biggest problem is that cash is not available in the system. Much of the government money has gone to help the situation during the pandemic; the conflict with China also must be taking out a lot of money. The Middle East is still in a quiet situation because oil prices are a bit down. So, I think a complete revival will take some more time because the confidence level has to get back. Let's remain positive
The government has a special focus towards the defence sector and a lot of talks have been made on being Atmanirbhar Bharat and defence sector has emerged its biggest beneficiary. L&T is a big defence player from the private segment. How are you looking at the activities in the sector and what kind of defence orders are you expecting?
Defence is an area where we have been for a long time now, maybe two and a half decades and it is a good area to be in. There is a sense of urgency in the sector right now and we recently got the Pinaka order just a few days back. So things are moving up there and also the government based on 'Make in India' & 'Atmanirbhar Bharat' also ensured that more and more products will be focused in India, will be centred in India and Indian companies will be encouraged. So, we are hoping that there will be a deep-rooted policy change. This is an absolute necessity and the interest of the government to be self-sufficient and capable of doing things of its own will result in L&T seeing a lot of positivity in the defence side. But Defence area is an area in which any product that is manufactured has to be tested, tried-out in the deserts of Rajasthan, the mountain range of Tibet in the climate of North East because we have three different zones and areas where weapons have to work. We are not a rich country which can have three different weapons and, therefore, there are a process and procedure for taking things forward. But overall, I am confident that we will benefit being an early mover in the defence area and L&T will stand to gain from this.
Get Latest Business News, Stock Market Updates and Videos; Check your tax outgo through Income Tax Calculator and save money through our Personal Finance coverage. Check Business Breaking News Live on Zee Business Twitter and Facebook. Subscribe on YouTube.