LIC likely to launch two ULIP Products this month: Vipin Anand, MD
LIC's market share has increased 6% in this fiscal, says Vipin Anand, Managing Director, Life Insurance Corporation of India (LIC).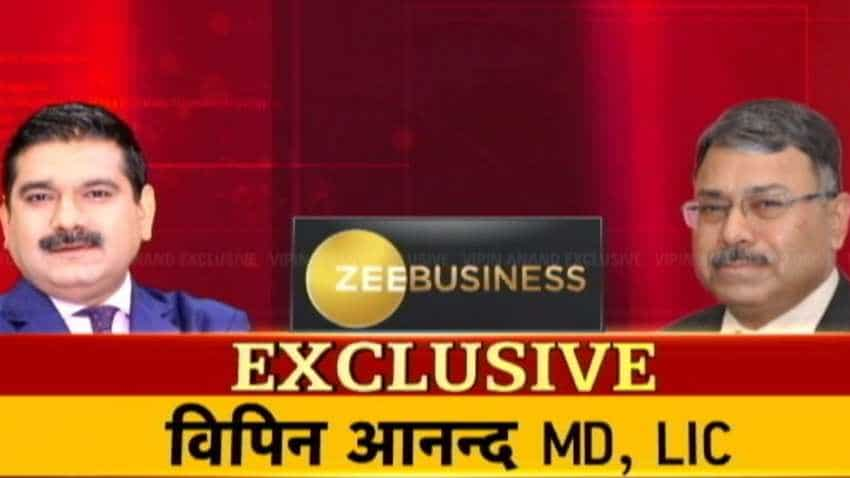 Two of our ULIP products, single premium and non-single premium, which are at the approval stage with IRDA will be launched soon, said LIC MD.
Written By:
Jitesh Kumar Jha
Updated: Fri, Nov 29, 2019
03:31 pm
New Delhi, ZeeBiz WebDesk
LIC's market share has increased 6% in this fiscal, says Vipin Anand, Managing Director, Life Insurance Corporation of India (LIC). During an interview with Anil Singhvi, Managing Editor, Zee Business, Anand said, " Two of our ULIP products, single premium and non-single premium, which are at the approval stage with IRDA will be launched soon. Possibly, it can be launched this month itself". Edited Excerpts: 
LIC's market share has increased in 2019 vs 2018. 
The year has been a good one for us. We have been increasing our market share since the beginning of the year and today, our market share is 6% better then what it was last year. Interestingly, our work has been better on all standard than last year and that's why I think this year is going to be a shining year for LIC. 
See Zee Business Live TV streaming below:
What is LIC's market strategy at a time when the share market is at its lifetime high? Are you buying or selling?
I would like to say that LIC is a life insurance company and its first responsibility is to provide life insurance security to the citizens of the country. In this process, a lot of money comes to us through their premium and it is our responsibility to keep that money safe and invest it into investments that are safe and bring good returns to make sure that we are able to give a good return to them. At the same time, I would like to say, "no matter what is the range of fluctuations (ups and downs) that the market has seen and how much our country's investment climate has changed, but for the last 10 years, LIC has maintained its bonus continuously and our returns on investments are very good. 
Tell us about the quantum of investment in equities that LIC has planned for? 
10% amount of the last year's investment, which stood at Rs68,000 crore, has already been invested in the equities market this year. Hopefully, the quantum of the investment may go up this year. If everything goes fine and there is an increase in our income and premium income then we will have more funds to invest in the market. I think we will be able to make equal or more than the last year's investment. 
LIC's stakeholding is in percentage in several companies but generally you, LIC, never turns up to be a part of the active management. Why it happens or you have a strategy to just limit yourself to be a financial investor?
We have specialisation in finance and insurance and the companies where investments are made in several companies including technology companies. Interestingly, the board of those companies, including chairman, managing director and other directors are professionals and are masters of that particular area and that's why it would not appropriate/legitimate for us to interfere in their everyday work. Our nominee directors are present in every company where we have invested more and they take care of two things (i) The invested amount belongs to the policyholders of LIC and that's why they will make sure that the money if safe and is moving is a right direction and (ii) they should keep a tab on corporate government issues. 
Any plan to list LIC?
I have a view on this matter, many times a discussion props up in the country and it is whether the public sector or the private sector is better? So, every sector has its own power and there are several industries where the public sector is a good one and the private sector is better in the other. So, I look at LIC as a Pole Star (Dhruv Tara) of the success in the public sector segment and if anyone can see on us if he/she wants to see how good a public sector can be. So, it is not necessary to have listed for it. There are talks, at times, that listing will improve the corporate governance of the company and create transparency but I think the public sector is more transparent as every rules and regulation are implemented on us that is implemented on a private company. Apart from this, there are many governmental norms like CVC, RTI Act among others, which do not apply to private companies is also applicable to us. Thus, we remain in more scrutiny, perhaps this can be a reason that even today, we are placed at the same position with the same power despite private companies are functional in the domain. 
What is LIC's market share at present and what is your target for the same?
One can't have any target related to market share, as the target depends on the volume of business. But when it comes to market share than our we have a market share of 74% in policies and 71% in premium. We have an internal target of being above 75% mark, which is not a fixed target as it depends upon the way the market is growing. Secondly, I would like to say that LIC is the only company of its kind in the world. There are two types of insurance companies (i) those that have shareholders as it happens on the private company and they have the same style of working; (ii) they are termed as mutual companies, in which policyholders are the actual shareholder of the company. So, when it comes to LIC, then the government of India is the only shareholder in LIC but on the other hand, our policyholders, about 30 crores, are also shareholders of the company. They have their stake in whatsoever investment is made from our side. Thus, we are a company of public. 
LIC has stakes in almost every company that is owned by the government. And, there are talks related to the divestment of several PSUs. Will LIC make any change in its strategy on the money that is invested in public sector companies?
When it comes to investment then the maximum investment has been made in government securities and state-deposit HDL's. The remaining money is invested in the equity market. As far as total money is concerned then a small part of it has been invested in the share market, whether it is in the private sector or the public sector. And, when it comes to investment in the public sector then you can see at the size of the public sector in India, which is quite big. If you have a look at the BSE-index or NSE-index then several big companies are listed in it and their weight is enough in the index itself. So, if there is a misconception that LIC has invested a lot in the public sector companies than it is not so, it is in the same proportion. 
Do you think that the recent acquisition of IDBI can be a profitable deal for LIC? What are your plans related to RBI guidelines related to that acquisition where you will have to lessen your stakes?
Across the world, banks have a significant contribution to insurance distribution as they have their own customer base, which is quite big, and insurance companies reap the benefit from it. Even after trying a lot and adopting a number of strategies, LIC was not able to build such a relationship with any bank in which they, the bank, aggressively shares our products. There was a time when we tried to get a banking license but it never happened. So, IDBI is an opportunity for us, although it is not going to be with us for the infinity, because we will have to divest our stakes in it. Thus, this was an opportunity where both sides, bank and LIC, needed support from each other and that's why we invested in the bank to reap the best out of it. 
It is not just for us to reduce our stakes in the next 3-4 years and having an eye on the bank's situation, it seems that it will take some time to turnaround. However, there is a lot of improvement in its conditions and we expect that it will be out of the PCA list by next quarter. It will help it to grant loans once again. In the end, the bank's profit is directly linked to the loan and the interest that is collected on it. And, I hope that the problem will come to an end by the end of this financial year after which the bank will start moving on the right path.
And, then you can plan its divestment?
We sincerely hope that the bank will start moving on the path of profit soon and there is no such pressure in which it should be divested immediately or within 2-3 years. And, we hope that IRDA and RBI have its guidelines in this regard and the work of divestment will be successfully completed within the given timeline. We hope that the investment in IDBI will behave successfully as it happens with most of our investments and IDBI bank will provide good profit, as it is a strong institution with young and dynamic people. Meanwhile, it has gone through a change and converted itself into a bank from a developmental financial institution and the present board and management will have the responsibility of completing the work. But, the bank is rapidly moving from wholesale business to retail business and soon, it will be able to strengthen its feet in the segment. With around 1,800 branches it has a good spread in India, which is backed by good staff, who is quite young and dynamic. It seems that soon the bank will be on the path of profit, which will be beneficial even for our policyholders. 
LIC has started some online term insurance facilities in the recent past. How are you going to target this segment where you are behind others?
LIC has been selling term insurance for more than 50 years and even today, despite the aggressive marketing campaigns by 23 private companies our total bouquet in the term-policy segment is more than the total policy of any other company. Interestingly, two of our products have been launched, namely, (i) Jeevan Amar - an offline product that can be bought through the agents and branches and (ii) Tech-term - an online product that can be brought on LIC's portal. It has been launched for the new generation customers. Both of these products have been launched with good features and they are available at competitive premium rates and that's why I feel that we will do well in recent future. 
Why ULIP is a mission from LIC's bouquet of products? 
LIC has done well in the ULIP. Probably, people are not aware of the fact that we are those who introduced ULIP in this country. BIMA Plus was the first policy and it was launched in 2001-02, almost just after privatisation. Before this, LIC mutual fund had a plan that was ULIP. Thus, this product is not a new one for us but we stopped selling it aggressively because, we felt that our customers, who are residing across the nation and belongs to all categories, don't have similar financial knowledge and that's why it's not easy for everyone to understand and use it judiciously was not possible. But in the last 10 years, due to people from mutual fund and SIP, there has been a lot of progress in this area and most people are aware of the same. So, it is a right time and two of our products of single premium and non-single premium, which are at the approval stage with IRDA, will be launched soon. Possibly, it can be launched this month itself. 
There are talks that post revision of IRDA guidelines LIC is planning to close a few of its products that provide good returns? 
It is not so that returns can be low or high in any policy because the basic underlined factors are there for calculation of premium and bonus. Basically, there are three things on which it is calculated and they are (i) what premium is required for risk coverage for mortality or life insurance, (ii) the way in which the interest rates will move, today and in future and (iii) our expenses. LIC has control on its expenses and that's why we have been able to maintain our bonus till date. That's why returns can't be less or more in any policy if the same factor is used for calculation of every policy. Every customer has his/her own requirements and different products are planned to meet those requirements. So, they should buy the product by looking at the product that suits the most to them. As far as, there are talks related to the closure of the products then I would like to say no product will be closed, except one or two, however, there can be a momentary interruption in between because the regulations have been changed and we will have to inculcate those changes in our products. In the process, we will have to change the policy bond, published literature, and tables and this will take some time. But, because it is supposed to be regulated from November 30, then I feel that we will have several products, mainly from segments which are attractive and in demand, will be available in the new format to reach out the customers from December 1. 
Get Latest Business News, Stock Market Updates and Videos; Check your tax outgo through Income Tax Calculator and save money through our Personal Finance coverage. Check Business Breaking News Live on Zee Business Twitter and Facebook. Subscribe on YouTube.