Kirloskar Brothers completed a wonderful journey of 130 years: Sanjay Kirloskar, CMD
Sanjay Kirloskar, Chairman and Managing Director (CMD), Kirloskar Brothers Limited (KBL), speaks about the 100 years journey of the company, order book and growth plans during an interview with Swati Khandelwal, Zee Business. Edited Excerpts: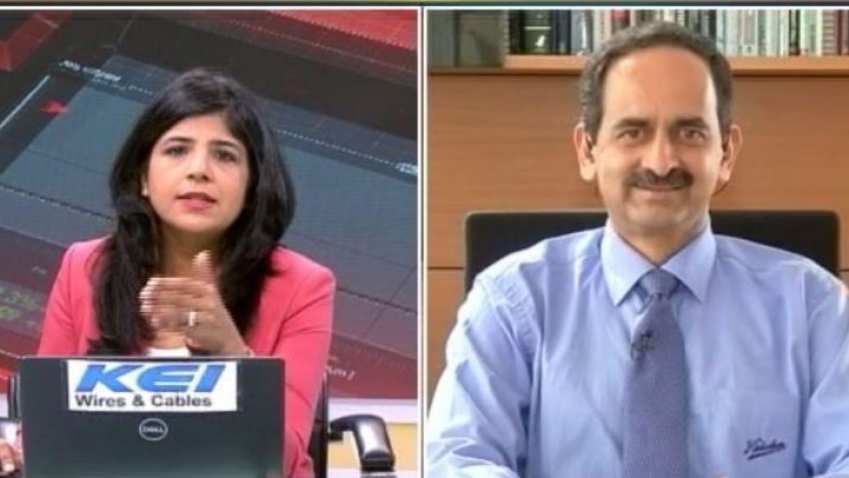 Sanjay Kirloskar, Chairman and Managing Director (CMD), Kirloskar Brothers Limited (KBL), speaks about the 100 years journey of the company, order book and growth plans during an interview.
Q: Kirloskar brothers have completed a journey of 100 years. How has been the journey to date?
A: It has been 130 years as the business was started in 1888. The company was incorporated in 1920 and it has been an interesting journey to date. It, Kirloskar, is India's first engineering brand and has been creating new products. It created the first centrifugal pump in 1926 and it was followed by a diesel engine, furniture, electric motor in 1940 and machine tool. And, then new companies came in existence like Mysore Kirloskar, Kirloskar Electric Company in Bangalore, Kirloskar Oil Engines in Pune and Kirloskar Pneumatic in 1998. 
Further, the Kirloskar Brothers decided to be in the fluid management business and are involved in creating all types of centrifugal pumps at present. In addition, there are two-three countries, feels that Kirloskar has helped them to be self-sufficient in rice production. Rice production has gone up 10 times in Laos in Southeast Asia and Senegal in Africa. 
We have our offshore pumps in the North Sea and the South China Sea as well as the iconic buildings of several countries like the Shard in London and Marina Bay Beach in Singapore. So, the journey has been great, and the company has been growing and we see a wonderful future ahead. 
Q: 2019 is an important year as it is an election year. Do you see some tailwinds, if yes, then what is your view on it?
A: Fundamentals of our nation is very strong, and our population is the second highest population in the world. So, just the fundamentals are good enough to ensure that the growth trajectory will continue well in the future.  
Q: Irrigation and power are the two main verticals contributing to the order book. Can you tell us the revenue contribution from these segments?
A: Irrigation and power have a big contribution to our order book but it, the contribution, goes down when it comes to turnover. The pumps which are used in farmlands and homes are produced more. 
In the last few years, we have changed the complexion of the business. So, from being an EPC contractor, where we were designing big schemes, we have engaged ourselves in selling only products and the business is growing very well. It is good business. The turnover of the company has been rising from the last five years. In the consolidated business also pump manufacturer overseas contributes almost 35% of the company's consolidated revenues. So, irrigation, water supply, though they are a significant part of the business and we do get most of the order but their percentage in the company's company is reducing. 
Q: Metal prices have started rebounding especially the non-ferrous which contributed to around 30% to your raw material cost. Will it have an impact on your margins? In addition, last year you accepted low margin orders. Do you think that it is the right time to review the strategy?
A: It will have an impact on the margins. But the design departments but the design department constantly works to reduce the material cost when there is an increase in the commodity prices. Finally, at the end of the day, the customers may not give you that price and this is a reason that we are supposed to work on design or negotiate to reduce the material cost. 
Watch this Zee Business tweet video:
Q: Update us on the order book and execution for FY20?
A: We have orders for both big pumps as well as small pumps. We are a listed company and that's why the exact number of the order book is available on the website. Big pumps have a delivery time which may range from 10 months to 18 months while you may see small order book in case of small pumps as they are delivered monthly. Thus, a good order book is available with us at present but exactly, how much we will deliver in which month I can't tell you in case of big pumps. The order book is rising in small pumps and the turnover will rise with that. 
Q: Do you have any plans related to organic/ inorganic growth plans?
A: if you see our turnover for the last five years than you will find that it has increased at a certain rate and I hope that we will continue to grow at the same rate. But, when it comes to organic plans than the new pumps and pumps of new sizes are part of a continuous program. We have invested a lot in technology and we have one of the world's largest 3D printers. We have internet enabled pumps, i4, i3 motors. So the growth will continue, whether organically or inorganically. Obviously, I can't talk about the plans on a TV show but hope that the executed plans will help the company to grow at the pace at which it has grown in last 5years. 
Get Latest Business News, Stock Market Updates and Videos; Check your tax outgo through Income Tax Calculator and save money through our Personal Finance coverage. Check Business Breaking News Live on Zee Business Twitter and Facebook. Subscribe on YouTube.