JBM Auto has got an order of 500 buses; it will be delivered this year: Nishant Arya, ED
In this corona and COVID period also we have tried to see that the organisation's value-added engineering activities, as well as close coordination with the customers, should happen and we have tried to do that as much as possible, Nishant Arya, Executive Director (ED), JBM Group tells Zee Business Executive Editor Swati Khandewal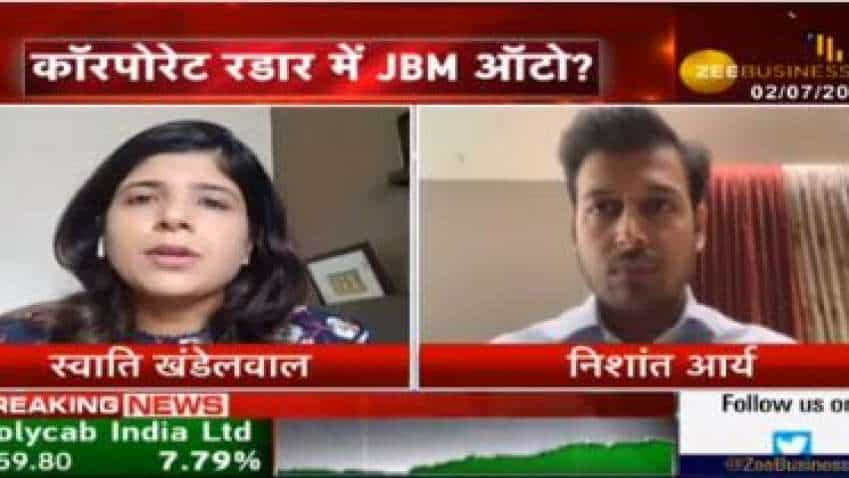 Out of these 500 buses, 350 are electric buses and the rest of them is CNG buses, which is very encouraging
Written By:
Jitesh Kumar Jha
Updated: Thu, Jul 02, 2020
09:02 pm
new delhi, ZeeBiz WebDesk
Nishant Arya, Executive Director (ED), JBM Group, talks about Q4FY20 results, the contribution from different segments and provided future outlook of his business among others during a candid chat with Swati Khandelwal, Zee Business. Edited Excerpts:
Q: JBM Auto's profit has posted weak numbers for Q4FY20 in which the profit has declined to Rs 16 crore from Rs 27 crores and income has also dropped by 21%, however, the margin has been stable at around 11.5%. What you like to say on the overall numbers and what is your outlook for the future?
A: The year has been a consolidation focus year, where we have increased our operational efficiency. You said rightly that we have maintained our EBITDA margin even though generally whenever your sales go down the EBITDA margin goes down by one and a half to two times of the sale. So that is only because of the net operating efficiency that we have got. This year, we have paid the debts of around Rs 153 crores, long term debt and short term debt. Our debt-equity rating has gone down on the equity net worth, which is very good and shows the company's clear vision of reducing any challenges in the future and having opportunities to grow as well. 
Similarly in this year, we have generated net cash flow of Rs 367 crores viz a viz Rs 175 crore in the last year, which is more than 100% and that clearly shows that the organisation is generating a lot of cash from different businesses. We have removed any extra cost from the system. The tool room division, which is the highest EBIDTA margin division, has grown by more than 60% this year and the OEM division, which has just taken off has grown close to 100% this year. The auto component business has been definitely impacted because of the market in the last 18 months going down. But we have seen that with the consolidation of our facilities and improvement of costs, the future will be quite bright. In this corona and COVID period also we have tried to see that the organisation's value-added engineering activities, as well as close coordination with the customers, should happen and we have tried to do that as much as possible.
On the basis of that what has happened that we have got an order of 500 buses, which we will be delivered this year. Out of these 500 buses, 350 are electric buses and the rest of them is CNG buses, which is very encouraging. For the organisation, we have a very strong order book for our tooling business, for the whole year. We are trying to compensate in the component though these divisions to the maximum extent that is possible. At the same time, we are trying to see how can we increase our share of business in this year. I have also understood that the farm equipment market has been doing well due to good monsoon and we are seeing good traction from that end of the spectrum. JBM Auto is a diversified company focusing on passenger vehicles, construction equipment, commercial vehicles and farming equipment. 
Q: If I talk about the auto segment then there is a slowdown and 66% of your revenue comes from the auto component business and you have said that you will reduce your focus from the segment and leverage it through other businesses. So, let us know about the new pattern and outlook in terms of demand revival especially in the automotive space? You have talked about buses, however, people are little discouraged in using public transportation. So, do you think that it will have an impact on demand?
A: You spoke about three things and I would like to reply to them one by one. We don't have reduced our focus on the auto component and we have seen that rest of the businesses have helped in mitigating its impact. Our focus on the auto component is similar to the focus that we have on other businesses. As far as buses are concerned then there is an increase in demand from the customers because due to social distancing less number of passengers are able to board a bus. This is why different STUs and private operators are willing to increase the number of buses. They are looking for the buses which are well equipped like our buses that are equipped with cameras, face recognition and Dynamic Passenger Information System (DPIS), where the government can see that the social distancing is being followed or not. In addition to this, we have also used artificial intelligence and machine learning in it, which is our in-house technology for such vehicles. So, I don't see any impact on it. 
Q: You are present in several segments like farm equipment among others. Railways is also providing a big opportunity now, which may not be directly related to your business but can have some kind of relation with it if you expand it. Do you see this as an opportunity for private players including yours to enter the segment?
A: Definitely, the group always looks towards new opportunities. At this point, JBM Auto as a company is focused on these areas that I have mentioned earlier. And, any opportunities coming in these areas, maybe a short-term opportunity, we are looking at those. OEMs are also engaging with us very closely because they are seeing that many small companies are facing challenges and how can we support them in these challenging times. So, we are taking those challenges as an opportunity that how we can really be a part of the whole value chain in these tough times and turbulent times. Simultaneously, we are also trying to see that many of OEMs want to give up more share of business on their in-house activities, which are not as much value-added for them as they are not their core business.
See Zee Business Live TV Streaming Below:
They primarily focus on assembly, marketing and R&D. So, how we can work on those in these hours our share of the pie that we can get that, so that is another activity that is going on. But in the auto sector, such kind of things takes a minimum six month to a year to fructify. So, we will see by the end of this year certain good things fructifying, which will have its benefit over a period of time, as well. The organisation has become very lean and frugal in this time, which will help us to sail through the COVID period and will create a substantial benefit in time to come with a right focus on technology, engineering, manufacturing efficiency and OEE. 
Get Latest Business News, Stock Market Updates and Videos; Check your tax outgo through Income Tax Calculator and save money through our Personal Finance coverage. Check Business Breaking News Live on Zee Business Twitter and Facebook. Subscribe on YouTube.