Itolizumab is a breakthrough drug; Its Phase-IV trail will be conducted soon: Kiran Mazumdar Shaw, Biocon
Biocon's Executive Chairperson Kiran Mazumdar Shaw talks about its Itolizumab, drug that has been approved by DGCI for restricted use on COVID-19 patients; response towards the drug; its current production capacity and plans to ramp-up the production among other things during an exclusive interview with Zee Business Executive Swati Khandelwal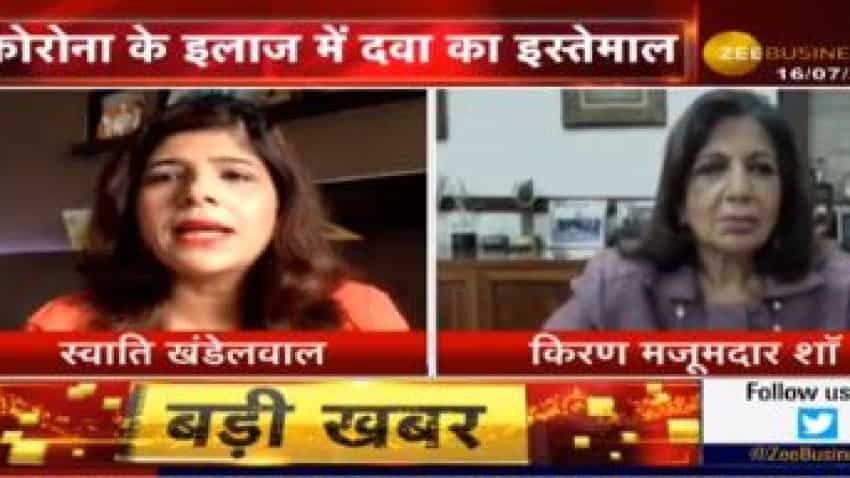 We have formed a collaborative partnership with HiMedia Laboratories under which we have transferred our technology to them and HiMedia will manufacture the kits, Kiran Mazumdar Shaw said
Written By:
Jitesh Kumar Jha
Updated: Thu, Jul 16, 2020
08:45 pm
new delhi, ZeeBiz WebDesk
Kiran Mazumdar Shaw, Executive Chairperson, Biocon Limited, talks about its Itolizumab, the drug that has been approved by DGCI for restricted use on COVID-19 patients, response towards the drug, the current production capacity of the drug and plans to ramp-up the production and collaboration with HiMedia Laboratories among others during an exclusive interview with Swati Khandelwal, Zee Business. Edited Excerpts: 
Q: Biocon's Itolizumab has received DCGI approval for emergency use. What does it mean and what will be the next step?
A: Approval for emergency use has been granted to us, i.e. it is a restricted emergency use. The drug has been there since 2013 and we have received approval for use after doing phase-I, phase-II and phase-III trials. But it was earlier approved for autoimmune condition Psoriasis. The mechanism of action of the drug is that it has a great effect on cytokine release syndrome (CRS) in this COVID. Right now, we know that when the virus attacks our body than it damages cytokine release storm which is also known as a syndrome. The cytokine release syndrome occurs on our immune system which creates hyperactivity situation. It also has an impact on autoimmunity. 
Autoimmune disease relates to diseases, like psoriasis and rheumatoid arthritis among others, where similar kind of problem occurs in which if it occurs due to the cytokine than it causes inflammation in the body, which causes a lot of damages on the body. And the same is happening in COVID-19. So, we saw that our drug can control it and this is why we performed a small trail, termed as a pivotal trial, in which we have created a proof of concept that it can also control it in the case of COVID. Because of this, the Indian regulator, DGCI, has approved the drug for "restricted emergency use". At the same time, it has also asked us to conduct a larger phase-IV trial of the drug after this small test to corroborate this information and we are going to start it soon. But, we have seen good results in pivotal trials and off label use as many doctors have used the drug and have seen positive results of the drug. Almost over 150 patients have been benefitted from its use. Those with serious conditions have also recovered from it. This is why it is a breakthrough drug. 
Q: Update us on the kind of response you are getting on the drug and how many orders have been placed for the drug and how many of those are pending?
A: The news has just been revealed in our country and many governments have approached us for the same and we are supplying the drug to them. We are also providing discounts to them as it is a public health emergency and that is why we are supporting every government. Apart from this, our American partners are also planning to conduct a similar trial of the drug in the US and the process will be initiated soon. 
Q: Recovery rate is good in India and you have said that it qualifies for restricted emergency use. What percentages of patients fall into this category?
A: Currently, around 10% of the patients actually qualify for this kind of drugs because they are representing themselves very late. But if they come at the earliest then possibilities are there that the drug will not be used on them. In general, I think that 5% of the people will require such drugs because they are very weak and their immune system is very weak and they have comorbidities, due to which they turn vulnerable. And, I think around 5% of the COVID patients might need this kind of drugs. Right now, the percentage is high, 10%, because many patients are coming at the late stage due to which they will need this drug. But, I hope that it will go down to 5% of the patients if they come early then they will not need such kind of drugs. At the same time, I wish that the mortality rate should be brought below 1% in our country. 
Q: What is the production capacity of the drug on per day and monthly basis and plans to ramp up the facility?
A: You can understand that the drug that we are manufacturing at present was not made for COVID. This is why our manufacturing capacity is not for COVID, which means manufacturing capacity is much smaller right now. So, we will not be able to support more than a few thousand patients but we are ramping up because it will be in demand soon not only in India but globally. We are going to ramp the capacity for the purpose so that we can support all the patients in India and globally.
Q: The drug has been approved on small sample size but what about the larger sample size, are you preparing for that? 
A: I have already mentioned that this is an emergency and people are not able to understand that when there is an emergency and any drug shows promise, especially when it is an approved drug then the regulator always allows you to try out that drug immediately for saving lives. It is a standard emergency approval protocol, whether it is the United States Food and Drug Administration (USFDA) or European Medicines Agency (EMA) or India. But definitely, we will be doing a larger trial or phase-IV trail that is already in the approval letter of the DCGI. They have clearly said that look we are giving you this restricted emergency use approval for this drug but you must conduct a larger phase-IV trail. So that is something to which we are committed. Even we want to corroborate it on a large trail and we know that this is a small pivotal trial. But in the state of emergency, where it is about saving lives you have to treat patients faster and that is why emergency use approval is granted and then you do a larger trial, which is a Phase-IV trial or whatever trial it is. Even in the US they will be starting trials but it is not an approved drug in the US, however, it is an approved drug in India and this is a reason that we can go for a phase-IV trial of the drug. Similarly, they will be doing a small, pivotal trial for approval in the US. 
We will be publishing all this data in many journals and we will get numerous data through the phase-IV trial. I have also informed you earlier that over 150 patients have also benefitted from this off-label. They may not have been on a clinical trial but all of them have recovered. 
See Zee Business Live TV Streaming Below:
Q: Now I would like to talk about Syngene and you have tied up with HiMedia Laboratories to manufacture ELISA test kits for COVID-19 tests. What is an update regarding pricing, production and supply in private as well as government hospitals?
A: Syngene is a research company and they have developed the kit but they are not kit manufacturers. This is why we have formed a collaborative partnership with HiMedia Laboratories under which we have transferred our technology to them and HiMedia will manufacture the kits and they are taking an approval from the ICMR and they will start marketing the kits as soon as the approval is granted to them. They are definitely committed to affordable prices. 
Get Latest Business News, Stock Market Updates and Videos; Check your tax outgo through Income Tax Calculator and save money through our Personal Finance coverage. Check Business Breaking News Live on Zee Business Twitter and Facebook. Subscribe on YouTube.