Is your food safe? 20% of samples tested in 2015 were adulterated, government says
Even our breads and pizza naans have been found to be highly carcinogenic.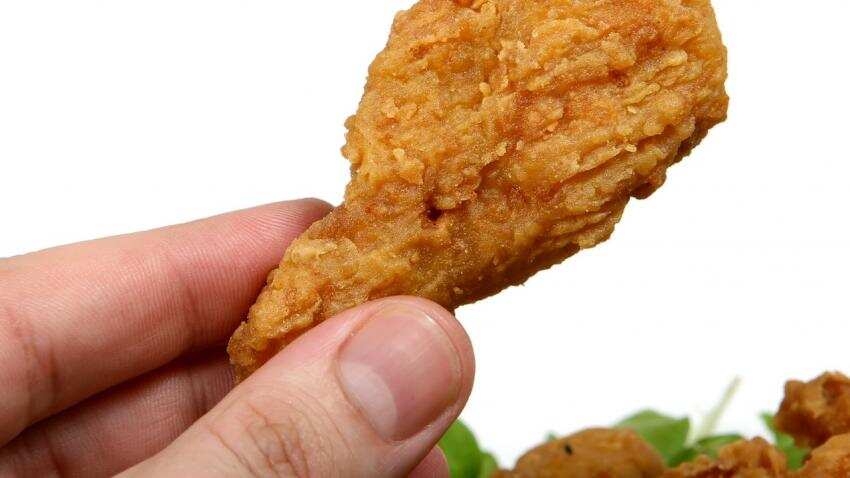 Man holding a piece of fried chicken from a fast food chain. Photo: Pixabay
Updated: Sat, Jul 23, 2016
03:00 pm
Mumbai, ZeeBiz WebDesk
It looks like the food safety issue is here to stay in India. The problem that first found its ground in the Maggi noodles debacle last year, was soon joined by other ready-to-eat noodles that were dragged into the laboratories for testing. And recently, even our breads and pizza naans have been found to be highly carcinogenic. 
In 2015, over 74,010 food samples were tested, out of which, 14,599 samples (19.72%) failed to meet safety standards and were found to be adulterated and misbranded, Minister of State of Health and Family Welfare, Faggan Singh Kulaste, said in a response to a question in the Lok Sabha.
The Minister's response included comprehensive data of all the food items collected and tested under the Food Safety and Standards Act, 2006 from 2012 to 2015. 
For example, in Maharashtra alone, 6,985 food samples were analysed, and 1,162 of them were found to be adulterated last year, while 1,243 samples of the 11,700 tested in Gujarat failed the tests. 
In 2013, 72,200 food samples were analysed for adulteration, out of which 13,571 or 18% failed the test, the data showed. In 2012, 14% or 10,380 food samples out of the 69,949 tested, failed the standards' test. 
A study by the Centre for Science and Environment said in May this year that 85% of bread and bakery items made in the country, used potassium bromate and potassium iodate, both known carcinogens that have been banned in several countries.
The study revealed that popular brands like Kentucky Fried Chicken (KFC), Subway, Mc Donald's, Slice of Italy, and Domino's used these ingredients in their bread-based recipes. 
However, a quick look into the Food Safety and Standards (Food Product Standards and Additives) Regulations, 2011, showed that restaurants were allowed to use these ingredients in their food, till a permissible extent (50 parts per million). With effect from June 20, the use of Potassium Bromate in bread was banned by the authorities. 
Answering a question about adulteration of milk and milk products, the Minister said that special cell has been created in the Food Safety and Standard Authority of India (FSSAI). 
"The FSSAI has in the month of April, 2016, distributed rapid milk testing equipment [Electronic Milk Adulteration Tester (EMAT) with Milk Analyser] to three States/UTs i.e. Delhi, Uttar Pradesh and UT of Chandigarh on pilot basis.
The Cell is now coordinating with the states to check adulteration of milk and milk products," the ministry said in a statement.