IOL Chemical has lined-up an annual CapEx of Rs 150-200 Cr for the next three years: Vijay Garg, JMD
Vijay Garg, Joint Managing Director (JMD), IOL Chemicals, talks about March quarter results, chemical business and its growth, etc.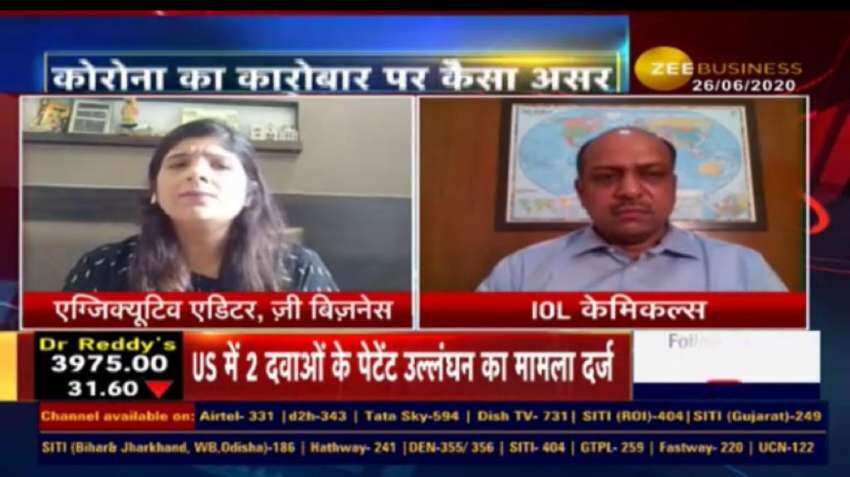 We have planned a CapEx of Rs 150-200 crore for next year (FY21). And, we had plans to bring three new projects in FY20, Vijay Garg, Joint Managing Director (JMD), IOL Chemicals.
Written By:
Jitesh Kumar Jha
Updated: Sat, Jun 27, 2020
06:23 pm
New Delhi, ZeeBiz WebDesk
Vijay Garg, Joint Managing Director (JMD), IOL Chemicals, talks about March quarter results, chemical business and its growth, export business contribution in the books and opportunities from Atmanirbhar Bharat scheme among others during a candid chat with Swati Khandelwal, Zee Business. Edited Excerpts:
Your company has reported a 4.5% increase in revenue in the March quarter of FY20 but there is a decline of 11% in PAT and it turned into a debt-free company. So, let us know about the growth drivers and what is the company's outlook for the future?
The revenue loss of 15 days due to the lockdown led to a decline in profits. The consignments which were on the way stopped there itself and we have to stuck-off it due to Ind AS and show in the stock. We also faced a revenue loss of Rs 60-70 crore in the last 10 days of the quarter and this also had a contribution in the fall. If you have a look at the overall results then we have grown by around 13%. Similarly, the PAT has grown 22% when compared to last year and EBITDA margins grew by 23%. As far as expectations for next year is concerned then we have plans to grow by 20-25%, which means we will earn a revenue of Rs 23.50 crore to Rs 24 crore and PAT will also grow by 20-25%.
See Zee Business Live TV streaming below:
But if I have a look at the segmental revenue then drug revenue is marginally up but chemical revenue has declined by 20%. What led to this and what growth should be predicted especially in the chemical business? 
The chemical business growth is not negative if you have a look at the total results. The segment revenue in chemical has grown from Rs 711 crore posted last year to Rs 765 crore this year. But, we faced revenue losses of 15 days in the chemical segment as well. We have kept the target to grow our chemical business by 33%. We produced 85,000 metric tonnes (MT) of Ethyl Acetate, which is a major chemical for us, this year and have plans to increase its production up to 1 lakh 5 thousand metric tonnes this year. Besides, we are increasing the capacity utilization of Iso Butyl Benzene as we have good orders from pharma companies and that's why we feel that we can post growth of 20-25% here in FY21. 
Exports has a contribution of around 40% in your overall revenue. Tell us about the kind of impact that COVID can have on your export business or you think that it will remain the same?
In terms of pharma, the share was 55:45 last year in which 55% was domestic and 45% was export. But, this year we have plans to make it 50:50. COVID didn't have any impact on our export business. If we talk about the shipment, then all our shipment is happening regularly. Exports of our products started on an immediate basis because of being under the essential commodities category after the lockdown was relaxed. If we compare the export data of the last three months with the products that we were exporting earlier then we have already maintained the target of our exports.  
The government has a focus on domestic APIs manufacturing and reduces our dependency on China imports and this decision will have a positive impact on companies like yours. Have you seen any demand spurt in the last few months what is the overall outlook about the demand of APIs?
If we have a look at the overall demand and then talk as a pharma industry then 70-80% of our APIs are imported from China. The Government is talking about the Atmabnirbhar Bharat and is making remarkable efforts in that regard for the pharma industry of the country and is developing three pharma parks besides two parks, which exist at present. So, I seeing based on the efforts, I feel that our dependency on China will reduce to a great extent within one year time. Even, the ministry has released a special circular that says that approvals will be granted on an immediate basis. Our industry falls under the red zone and due to being in the red category, it took one year to one-and-a-half year in granting approvals, which the government of India has brought down to 3-4 months through a special circular because there is no need for the public hearing and others at present. So, these are very good steps that the government of India is taking. Now, the Pharma industry is coming forward that is why I think that our dependency on import will come down in the next three years because one to one-and-a-half years will be required to bring the new industry. Thus, in the next three years, our dependency on import lies between 70%-80% will reduce by 50%, which means we will have just 30-40% dependency on imports. Indian industry is capable of doing all these things. If we talk about the past then it was being developed in a full capacity that was required within India later it shifted to China due to pricing issues. But now the way things moving ahead, I am quite hopeful and confident that the Indian industry will return to India in the next 2-3 years, which will reduce our dependency on imports to a great extent. 
Watch full coverage in video below:
देखिए हमारी खास पेशकश #RoadToRecovery स्वाति खंडेलवाल के साथ#ZBizExclusive @SwatiKJain #MothersonSumi #IOLChemicals https://t.co/I1jCWXCuxO

— Zee Business (@ZeeBusiness) June 26, 2020
As you are a global leader in Ibuprofen and also the government is supporting domestic manufacturing. So, let us know about the kind of CapEx you have lined-up and have you planned something to reap on the benefits of the support that the government is providing by expanding and manufacturing in a big manner?
We have planned a CapEx of Rs 150-200 crore for next year (FY21). And, we had plans to bring three new projects in FY20. We are already present in Metformin and an expansion project in the segment is running at present. Under the expansion, our current capacity of 350 tonnes per month will be ramped up to 900 tonnes per month. After this, we are coming in a big way in Gabapentin, a product that is mainly dependent on import. Its intermediaries also come from China. Even the government has prepared a list of 53 essential drugs on which we are dependent a lot and Gabapentin is one of them. Our R&D, in the last one year, has created a very robust route of synthesis that has brought down our dependency on import to zero. In fact, we are going to develop from the base salt to complete Gabapentin in-house. 
It is going to be a Made in India product. Similarly, we are going to bring two new projects in FY21 or FY22. If we talk about the next three years then, we have lined-up a CapEx of Rs 150-200 crore every year.
Get Latest Business News, Stock Market Updates and Videos; Check your tax outgo through Income Tax Calculator and save money through our Personal Finance coverage. Check Business Breaking News Live on Zee Business Twitter and Facebook. Subscribe on YouTube.