Indigo A320Neo engines fiasco: More trouble for passengers as 3 flights grounded in 24 hours
 In 24 hours, Indigo has withdrawn three flights due to A320Neo engine failures, while it is known that a total of six flights have been grounded by the low-cost carrier in one week.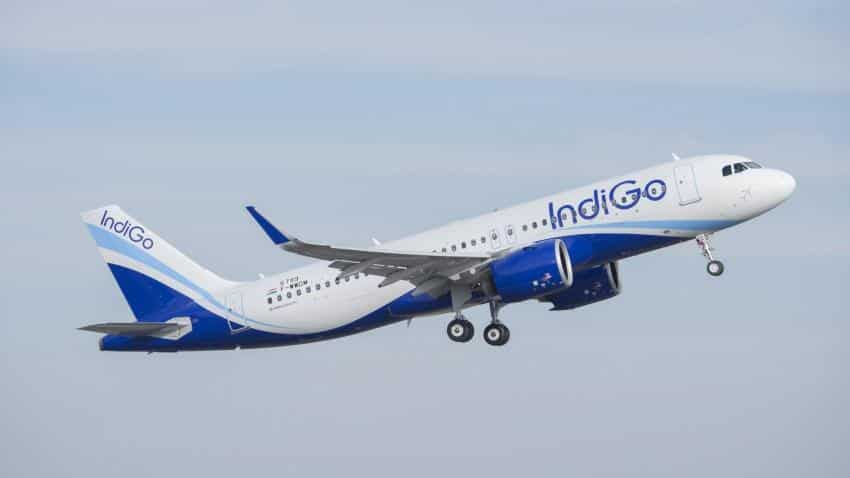 An Interglobe Aviation (Indigo) aircraft. Photo: IANS
Indigo A320Neo engines fiasco: The problem of A320Neo engines does not seem to end for Interglobe Aviation (Indigo), as the airline announced back-to-back three grounding of flights in just 24 hours. It needs to be noted that, such grounding of flights by Indigo comes after the aviation regulator the Directorate General of Civil Aviation (DGCAs) last week banned 8 planes carrying A320Neo engines of the airline. A total of 11 planes were banned - of which eight belonged to Indigo and three to GoAir. These moves have raised afresh questions on the performance of A320Neo engines which are being manufactured by Airbus. 
The 6E 559 was the latest flight which was grounded by Indigo. The plane was set to fly to Srinagar from Jammu when leakage was spotted from engine 1. On March 18, an A320Neo flight which operated on the Delhi-Srinagar route earlier, was also temporarily grounded due to detection of a hydraulic leak in an engine. IndiGo had said in a statement, "An A320 Neo aircraft that operated Delhi-Srinagar was cleared after maintenance checks upon arrival at Srinagar airport," reported in Zee News. It added, "However, during engine start, the pilot-in-command observed a hydraulic (not oil) leakage from engine 2. The aircraft was immediately withdrawn to investigate the hydraulic leak. The issue has been rectified and the aircraft is now fit to fly."
The grounding of the above two flights came after, when on Sunday, Indigo revealed that A320 Neo aircraft which operated on the Bengaluru-Delhi route was withdrawn in Delhi for maintenance check, as detect was reported in it. These are not the only emergency landing made by Indigo, it is known that a total of six flights have been grounded by the low-cost carrier in one week. 
On March 12, Indigo A320Neo flight returned to Ahmedabad, within 40 minutes of being airborne due to the an engine  glitch and the DGCA took action. The flight was suppose to halt in Lucknow. 
It has been revealed that, Indigo which is the largest domestic carrier of India in terms of market share, will be cancelling as many as 488 flights between March 15 to March 31, 2018. Meanwhile GoAir is seen cancelling about 138 flights between March 15 - March 22. 
As per the detailed flight schedule submitted to Directorate General of Civil Aviation (DGCA), a PTI report highlighted that, Indigo would not operate 36 daily flights between March 15 and March 21.
While reportedly another 18 flights would remain cancelled between March 22 and March 24. The number of flights cancelled between March 25 and March 31 stands at 16 per day, the airline indicated.
If we take the data, such leads to cancellation of a total 488 flights by end of March for Indigo. Click here, to get latest update of Indigo's flight cancellation beteween March 15 - March 31, 2018. 
Also, as both Indigo and GoAir together operate more than 1,200 flights daily on an average, the cancellations may significantly disrupt the summer schedule of a huge number of travellers. 
Curently, in India, the A320Neo engines are used by Air India, Indigo, Vistara and GoAir on domestic route. 
On February 09, the  European Aviation Safety Agency (EASA) warned about the PW110 engines with serial nos.450 & above - which were suspectable to be shutdown in mid-air. The agency stated that, A320Neos on which both engines were of affected category must be grounded. 
Both Indigo and GoAir continued to fly the planes with these engines as it is believed that A320Neo planes, which come with two engines, can be operated even if one engine fails. 
The A320Neo was introduced by Airbus, and the baseline of A320neo jetliner has a choice of two new-generation engines (the PurePower PW1100G-JM from Pratt and Whitney and the LEAP-1A from CFM International) and features large, fuel-saving wingtip devices known as Sharklets. 
As per DGCA, together both airlines have 45 A320Neos - with Indigo having 32 and GoAir having 13, which are fitted with P&W 1100 engines. Till date, 14 A320Neos with these operators fitted engines beyond ESN 450 have been grounded. 
Indigo investors have lost some faith in it's share price. On Monday, the share price of Indigo witnessed selling pressure, as it tumbled by Rs 37.40 or 2.96% on BSE, trading at Rs 1,224.60 at around 1207 hours. 
GoAir is not listed on stock exchanges. 
 
Updated: Mon, Mar 19, 2018
12:15 pm
Mumbai, ZeeBiz WebDesk