Indian Hotels to launch two Homestay facility under with brand name Ama: Puneet Chhatwal, IHCL
Puneet Chhatwal, MD & CEO, Indian Hotels Company Limited (IHCL), speaks about the impact of GST rate cut on room tariff, the financial performance of the company, strategy behind the positioning of the brands, Ginger hotels, expansion and competition among others during an interview with Zee Business.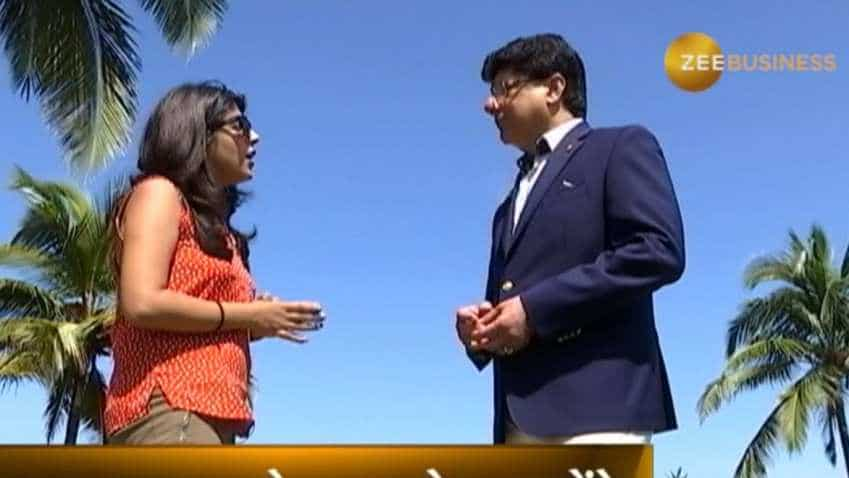 Every job created in the tourism sector creates 8-10 jobs in other sectors, which in turn provide employment opportunities in the country, said Puneet Chhatwal. Image source: Zee Busines
Edited By:
Jitesh Kumar Jha
Updated: Fri, Oct 04, 2019
04:07 pm
Mumbai, ZeeBiz WebDesk
Puneet Chhatwal, MD & CEO, Indian Hotels Company Limited (IHCL), spoke about the impact of GST rate cut on room tariff, the financial performance of the company, strategy behind the positioning of the brands, Ginger hotels, expansion and competition among others during an interview with Swati Khandelwal, Zee Business. Edited Excerpts:
Q: Do you think the GST rate cut for rooms tariffs of Rs7,500 and above to 18% from 28% will create a huge demand?
A: Yes, the government has taken a step in the right direction. This is an important step as tourism creates employment opportunities. Every job created in the tourism sector creates 8-10 jobs in other sectors, which in turn provide employment opportunities in the country. Even if we go into history, then Goa would haven't been a destination if Taj Fort Aguada Resort was not made. Then, it came up with Holiday Village after which another 100-200 hotels of this quality came in existence here. It gave a boost to the business segment and tourism in the state. 10% of the global GDP comes from tourism and 10% of all jobs created in the world also comes from tourism. Thus, it has its importance in our own country. Even our Prime Minister Narendra Modi in his Independence speech asked for the creation of 15 such destinations where people would like to visit. Thus, the Tata group through Taj and other brands will like to expand itself. And, new destinations will be opened in the market, in fact, people say, Taj put Goa on the map, Taj put Kerala on the map and now we are putting Andaman & Nicobar on the map. Right now, we have 13 hotels in Goa and two homestays will be launched tomorrow.
Q: Are you happy with whatsoever you have achieved in the last two years, if yes, then let us know about the future goals?
A: Hopefully, there is a problem with me, as I am never happy as I feel that we could have done a bit more. But, if I look back when someone asks is it possible to do what has happened in last two year today then I have no other choice to be happy because no one has ever imagined what has been done can be done in just 2 years. It is just a beginning and three more years are left to reach the 2022 target. I am very confident, as our team and its people are very good, on whom a book has been written by Harvard Business school after the terrorist attack. We have a good culture that is termed as Tajness. Thus, if your people are good and you are working in the hospitality industry then you can achieve any target.
Q: Where is the profitability in the scheme of things in Aspiration 2022?
A: It has been said that the EBITDA margin will be increased to 25% from 18% and have reached around 21% today and don't have any doubt that we will not be able to reach the mark of 25%. That is almost a 50% increase in margins from 17 to 25, which is in-total 800 bps but percentage-wise it is almost 50% increase. It can be achieved by 50% growth, new hotels, top-line growth and cost optimisation as well as new businesses like 'SeleQtions', the brand has been launched in Goa and Cidade de Goa is an important property for us under SeleQtions.
Q: Talk about the debt situation of the company and what are your plans to reduce it?
A: Debt has been reduced to half by now and our debt to EBITDA has been brought down from 6.4 to 2.2 in the last financial year and is likely to go below 2 in this financial year, which is a very healthy level. We have gone for rights issue for the same and haven't gone for any new debt for it. Apart from this, whenever, we sell any non-core assets like apartments and we have 40-50 apartments in Mumbai itself, which were bought in the 1970s & 80s, when we were supposed to provide staff accommodation to employees but things have changed today and everyone wants to have their apartment and no one wants company accommodation and that's why they are being sold. The money collected through the sale of the property is used in payment of the dent.
Q: What is your net debt at present?
A: Our debt stands below Rs2,000 crore and it will be brought down in times to come and will be below Rs1,000 crore in foreseeable future.
Q: Let us know about your current investment plans and how you will fund it?
A: We are very blessed that we are living in an era which is per se for the owner-operator. A number of private equity and institutional investors are available in the market and they are chasing the right brand in the right location. Thus, our brands are good, especially Taj is unbeatable at the global level as well. That's why we are not supposed to invest in any of the last forty contracts that have been signed. We have just invested in our existing portfolio to upgrade them to a higher level as we are the oldest operating company, almost 120 years of existence. Many of our portfolios are 30–40 years old including Taj Fort Aguada Resort. So, we are investing in maintaining and upgrading such properties. But, we will make selective investments on new projects and it would be done through a platform that has been created with Government of Singapore, GIC, of Rs4,000 crores in which 50% will be debt and 50% will be equity. We will take a small portion in that equity for various strategic and selective assets like the ones in Goa, Mumbai, Delhi, Kolkata and Bangalore. So, to take our portfolio to the highest possible level because our ultimate aspiration 2022 aims at being the most iconic as well as the most profitable hospitality company in South Asia.
Q: Let us know something about Homestay segment where you will be entering soon?
A: We have a special day tomorrow for Homestay, which has been named as Ama Day. We have named it as Ama because the name of the brand is Ama, which means Coming Home. We started with it a few months back with 9 bungalows of Tata Coffee in the area of Coorg & Chikmagalur. Bungalows in North Goa called the Cardozo house and Braganza House, which we have owned for quite some time, for almost 20 years and we have revamped them in Portuguese style.
Q: What is your view on competition that is increasing every day in this space?
A: Competition is always healthy and is good because it makes you stand your feet and keeps to attentive. In the absence of competition, you may live in glory, which may or may not be relevant. That is a spirit and I think especially with our iconic assets with the Taj brand it is very difficult for anybody to come anywhere close to it.
Q: Do you think that you have an opportunity to go for an acquisition in which you will take over a big brand and merge it with Tata?
A: There is never a right or wrong time but it is always a question of a right or wrong opportunity. Even in the downturn, you can pick up some good asset and during an upturn you can keep milking your asset. So, I think opportunities are always there but we want to stay very focused on our strategy of Aspiration 2022, when we will get close to it and have almost everything delivered then we will seek other opportunities. We can't reduce our debt, increase the profitability and go for acquisition at this moment as this means doing all things together. Having said that we have signed 40 new agreements in the last 2 year, at an average of 2 hotels per month, and have announced that we will be opening one hotel every month. So, this year we will be opening 12 hotels.
Q: Do see aggregators and startup community like Oyo Homes as competitors?
A: We haven't faced any such competition to date. One thing is very good is that the disruption hasn't happened at the luxury level yet everything has happened at the cheap level. That is not a business we want to be in and we have changed Ginger positioning to lean luxury.
Q: Tell us about Ginger's contribution to the entire pie of Indian Hotels?
A: Ginger will have a positive contribution in Aspiration 2022. We have struggled a lot with this brand in the last 10 years but going forward Ginger will have a contribution of almost 8-12% in our profitability under Aspiration 2022.
Q: You have also changed Vivanta and it is no more Vivanta by Taj. What is different in it?
A: We have just removed by Taj from it because it is a well-established brand now and people are aware of it for the last 15 years.
Q: What are your plans to increase your brand, selections?
A: SeleQtions is a collection of names under which certain properties that are well established for the last 40 years in Goa and fitting them into some other brand is not a good idea. So, this can stay as Cidade De Goa, everybody knows it. What we bring in here is our management expertise, sales and distribution, firmly established business in the state of Goa that will benefit the owners as well us. It is a typical thing in which generation that built it and managed for 40 years has got to an age that doesn't make any sense to do it and the next generation is not interested. So, I think there will be a lot of opportunities in India in almost every city and we will be well-positioned there with some of the success stories like this one to do more properties under this collection, which we call as SeleQtion written with the Q.
Q: How you will expand this brand?
A: At present, we have 12 properties in SeleQtions and I think time will tell but we will add 2-3/year for the next 3 years. So, I think will get a total of 20 in the SeleQtions.
Q: Does such business contracts help you from the business point of view?
A: We get around 5-7% of the total revenue as management and it is adding to our profitability because we are not investing in these properties as owners are supposed to invest and we don't have to add staff to service the scaling of these brands because we have that infrastructure.
Q: Will the government initiatives will have any impact on demand across your properties and brands in FY20 and how will you perform this year when compared to FY19?
A: One thing that you touched upon is the government gave the necessary impetus at the right time. Because, the GDP growth, which has a direct correlation to the hotel business, airline business and slowing down of the growth was very risky. So, the change of tax or tax reform will benefit us a bit. But, there was a general slowdown since pre-Holi and a lot of people said that it happens in every five years and I believe them also that it happens in every election year. I think, after the election period there was some kind of a sluggish sentiment and the demand was beginning to weaken. But because of our growth in our portfolio and the investment that we made in some of our assets has helped us in making good revenues and profitability. We had a very good first quarter, maybe the first in the last 10-15 years. We had a 300% margin expansion also. In the first half of this year, we have already signed fourteen new contracts. So, we are going in line.
Watch Zee Business Live TV
Q: What are your international plans?
A: We have said in our guidance that the first half of the Aspiration 2022, we will focus on our home market and our home is the Indian sub-continent. In the second half, we will go very strongly in finding the balance of profitable growth both in the Indian sub-continent as well as taking some strategic move on key dots on the map internationally where there is an Indian Diaspora or Indian brand recognition is very high. Or can go in the depth of the market under which if we are in London with three properties plus Bombay Brasserie. Then, we may add another hotel in London or may go to Manchester or Edinburgh. So, that is a possibility that we should not ignore as it is a very good opportunity for a brand like us as Taj is very well known. But we will do only with the Taj brand, not with Ginger or SeleQtion or Vivanta.
Get Latest Business News, Stock Market Updates and Videos; Check your tax outgo through Income Tax Calculator and save money through our Personal Finance coverage. Check Business Breaking News Live on Zee Business Twitter and Facebook. Subscribe on YouTube.