I believe in focus, do less but do it in the best way, says Harsh Mariwala, Chairman, Marico Limited
The Marico Innovation Foundation Awards was started to increase and nurture Indian innovation in business as well as social side, says Harsh Mariwala, Chairman, Marico Limited, during a candid chat with Zee Business.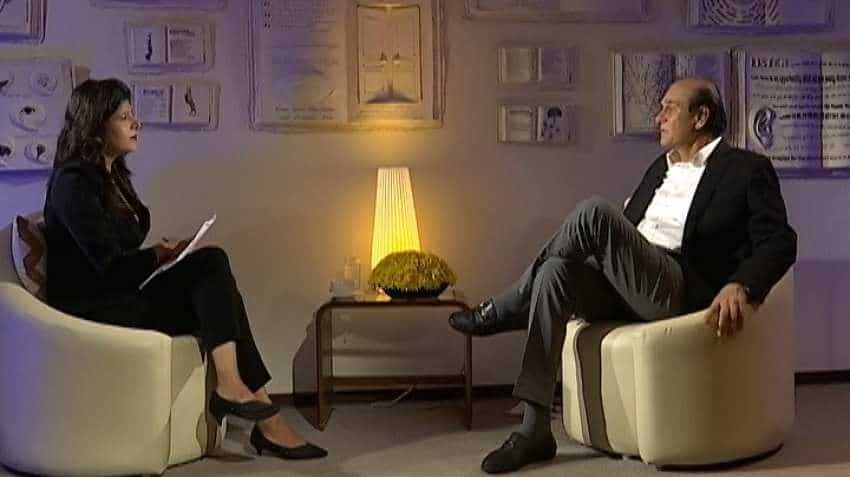 Harsh Mariwala said, "We have surplus resources but we would like to return dividends to shareholders rather than going into some unrelated business avenues". Image source: Zee Business
The Marico Innovation Foundation Awards was started to increase and nurture Indian innovation in business as well as social side, says Harsh Mariwala, Chairman, Marico Limited. During a candid chat with Swati Khandelwal, Zee Business, Mariwala said, "Thank God! that we didn't go into real estate. We have surplus resources but we would like to return dividends to shareholders rather than going into some unrelated business avenues". Edited Excerpts:
Q: How has been the journey of the Marico Innovation Foundation, so far? 
A: It was started about 10-12 years ago. At its start, we didn't know what we will do, but, we're very confident that there is a need of innovation in India in two segments, namely business and social sides. It was started with an objective to increase innovation in both segments. We took several initiatives, studied things and published a book and sold almost 75,000 copies of the same. Besides, Marico Innovation Foundation's award ceremony is conducted once in every two years and this year's awards ceremony is scheduled to be held on March 11, 2020. We take this award but seriously because we have seen that several organizations that provide awards complete the jury in an hour or two. However, we study a lot, shortlist and then go for a jury on social and innovation sides. There is a full-day meeting to shortlist after which we visit the premises of the shortlisted candidates to find out the truth because what he writes is completely different from the actual reality. Thus, we research and then go back to the jury, which is the second jury. Even, the award function is also taken seriously and that's why we train them with the help of TED trainers who teach them on how to talk just about the key innovation. Thus, it is a compact award function of 2 hours where all winners, almost 6, talks for almost 10 minutes and there is a chief guest. We also provide a Global Game Changer award.
Q: What led you to think about innovation?
A: Innovation has played a very important role in Marico's journey. Every innovation at our end has had an unusual impact on our business even in a category like in the case of coconut oil, where we changed the packaging from tin to plastic. The change led to increased sales and market shares.
Q: But, it also brings risk with it? 
A: Yes, everything comes with a risk of failure but being afraid of failure will not allow you to go ahead. We have failed several times but every failure has thought something and application of the learning leads to innovation. Thus, Indian society should change its perspective towards failure because speaking about it creates a fear of failure, which in turn have an impact on his risk-taking abilities. If there is no risk-taking, then there will be no experimentation, and the absence of experimentation means no innovation. It is a cycle and is very important. Punishing anyone for intelligent failure will stop people from taking risks and innovate. This way, we thought of changing the mindset and find out the ways to innovate at the company level and creating an innovation culture, which is essential. Besides, we have initiated something new in the innovation segment, 3-4 years back from now. Under this, we identify 6-8 organisations who are innovative but hasn't scaled. We look out towards ways to encourage it so that it, the innovation, spreads. The process involves, employees from Marico, several consultants, retired CEOs also associates with it and interestingly I give my time to those organisations. The initiative has paid-off like Atomberg Technology, a company engaged in manufacturing fans with the ability to save a huge amount of power. Its sales have risen almost 5-6 times from and it has raised around Rs100 crore from the market and all private equity guys are applied and we have helped them a lot in terms of reaching out, scaling and how to market at eCommerce platforms or go for digital marketing.
Q: Can you provide us the number of successful stories that have been benefited from you?
A: I think it will number between 10-12 and we are increasing it but are looking for a party that is open to accept and implement our suggestions.
Q: What is your view on the overall ecosystem where even the government is pushing for innovations? 
A: It is a good endeavour. We are thinking about innovations in the start-up system at least when the competition has increased in almost everything. If you launch something in the MeToo kind of products then you will not be able to succeed in it, however, innovating or pioneering something new provides more chances of success. It is very important. If we go 10-12 years down to memory lane then will find that innovation was not an agenda of the Chief Executive but, today, it has turned up to be the topmost important agenda of every chief executive.
Q: You have been working on mental health as well. How successful it has been?
A: The first initiative was taken by Marico Innovation Foundation and is supported by Marico. While Mariwala Health Initiative is my initiative and is supported by me. My daughter is involved in it and we are acting as a funding agency to support good mental health organizations. During our study, we found that many organizations have a low scale and any support can help them in increasing their scale. Apart from giving money financially, we also help them in scaling up in terms of solving problems, placing an information technology system and people-related issues. We are working with 15-17 organisations at present and are provide grants to each of them. But, it is a process in which any organisation can apply through a website of Mariwala Health Initiative and we will evaluate them.
Q: Update us about your initiative AquaCentric Therapy, which was the first of its kind in India?
A: This is a new business from my side. Water has a good effect on recovery and can be helpful for people who are not able to exercise due to some injury or part paralysis. Your weight in water is one-tenth to your weight on land, which makes it easy to exercise in water. Today, we have two centres at Andheri and Worli in Mumbai. Interestingly, we are seeing a very good impact on people who are enrolling at our centre. Those who enrol with us are accompanied by our trainers - who have been trained abroad - who have certain issues like a back injury, back issues, part paralysis, children issues like disabled children, women health issues, pregnant women and others who can't exercise. It has impacted a lot to all of them because exercise is a very beneficial effect on recovery. And, if you are exercising then recovery is much-much faster and we have seen good results as in those who can't walk can walk. It has come well and I think it is a good thing for recovery. I think the response is good from the impact.
Q: Do you have plans to expand it?
A: Yes. Currently, we have two centres as this is a new business for us. It is just a year old and that's why we will stabilize it first and then expand it.
Q: Update us on ASCENT Foundation.
A: ASCENT Foundation was founded seven years ago in Mumbai and today it has around 400 members in the city. Apart from this, one year ago, we launched it in Chennai as well and today we have 60 members in it. The members are enrolled through a selection process. Ascent is for entrepreneurs for learning from each other. And, learning through seminars and other huddle sessions that are conducted with our entrepreneurs. It is also funded by me, from my side, and any entrepreneur with some scale - minimum scale in services stands at Rs1 crore and in business at Rs5 crore - can apply. Then, the applicants are evaluated for the purpose. Currently, it is open in Mumbai and its neighbours, as well as Chennai and its neighbours and any entrepreneur with interest, can apply. It benefits an entrepreneur because he learns a lot of things in the foundation like how to raise money, how to attract talents and retaining manager.
Q: Is there a fee that one has to pay?
A: Nothing it is a commitment fee of Rs10,000 but that will entitle you to all our events. So, we have five-six events of which Conclave is the biggest event and good speakers come to it. This year's conclave is scheduled to be held on November 21, 2109, at Grand Hyatt, and these year's confirmed speakers include names like Harsha Bhogle, there is a connection between Cricket and Business. Harsha is also an MBA and has a business sense; Manish Malhotra, who will speak on lighter topics, Captain Raghu Raman. We are also trying many more speakers. We also have a panel of young entrepreneurs who started a business just after completion of their studies. It will also have a young panel that will comprise people from the next generation. We have been doing a lot for the last 3 years and the event has been rated 4.2 points on the rating scale of 5 points. Thus, any interested entrepreneur willing to be a member of Assent Foundation can apply your application as an entrepreneur at https://ascentfoundation.in.
Those who fulfil the criteria are called for a group discussion and those who qualify here turns out to be a member of the foundation.
Q: What are your plans related to its next level growth?
A: We have a target of having 1,000 entrepreneurs as its member in Mumbai and have reached a mark of 400. In the case of Chennai, we have a target of having 100 members by March 2020. After the settlement of Chennai, we will move to other centres like Bangalore, Delhi and Hyderabad, once after Chennai
Q: What is your suggestion for entrepreneurs' to deal with the ongoing volatile situation? 
A: Basically, we call it as VUCA (Volatile, Uncertain, Complex and Ambiguous) world. How to cope with it and for that purpose we have a conclave this year, named, "How to Deal With Resilience", how to be resilient and succeed in this uncertain world. And, the conclave has been very well received and was rated 4.2 on a 5 point scale for three years. We have got excellent speakers. There are other programmes and ways where all these issues are discussed in an ecosystem.  
Q: How these global factors are influencing our growth?
A: I am not an economist but it will have a slight impact on it. So, a combination of both, some Indian issues as well as global issues, will have an impact on our growth.
Q: Any message for Indian entrepreneurs and corporate people to deal with the ongoing slowdown?
A: Two things are must (i) Innovation and (ii) Talent. Keep innovating at a regular pace and it can be achieved by developing an innovative culture, taking a risk, getting out from fear and go for risk-taking experiments because a single innovation will be copied and that's why there is a need for continuous innovation. Secondly, good quality talent drives in ovation. Thus, how do you attract the talent and culture of the organization is very important to retain talent. So, talent attraction, retention through a good image of the organisation or culture building is also very important. The entrepreneurs working on the personal side should be passionate, determined and have persistence. At times, you have a passion but in cases of failure they say leave and in such cases, a determined person will fight back and move ahead with the learning of the failure. Passion combined with determination gives a word, GRIT, which is very important for entrepreneurs to succeed.
Q: What is your vision for Marico for next many years? 
A: I believe in focus, do less but do it in the best way. Thus, we have a focus on beauty and wellness and want to be in beauty and wellness in certain geographies, India is very important and neighbouring developing markets are very important for us. I think we have to grow in these areas through our initiatives.
Watch Zee Business Live TV
Q: Thus, you don't want to distract from your core areas?
A: Thank God that we didn't go into real estate. We have surplus resources but we would like to return dividend rather than going into some unrelated business. And, you have seen many organizations, which have gone into real estate and see what is the impact. This rewarding shareholder is a great option unless you have a viable business option out of your current business.
Edited By:
Jitesh Kumar Jha
Updated: Tue, Sep 24, 2019
12:23 pm
Mumbai, ZeeBiz WebDesk