Has Apple lost the innovation game with very little surprises in the iPhone X, iPhone 8, iPhone 8 Plus?
Apple launched the iPhone 8, iPhone 8 Plus and iPhone X on its 10th anniversary of the first iPhone launch. But the smartphones fall far from the benchmarks the iPhone used to set earlier.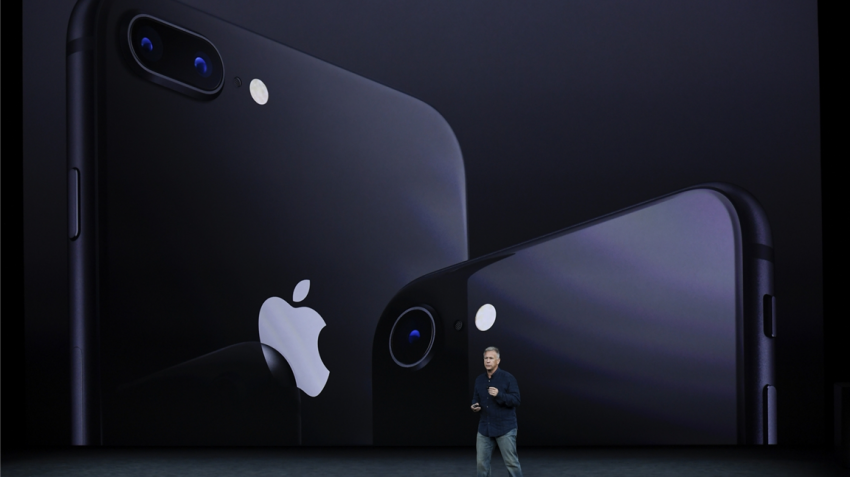 Phil Schiller, Apple''s Senior Vice President of Worldwide Marketing, introduces new iPhone 8 and iPhone 8 Plus during a special event in Cupe. Photo: IANS
Key highlights:

It has been 10 years since Apple's CEO Steve Jobs released the first iPhone
Ten years on and the iPhone seems to have lost the element of surprise
The specifications of the anniversary edition Apple iPhone X are not setting any benchmark
It has been 10 years since Apple's CEO Steve Jobs released the first iPhone. At that time the smartphone came to somewhat revolutionary and even set the bar for what smartphones should aspire to be like. This was because of the several innovations and surprises that it held.
Ten years on and the iPhone seems to have lost the element of surprise and innovation in their smartphones. This was seen in latest Apple iPhone launches on Tuesday, ie iPhone 8, iPhone 8 Plus and iPhone X.
Neither were the specifications of the anniversary edition Apple iPhone X setting any benchmark, but the specifications were also not the highest in comparison to the smartphones in its segment. A case in point being the Samsung Galaxy S8 Plus which is over Rs 20,000 cheaper than the Apple iPhone X.
Even its top feature the FaceID (which is a face recognition sensor which unlocks the phone by scanning the users face) fell flat on its face and caused a bit of embarrassment when it failed to even function during the demo at the Apple event when its software chief, Craig Federighi came on stage.
The first iPhone came about from Jobs' idea in 2005 of creating a mobile phone using a multi-touch touchscreen in which he could directly type into the display and essentially got rid of the huge physical keyboard and directions buttons on the phone.
At that time Nokia was a leader with several top mobile phones but did not have touchscreens and had keyboards which took up half of the space. This was a revolutionary idea which set the ball rolling for the smartphone industry.
This worked as the iPhone sold 3.3 million units in the first year itself and even outsold Samsung with only 2,325 units worldwide, according to data from Gartner. Nokia, however, was the leader with 60.4 million units sold in 2017.
Apple got a good 3% market share in its first year itself, Samsung 2% and Nokia 49% market share.
Over the years Job's determination to push the boundaries saw Apple surprising people year after year with the launch of new iPhones with features which were far ahead of the industry.
This was seen as Apple iPhone's market share kept growing at lightening pace. On the launch of the iPhone 3G in 2008 its market share grew to 8%, eating into Nokia's market share as it dropped to 44%.
By 2010 Apple iPhone's market share had doubled to 16% and grew to 19% a year later. During 2011 iPhone sales had grew to a massive 89.2 million units worldwide. This was the year Jobs passed away after battling pancreatic cancer for nearly a decade.
While sales continued to grow on the back of the some level of innovation, it was basically the brand loyalty that Jobs created that carried the sales of the iPhone further.
In fact, competitors, mainly Samsung, was setting the pace of innovation in the smartphones industry.
This was clearly seen as in 2012 despite Apple sold 1.30 million units worldwide of their latest iPhone, but its market share stayed at 19%, like previous year.
It was Samsung that jumped over Apple and took the mantle of the leading smartphone manufacturer as its market share shot to 30% in 2012 from 18% a year earlier.
Since then Samsung has remained as the leading smartphone manufacturer, while Apple's share kept declining year after year.
To be fair Samsung's market share has declined to 20% in 2016, but this has been due to intense competition Chinese smartphone makers recently such as Huawei, Oppo and Vivo.
This fresh competition has had an impact of Apple too as its market share has declined to 14%. China, which once was Apple's largest market for iPhones, has kept declining due to these new entrants which have produced similar smartphones but at a much cheaper rate.
While the sleek design of the iPhone X may see people taking to it, but there will surely be other smartphone companies which will come out with the similar smartphones at a much cheaper rate.
With that lack of surprise and innovation missing, Apple will continue to struggle to push its growth in the market.
ALSO READ:
Updated: Wed, Sep 13, 2017
06:09 pm
Mumbai, ZeeBiz WebDesk