GST impact forces advertisers to cut spends this Diwali
While 40% of the ad spends during the year come during the festive period, the peak of the festive period has always been the Diwali festival which sees almost all brands spending on advertising.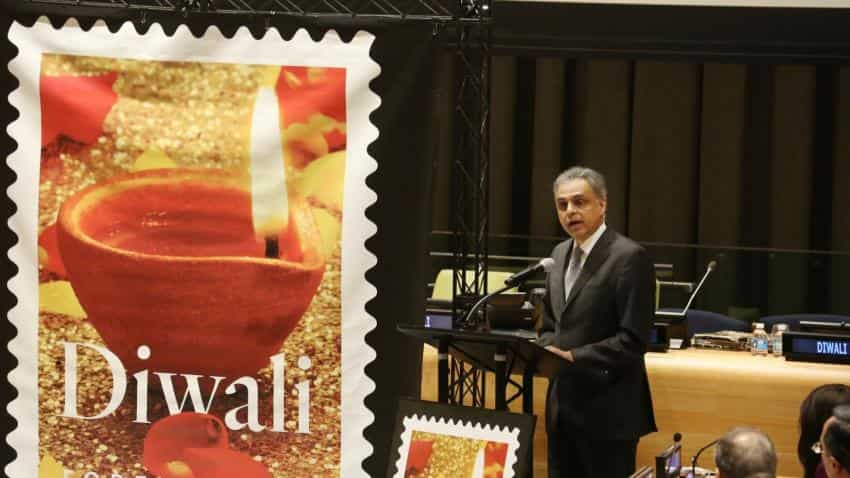 India's Permanent Representative to the UN Syed Akbaruddin addresses during a programme organised to commemorate the release of a Diwali postage stamp by the US at United Nations on Dec 5, 2016. Photo : Arabinda Mahapatra/IANS
Key highlights:

Inventory is not full during this period this year as it has been witnessed every Diwali season
This year the overall ad spends during the festive season is expected to be around Rs 24,000
Media planners point out to GST as a reason for the poor Diwali season this year
The Diwali period is one of the much awaited periods not only for brands, but also for advertising agencies as it is known as a period for high spends. 
Diwali is the peak of the festive period in India and advertisers clock in the maximum sales during the year. A reason why the spend the most on advertising and promotion during this period.
However, Diwali for the advertising industry this year is not the same as it was last year or prior to that. A reason for this is the muted advertising seen this year than that witnessed in the previous years.
This can be noticed as not many brands have chosen to create special Diwali ads for this period. 
Most of the media planners the Zeebiz team spoke to said that even the inventory is full during this period as it has been witnessed every Diwali season.
Less inventory filled would mean that it would have to be sold at a lower price to advertisers, instead of the other way around during every Diwali season where there was no inventory and as a result media companies could charge a premium to whatever inventory was remaining.
This year the overall ad spends during the festive season is expected to be around Rs 24,000 – Rs 25,000, according to Ashish Bhasin, Chairman and CEO South Asia, Dentsu Aegis Network said in an exchange4media report. 
This is a 20-25% growth from last year as the overall ad spends last year is estimated at Rs 20,000 crore.
However, there are others that expect a more muted growth in advertising spends this year, especially with the Diwali period being muted.
Debraj Tripathy, Managing Director of MediaCom said that the Diwali this year has been muted and is not as it was expected to be. 
"Broadly the Diwali period has been muted (in terms of advertising). This is mainly due to a few reasons. First, is the GST story still playing out post demonetisation which has impacted advertisers. Second, overall it is an early Diwali this year and the spends end up being lower as the period is shorter. This year Diwali falls in mid-October, when it usually is at the end or in November. When Diwali is later it gives more window for ad spends. Third, is the overall lack in demand that is being seen. So the annual growth in ad spends that was predicted this year won't be met," he said. 
He further agreed that the number of ads this Diwali season are lower this year in comparison to last year.
"It is not that any sector in specific has not been spending on advertising this Diwali, it is that the ad spends by each of them just lower than what it used to be earlier," said Tripathy.
Shekhar Banerjee, COO of Madison Media said, "Definitely the ad spends during Diwali has not been at the highest level as has been seen in the past. Certain sectors are not firing well. As to which industries have spend lower this Diwali we will only know after we have analysed the data. Overall it has not been the same level of spends as the Diwali periods in the past where there is no inventory or lack of inventory during the time."
He said that the reason for this is the extended monsoon season which has caused issues in rural areas, plus GST which has impacted the over ad spends during this period.
Indu Kannan, Associate Vice President, Kestone Integrated Marketing Services, "The advertising spends have definitely gone low this year. Individual brands have shown a visible disinterest in leveraging Diwali to lure customers with unique advertising campaigns at different platforms. Only ecommerce players like Flipkart, Amazon etc. are being seen active in creating a buzz around this season. This downfall in ad spends during Diwali this year could be attributed to both GST and to some extent Demonetisation which has created cash liquidity issues impacting spendings."
Kannan further adds, "The advertisements this year are mostly on digital platform. Instead of creating integrated ad campaigns, marketers and advertisers have gone for standalone campaigns. Besides, marketers as usual are focusing on luring customers through lucrative price offers."
She says the some consumers segment seems to be quiet this year with their festive campaigns, which is unusual for this sector. "To some extent, the automobile sector has also been not very active this year," she added.
Another media planner who wished not to be quoted voiced the same view that it certainly seemed to be muted Diwali period in terms of ad spends this year.
While there may be other reason why it has been a muted Diwali for advertisers this year, what is clear is the impact of the goods and service tax (GST) on the entire economy, which has resulted is lower ad spends by brands this year.
This was seen clearly as ad revenues dipped by 25% in July itself, the first month after GST implementation, according to an exchange4media report.
ALSO READ:
Updated: Tue, Oct 17, 2017
05:23 pm
Mumbai, ZeeBiz WebDesk