Growth Momentum will be much higher in the next quarter: Amit Kumat, MD & CEO, Prataap Snacks
Amit Kumat, MD & CEO, Prataap Snacks, talks about Q1FY22 numbers, rising prices of palm oil and its impact on his business, price hike plans, demand situation, restructuring of the distribution network and expansion plans among others in a candid chat with Swati Khandelwal, Zee Business. Edited Excerpts: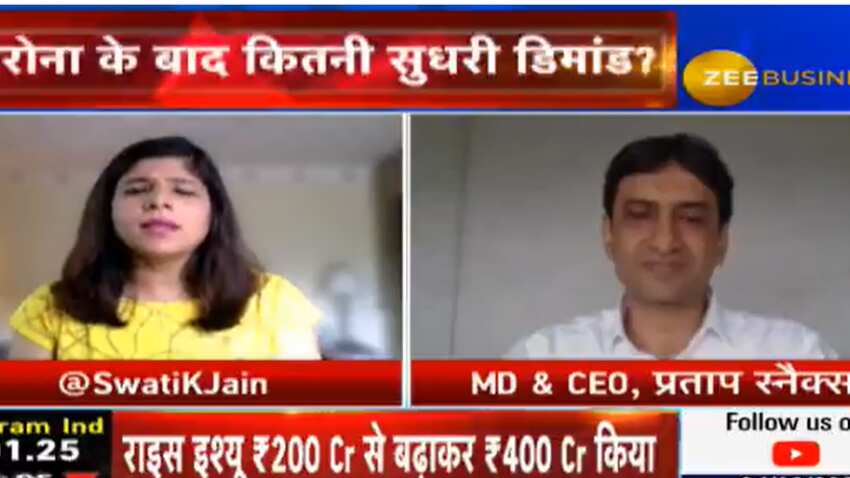 "We have a target to achieve double-digit EBITDA with the high oil prices," Kumat said
Reported By:
Jitesh Kumar Jha
Updated: Thu, Aug 05, 2021
04:33 pm
New Delhi, ZeeBiz WebDesk
Amit Kumat, MD & CEO, Prataap Snacks, talks about Q1FY22 numbers, rising prices of palm oil and its impact on his business, price hike plans, demand situation, restructuring of the distribution network and expansion plans among others in a candid chat with Swati Khandelwal, Zee Business. Edited Excerpts:
Q: There has been a weakness in the numbers on a quarter-on-quarter basis due to the lockdown we saw in April and May but on a YoY basis the conditions were not so bad. What would you like to say about the numbers?
A: As far as turnover is concerned, there is a 43% improvement in comparison to the last year. Last year, we were not prepared well for the COVID wave but we were prepared well this time and we tried our best that the market doesn't shut down and the factories are not shut and this helped us in posting good results in terms of turnovers. In the context of the margins, it has improved from the past but actually, it lies in the negative zone because the palm oil prices have increased a lot. Palm oil which used to be available at an average price of Rs 70 is running at around Rs 120-125. We have tried to mitigate its impact to a great extent by making changes but still, a lot of work is left in the context of the margins.
See Zee Business Live TV Streaming Below:
Q: The Prices of palm oil are continuously going up. How much is this impacting your business? Also, the government is likely to announce a package on National Mission on Edible Oil which looks to increase oilseed production in India itself, if approved, what will it mean to you?
A: It is a good initiative by the government but it will take a lot of time. If we have a look at the palm oil production in Malaysia and Indonesia that is imported to India then it is a huge number, it will take 5-10 years to replace it with Indian crops completely. If I will talk about the short term, palm prices worldwide should come down because it is quite difficult to maintain them at these artificial levels. The average of five years of the oil is Rs 60 and the average of two years is Rs 70 and currently, it is running at a rate of Rs 125. It is a constituent of the common man's food, so, the government will reduce the duty or worldwide the prices will come down. If you will have a look at our revenue then 15% of our cost comes from the oil and the and more than 20% of our cost is the prices of the oil. So, if we have at the difference of the edible oil/the palm oil then there is a negative impact of 875bps due to the oil in this quarter. We have been able to mitigate that by making many changes. We are working a lot on direct distribution and have worked a lot on removing the channel from the market due to which we were able to do better margins. Process optimization has also been done under which we have tried to reduce the oil percentage in many products due to which we have been able to move to but better condition otherwise things would have been tougher. 
Q: Have you taken any price hikes, if yes, what was the quantum and will you take any going ahead because the margins depend a lot on it? Or there will be any reduction in grammage or have you done any reduction in grammage? What is the outlook on margins? 
A: If you will have a look at the margin then grammage reduction is the last resort for us and we have reduced the grammage a bit but it was done to a limited extent. We are maximizing our efforts to find ways to optimize the channel margin. Our channel margin stood at 14%, which has been cut down to 11% and we have set a target to bring it down to an 8% margin in the next one to two years. This will directly bring at least a 5-6% margin to the bottom line. Secondly, we have also opted for process optimization and have reduced the sizes of laminates and packets. We have also reduced the percentage of oil. It will have a positive impact and an impact of 5% has been seen and how we can increase it further. Grammage reduction will be the last resort for us. 
Q: What can be the quantum for price hike and what can be the timelines for the same as the festive season is around the corner?
A: We are prepared well for sales and it is looking quite good. There is good momentum in sales at present. In terms of margins, it seems that if the oil prices come down even to the Rs 110 level, which is quite ahead of the average, then we can target a double-digit EBITDA. We have a target to achieve double-digit EBITDA with the high oil prices. 
Q: Now that schools, railways, offices are opening. How do you see the demand going ahead?
A:  Even today, the demand is very good. But if you will have a look at our product portfolio, then some of our products are kid-specific like Ring, the product in which we provide toys for children. There is no uptick in that product yet because the children have not started moving out to date. I think, the schools will open by the next quarter and children will come out after which the off-tick should increase. In the next quarter, the growth momentum should be much higher than the current growth momentum.
Q: The company has expanded in Gujarat where it acquired Avadh snacks. How much the market share has increased and do you have any further acquisition plans on the radar?
A: Currently, there is no acquisition plan due to the COVID. Around one and a half years to two have passed due to the COVID since the acquisition was Avadh was completed. Now, just want to consolidate what we have. Plus, a lot of expansion process is pending at our end and many places, third party operations are taking place at our plants. In Kolkata, recently last week, a plant has been commissioned. We just want to make them smooth. Now our target is to smoothen all of these and increase the capacity. Currently, we do not have any target of acquisition. 
Q: Let us know about the kind of focus you will have on export and where opportunities are visible? Also, do you have any plans to enter a new geography or market from a domestic or international perspective?
A: In domestic, the UP and Punjab markets are quite a small market for us at present but they have potential. So, we are focusing on how to increase the sales in these two markets and they are going to be our target markets for the next six months. 
Q: You were saying that you are restructuring your distribution network. Update us about this restructuring?
A: If you have a look then all our products were going to the Godown of the super stockists' and from there it was reaching to the distribution points and this was building up an extra cost of 6%. Now, we are providing our products directly to the distributors instead of the stockists. So, we have shut down the godown of the super stockists and now we are directly providing our products to the distributors from the factory as we have developed big distributors, which has had an impact of 3% on us. We have bettered the profit by 3%. Going forward, we will focus on reducing the margin chain. The better, we will be able to supply the products directly to the distributors, because now we have our factories across India. Earlier, it was not possible that I can directly supply a product to a distributor in Guwahati but now we have our operations in Guwahati and Bangalore as well as Haryana. So, we have worked a lot in the last four months to cover the distributor directly so that we can remove a channel from the middle. Going forward, we will focus on how to improve it further. 
Q: You as a company will have an approach towards new brand undernutrition and healthy food or you will continue with your focus on the existing segment? Also, update us on the new product pipeline?
A: In the existing products, at least 50% of our sales come from non-fried products. We have Extruded Snacks in which we put oil but they are not fired and are trying to expand that category further. At the same time, we are also planning omega fortified chips which didn't work due to the COVID and we are looking at ways to make it work. However, I think, the scope of the health segment is almost negligible in our segment. Thirdly, we are looking at ways to reduce the oil content in the existing products to make them healthier and we are researching a lot on it. 
Get Latest Business News, Stock Market Updates and Videos; Check your tax outgo through Income Tax Calculator and save money through our Personal Finance coverage. Check Business Breaking News Live on Zee Business Twitter and Facebook. Subscribe on YouTube.