Government should present a growth-oriented budget in FY23: Vinod Aggarwal, MD & CEO, VECV
Vinod Aggarwal, MD & CEO, VE Commercial Vehicles (VECV), talk about his growth expectations in 2022, December sales, Export market, PLI Scheme, plans in the EV segment among others.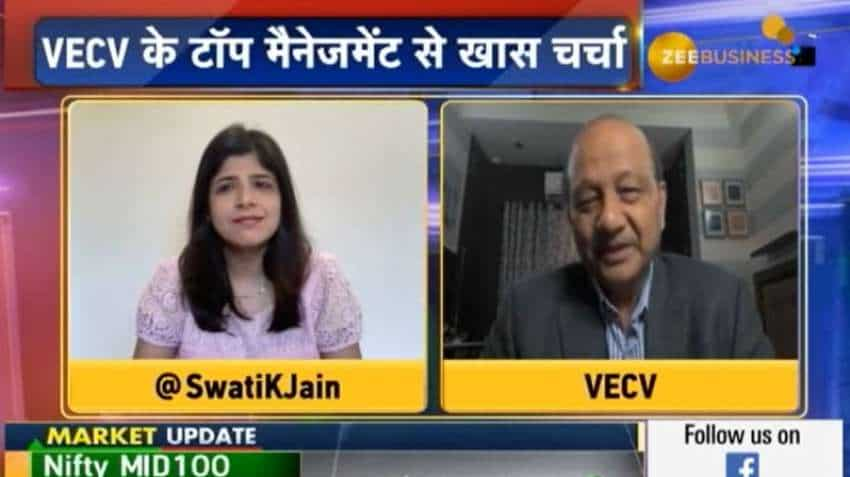 Vinod Aggarwal, MD & CEO, VE Commercial Vehicles (VECV): Zee Business
Vinod Aggarwal, MD & CEO, VE Commercial Vehicles (VECV), talk about his growth expectations in 2022, December sales, Export market, PLI Scheme, plans in the EV segment, investment plans, chip shortage issue and budget expectations among others during an exclusive interview with Swati Khandelwal, Zee Business. Edited Excerpts:
Q: How is the beginning of 2022 looking like and what kind of trends are visible in terms of overall industry growth?
A: Overall, trends are positive at present. If you will have a look then the commercial vehicle industry has been growing well in the last few months, except for now, due to Omicron, many companies have started work from home again. This is an uncertainty, other than that, I think things were going very well. I believe that the ongoing uncertainty is not here to stay for long and I think that the industry will get better in the future.
See Zee Business Live TV Streaming Below:
Q: December sales have been really good and above street estimates, both YoY and MoM. What has been the key drivers of this kind of sales and do you expect that the momentum will continue or the performance can be better than this?
A: If you analyse the numbers that are coming and the growth that has happened, then we are still far away from the pick that we saw earlier in 2018-19. This means that there is a huge scope of increase in demand as the size of the industry is still very less as compared to the peak. If you exclude the small trucks and take trucks of 3.50 tonnes and above, then the industry size in 2018-19 stood at 5.57 lakh. Now, against this 5.57 lakh, the industry size in the first nine months, if we remove the small trucks, stands at 2.15 lakhs and in the next three months, may we consider the sales stand at 1 lakh to 1.25 lakh, then we will hardly reach to a mark of 3.25 lakh to 3.50 lakh this year. This is quite low than the 5.57 lakh. This means the scope for the growth is huge and there are reasons specifically and they are (i) the economy is doing good and it is expected to do well in the future and (ii) the biggest thing is that the new trucks are quite productive, efficient and you get better mileage in these and you can travel more distance in less time because the comfort is more in these trucks as cabins are better, engine horsepower is better and drivelines are better. This is why their productivity is better. Due to the better fuel efficiency, it makes a lot of sense to replace the old trucks that are plying on the road and the government has come out with the scrappage policy, so more replacement may happen under it. Secondly, as CNG fuel is available and many light-duty and medium-duty trucks are converting into CNG because it is cheap to run a CNG. So, it makes sense to replace the vehicles and convert them into CNG trucks or replace those with better productive trucks. So, replacements are justified and replacements are about to happen. Also, the economy is doing good and more investments will be made in infrastructure, so the sales will be more.
WATCH: Full Interview here
Q: What is the situation of the export market for buses and trucks? Are you looking to expand into new geographies and increase concentration in the current markets?
A: In the export markets, if we have a look at the first nine months of this year, we have exported 6000 trucks, which is double compared to the last year. We exported 3,000 trucks in the first nine months last year. So, this time, we are already more than double at present and going forward, it has more potential because the trucks built in India at present are technically improving, now. So, the trucks we make are Japanese trucks that run in developed countries and these trucks are capable of competing with those. As these trucks are better, so, we can export these in more and more countries, where we export fewer trucks at present, like South Africa, which is a kind of developed market and trucks runs at a better speed in the country as road infrastructure is better in there, therefore, Japanese trucks ply more on roads there. We have introduced our trucks in the country. Similarly, in South East Asia, we have Indonesian and Malaysian markets, and a lot of Japanese trucks ply on the roads in these countries. So, the trucks we are making are similar to the Japanese trucks, in fact, they are better than those and by no means are less than them. Likewise, the Middle East is there where we have more potential and we will compete there with the Japanese trucks. I mean to say that the quality, reliability and technology of the trucks are not less in any way, so, we will perform better in terms of exports.
Q: The government has announced the PLI scheme. How are you planning to participate in it and do you see any opportunity in it?
A: Of course, we have put an application with the government. In fact, Eicher Motor and VE Commercial Vehicle have jointly applied and there is a good incentive in it. We will invest in the new technology, for instance, we will invest in electric vehicle technology. So, we are completely ready to participate in it.
Q: What are your exact plans for the electric vehicles (EVs) and what kind of roadmap the company has aligned and what kind of investment you will do in the EV segment along with Eicher Motor?
A: In electric vehicles, if you see in terms of commercial vehicles, then firstly buses are absolutely relevant to electric vehicles. Because it makes a lot of sense for the intracity travel, especially within the city movement that happens in big cities, to convert to the electric vehicles. It is important because the distances are less, which means, there charging needs can be met, secondly, they will get better efficiency and the cost will reduce. Therefore, going forward, the intracity movement will convert into electric vehicles. In addition, the small trucks, like 5-tonnes trucks and less than those, which moves within the city may be replaced by electric vehicles. In addition, in the case of the big trucks, if we look at trucks up to 55-tonnes, then electric vehicles can be used for shorter distances wherever there is a requirement like movement from the containers from the ports to the warehousing, located at a distance of about 100 km. Going forward, more and more electric vehicles are likely to be seen in buses and trucks. And the PLI scheme will encourage this technology further and we are also investing in it.
Q: Can you update us about the investment figure that will be lined up?
A: The government has fixed a minimum requirement in which it has given a target of minimum investment of Rs 2,000 crore by 2025. So, we will have to make it happen if we wish to take the incentive. So, Eicher Motor and VE Commercial Vehicle, together, as we belong to the same group, and there is a condition of group company investment. So, we both, together, will invest this amount.
Q: There was an issue of chip shortage and it seems that there has been slight ease off on the front. Has the situation improved or has resolved completely, if not, then by when it will be resolved and how your company will deal with it?
A: The problem is still going on; it has not been resolved completely but we are constantly in touch with the suppliers. At the same time, we are also developing the alternates. So, the situation is not so good in this, still, there is some loss every month due to less supply. If there will be no constraints on semiconductors, then we can sell more trucks.
Q: So, what is the capacity utilisation situation at present and how much is underutilised and by when it will be filled up?
A: Our domestic utilisation has reached around 65-70%, at present. At the same time, we have also started production at the Bhopal plant, so, we have good capacity. So, combining the Pithampur and Bhopal plants, we have a capacity of 1.30 lakh trucks at present and last month we sold just 6,000 trucks, this is the utilisation at present. You can say that if we have a capacity of 10,000 then we are at 6,000.
Q: How do you see the year 2022 as compared to 2021 in terms of demand and overall sales and where it will stand at the year-end after averaging this 6,000?
A: It is difficult to provide an exact number but the next year will be quite better than this year.
Q: Will you reach the mark of 8,000 to 9,000?
A: We are just trying to utilise our capacity.
Q: So, such demand is there?
A: I have said earlier that we are quite far from the peak and no reason will not let us be at the peak again. In fact, if we will look at history, whenever there has been a recession if we have a look at the last 2-3 recession cycles, then when recovery starts, it touches a new peak. So, when the recovery will happen this time, I believe that in the next 2-3 years, the industry will touch a new peak. Here peak means it will cross the mark of 5.57 lakh that was available in 2018-19 excluding the small trucks. Even in the current sales, buses sales are not happening because buses industry is down yet, after all, schools are shut to date. At the peak, the buses industry was at around 70,000, while last year it stood at just 12,000 and in the first nine months of this year, it is standing at 9,000. So, the buses industry is quite down at present.
Q: Budget is around the corner. What kind of expectations do you have from the government this time?
A: Above all, I expect that the government should remain focused on the infrastructure investments and investment should continue on the front because it energizes the economic activity, so, the economic activity increases and demand for trucks increases. At the same time, demand for cement, steel and other things that are required in the creation of infrastructure increases. So, this is quite positive for the economy and we expect that the government should present a growth-oriented budget in which the government will continue spending.
Get Latest Business News, Stock Market Updates and Videos; Check your tax outgo through Income Tax Calculator and save money through our Personal Finance coverage. Check Business Breaking News Live on Zee Business Twitter and Facebook. Subscribe on YouTube.
Updated: Thu, Jan 13, 2022
02:58 pm
Mumbai, ZeeBiz WebDesk