Government initiative to introduce EBS system in EVs will help in saving lives: Soumitra Bhattacharya, MD, Bosch Group India
Soumitra Bhattacharya, MD, Bosch Group India, in an exclusive interview with Zee Business, said, "government initiative to introduce EBS system in EVs is a good one as it will help in saving lives.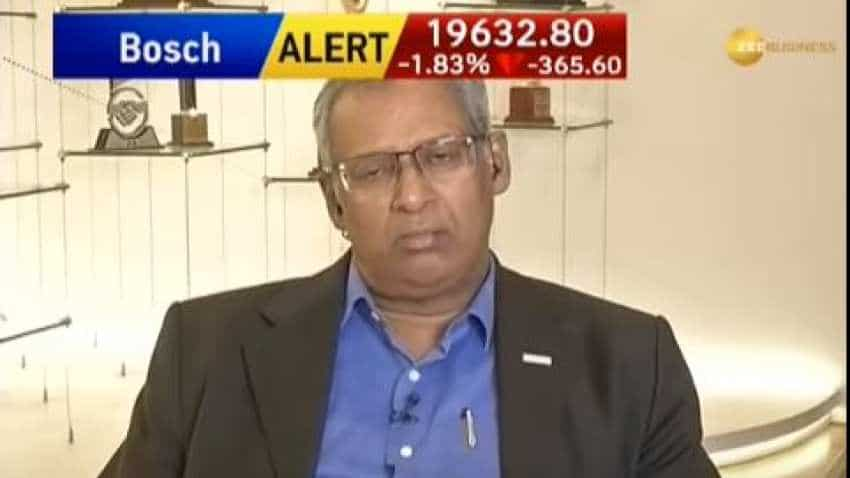 Soumitra Bhattacharya said that Bosch Ltd. has technology that can reduce the emission of Nitrogen oxides from the internal combustion engines to below the permissible limits. Image source: Zee Business
Updated: Tue, Sep 25, 2018
08:36 pm
New Delhi, ZeeBiz WebDesk
Soumitra Bhattacharya, MD, Bosch Group India, in an exclusive interview with Swati Khandelwal, Zee Business, said "government initiative to introduce EBS system in EVs is a good one as it will help in saving lives. He added that Bosch Ltd. has technology that can reduce the emission of Nitrogen oxides (NOx) from the internal combustion engines to below the permissible limits. Edited Excerpts: 
Q: My first question is related to Electric Vehicles (EV), a much-talked subject in India as well as the world, and Bosch has a huge role to play in the segment. What is your view on India's approach towards EVs? And what will be the future of EVs segment in the time to come?
A: The government has decided to introduce EBS in EVs and we believe that EBS will help in saving lives. When it comes to emission-free mobility then I would like to add that technology has advanced to such a level where the emission of Nitrogen oxides (NOx) from the internal combustion engine (ICE) can be brought down below the permissible limit and Bosch has proved the same. The matter of particle filtrate from particulate matter has been solved with BS VI. If you have a look on CO2 than diesel is far better including CO2 on mileage. 
Bosch, as a company has a solution for almost everything, may it is related to ICE or electric vehicles or hybrid vehicle. As a global organisation, Bosch is a working as a technology provider as well as agnostic (Neutral) solution provider. 
In addition, there should be predictable policies and it has been said by the honourable Prime Minister. The transition between ICEs to EVs should remain smooth and I feel ICE will remain dominant by 2025-2030. Even, the government says that it intends to have 15 per cent EVs on road by 2025 this means that ICEs are here to stay. 
Besides, the government says that the percentage of the current renewable energy of our total energy is 20 per cent and the government wants to increase its percentage as well as its value. 
Q: What will be Bosch's focus area in the EVs segment and also let us know about the kind of investment that will be made in the segment? What are your plans in terms of components? Please provide some numbers on it. 
A: First of all, I would like to provide some facts and figures related to EVs and that is that the government during the global mobility summit had a serious discussion on certain topics like EVs and alternate fuel as well as the dominance of ICE. I would like to say that the government has a good intention but its results will be visible only by 2025, by when the EVs will be meeting around 15 per cent of the total production. 
Practically, moving from 0 per cent to 15 per cent is a very strong and tough task but it is a reachable journey. But the question that remains over here is that 85 per cent of total production will be in ICE segment, making it a dominant segment and it will continue to have a major share in the market till 2030. 
Third thing is that the government will clearly look forward towards alternative fuels and they are discussing the same at present. The fourth thing is well to wheel, in which well refers to the place from where the energy is being sourced and wheel indicates the place where the energy is being consumed. 
In this segment of the well to wheel, the government has done a commendable job by taking up the contribution of renewable energy, mainly wind and solar, to 20 per cent of our total energy production and it has been achieved in just 5 years. So, I will say that India is moving fast and the reforms being implemented are positive. 
Bosch on its part has informed our Prime Minister Modi and Niti Aayog that the Bosch will definitely participate in its endeavours and we have requested them on behalf of the industry that they should come up with predictable policies because the industry employs a lot of people and there should be no disturbance in terms of employment during this transition period. 
Interestingly, the Prime Minister has assured us that policies from India will be predictable. Predictable policies will help big companies like OEMs and solution and technology providers like Bosch to place their investments develop those technologies. 
Q: What is your perception related to the future of mobility and where do you see Bosch in that future? 
A: The plan to conduct Global Mobility Summit-MOVE (concluded on September 7-8, 2018 ) of Prime Minister Narendra Modi and NITI Aayog's CEO Amitabh Kant provided an opportunity to CEOs from across the globe to come together and share their views on mobility. During the meet, the points and ideas were noted and can be taken into consideration while drafting a policy for the future for everything like EVs, renewable energy as well as alternative fuels. 
During a session related to electrification and alternative fuels, CEO of Bosch and I suggested that the electrification should be first introduced in the two-wheeler segment and three wheelers. Further, it can be introduced in the intracity buses fleet and later in the fleet of passenger cars and personal cars. The suggestion was given in the backdrop of difference between the cost of the EVs and ICEs as EVs are too costly when compared to ICEs. 
Secondly, we suggested that a breakthrough is required in the battery technology under which requirement of battery technology and battery production is encouraged in India, as 70 per cent cost of EVs comes from the battery itself. 
Q: Let us talk on the numbers and we have seen that Bosch performed well in the last quarter. What are your expectations for the remaining quarters? Also, let us know about the growth drivers and what will play a major role in the company's performance?
A: Yes, Bosch Ltd went as per the market expectations in the last quarter and we saw a growth of around 22 per cent in the top line and 40 per cent in PBT (Profit Before Tax) and 42 per cent in PAT (Profit After Tax). Our top line stood at Rs 3,212-crore and bottom line on PBT stood around Rs 650-crore and PAT was at Rs 430-crore. 
We don't focus on quarter to quarter results but we focus on the kind changes in the market and what our customers need. And try to deliver the same in a seamless way and meet the expectations of our customers. We not only provide product and services to our customers but we provide a complete Bosch solution to them. For instance, in the process of moving from  BS 4 to BS 6 in India, we, the Bosch Ltd and its associates, will be assisting its customers from conception time to Standard Operating Procedure (SOP).  
Bosch Ltd, which has the procuring system, has got a very good acquisition as we work very closely with our customers and have established a project house of electro-mobility inside Bosch Ltd. This electromobility project will remain under the control of the Bosch Ltd, which is a listed company. In addition, we have started a new project house for a mobility solution in July 2018. It means that we just don't provide products and services to our customers but we give a complete package solution to them. The solution package includes digitisation, connectivity and IOT. 
Q: We are moving towards stricter emission norms and it is a good news. Do you think that the regulations, which are being enforced, will transition will have an impact on demand?
A: The emission standards have seen a lot of change in recent past as we, India, moved to BS IV from BS III in April 2017 and now we are moving from BS IV to BS VI and it will be done is a period of just three years .i.e. by Apil 2020. This is the biggest change in the history of mobility in the world, where we will be jumping from BS IV to BS VI in a meagre gap of just three years. And, we, Bosch Ltd, will be playing an important role in the process because we have got on experience from our parents, like Germany, Europe, the US, who have jumped from Euro IV to Euro VI, which is equivalent or tighter than BS IV to BS VI. 
In the case of India, we are in a position to give innovative, affordable and holistic solutions for the purpose. If you consider that X amount of engineering efforts was required to move from BS III to BS IV than 4X effort will be required to move from BS VI to BS VI. For this purpose, we have sent our engineers to Germany and other countries and have trained them for the same. 
Currently, we are working in three shifts under which our technology centres, ventures and calibrations and engineers are available with customers onsite. Thus we are fully participating in a very significant and efficient manner with all our esteemed customers to ensure that BS VI can be delivered on time. But this is a very, very tough call for both the customers as well as the technology providers but I think that we will meet the target and the government is also determined and has done a lot of work in relation to fuel for which 10ppm Sulphur is required and that is a big change. 
Q: Lets talks about the revenues from both ICE, which is used in diesel and petrol vehicles, and EVs. What are your expectations for the two segments and also let us know about the breakup in a two-wheeler, three-wheeler and others?
A: If you will have a look on track-record of Bosch Ltd and Bosch group companies then you will find that the mobility sector contributes to about 85 per cent in its total revenue and remaining 15 per cent comes from the non-mobility sector. Thus, we are very strong in mobility business with 85 per cent of our turnover. 
Our Capex is being spent on the ICE, electro-mobility as well as the hybrid area so we will be spending right for our future. In the next three years, we will be investing Rs 1,700-crore for Bosch group in India and most of its part will be invested for Bosch Ltd. and electro-mobility falls in the portfolio of Bosch Ltd. 
Watch this Zee Business video
Soon, we will be announcing the launch of two-wheeler and three-wheeler with a customer on board with Bosch Technology. Besides, we have also started a project house on electro-mobility for four-wheelers and we will be working in it along with a customer. 
Get Latest Business News, Stock Market Updates and Videos; Check your tax outgo through Income Tax Calculator and save money through our Personal Finance coverage. Check Business Breaking News Live on Zee Business Twitter and Facebook. Subscribe on YouTube.