Good news Manchester United fans! You can't wear a Jose Mourinho jersey
The impediment in the Manchester United deal lies in the fact that Chelsea, Mourinho's former club, still owns the trademark of his name and image rights.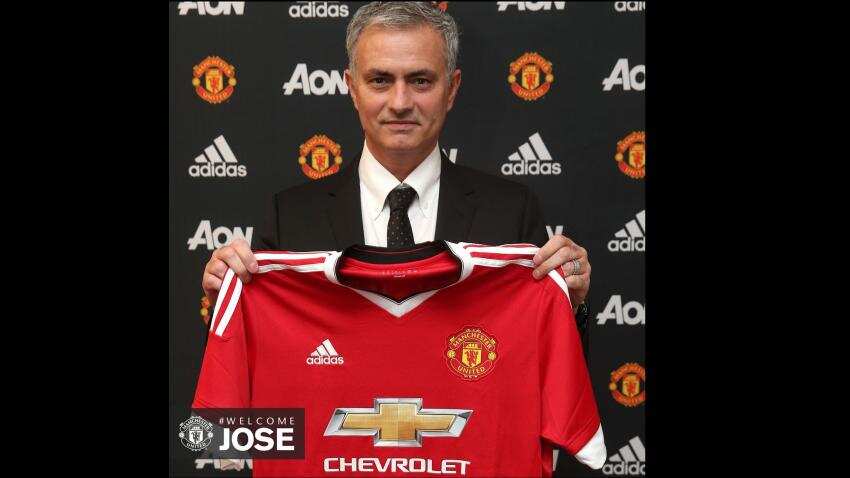 Jose Mourinho will have to wait to get his Manchester United jersey. Photo: Reuters, Amazon
Updated: Fri, May 27, 2016
02:33 pm
Mumbai, ZeeBiz WebDesk
Putting a rest to all the rumors, Jose Mourinho on Thursday has agreed to take over as the manager of English Premier League club Manchester United.
The 'special one' has signed a three-year deal with the option of staying in the club till 2020. Although Manchester disclose the size of the deal, media report suggest it to be around 12 million pounds per season.
José Mourinho in the statement said, "To become Manchester United manager is a special honour in the game. It is a club known and admired throughout the world. There is a mystique and a romance about it which no other club can match... I'm looking forward to being their manager and enjoying their magnificent support in the coming years."
However, there are some hiccups that had stalled the deal.
The impediment for deal lies in the fact that Chelsea, Mourinho's former club, still owns the trademark of his name and image rights. Chelsea was quick to realise the value of the popularity of the manager that has 21 titles to his name which include two Champions League titles, three Premier League titles, one La Liga title, two Serie A titles, two Premeira Liga titles and one FA cup title.
Mourinho's popularity also extends beyond his winning streak as the manager and has been known for his witty one-liners and courting controversies on and off the pitch, which has made him popular among many fans.
Chelsea had first filed Mourinho's name with the Intellectual Property Office in March 2005 after he won the English Premier League title for the club in his first season in charge, according to a Daily Mail report. Mourinho's name was once again registered with the Intellectual Property Office when he rejoined in 2013.
Chelsea's deal with Mourinho allows them to use his name on around 37 different products from utensils and containers to chinaware, glassware, combs, beer and various alcohol glasses, his name in video games, toys, dolls, football gear and even teddy bears all over the world to promote their brand.
The club also trademarked his signature in 2006, however the contract ended in January, a month after he was sacked, said the report.
However, the trademarked rights to his name that he agreed to in 2013 does not end till 2023. This will be tough for Manchester United's lawyers to find a way to annul the agreement.
It is not only Mourinho who has made this mistake, but even world famous manager Carlo Ancelotti who was Chelsea's manager had given the rights to his name to Chelsea. He now takes over as Bayern Munich's manager this summer.
So, it may take fans some more time before they can buy a Manchester United t-shirt or cup with Mourinho's name.